This study will help you in organizing centers to accompany The Boy Who Grew a Forest: The True Story of Jadav Payeng.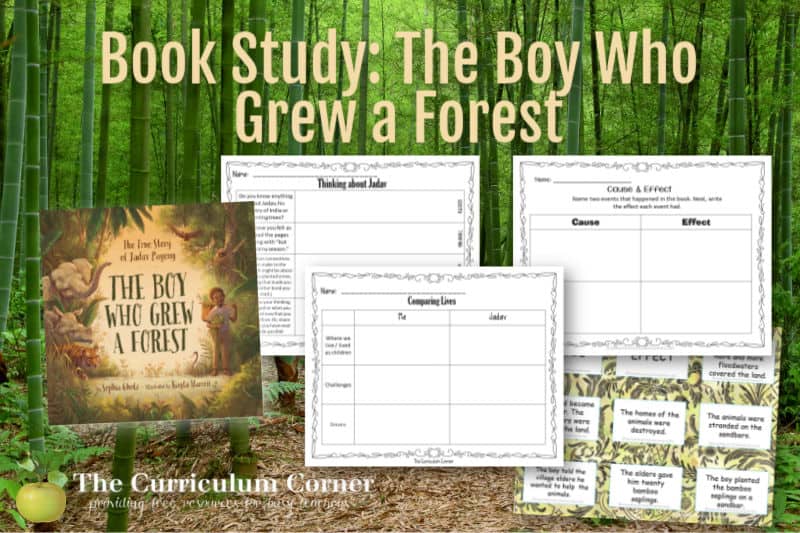 This is another free book study for teachers and parents from The Curriculum Corner.
The Boy Who Grew a Forest: The True Story of Jadav Payeng
If you haven't read this book, grab it on your next trip to your local bookstore!
This book tells the story of Jadav Payeng who lives in India. He was saddened by the erosion caused by the floodwaters. He was worried for the animals losing their homes and the impact the floodwaters might have on the people.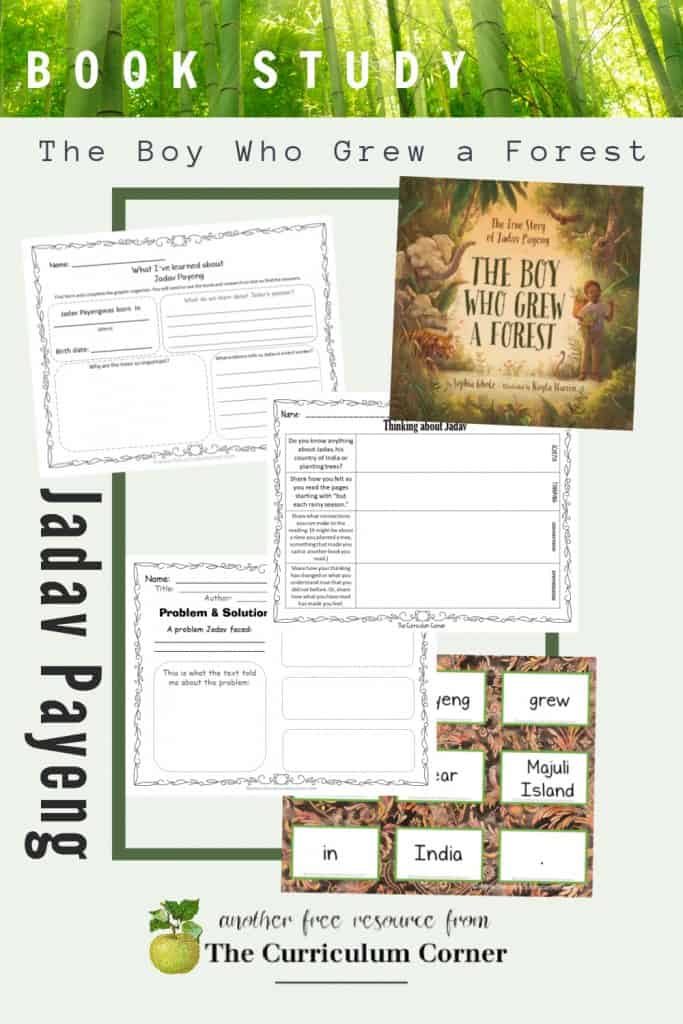 The elders in his village suggested he work to create new homes for the animals. The boy was given twenty bamboo saplings which he planted and tended to until they grew into a large thicket.
This inspired him to plant and grow more and more. Eventually, he planted a forest where animals came back to live.
This is a beautiful book that can fit into your environmental study or your focus on ecosystems.
About this The Boy Who Grew a Forest Book Study
This collection includes a range of pages you can download for your whole class or literacy center work.
You will find the following resources:
What I Have Learned about Jadav Payeng
This graphic organizer can be used at a center after a book has been used as a read aloud. Or, you could enlarge it on your poster maker and complete as a class.
Support Your Beliefs
This page is intended for use as a mini-lesson as you read the book together with your students. Students share one word they feel describes Jadav. They will then find three ideas from the book that will support the word.
You will find a set of character trait cards that can be used to accompany this belief organizer. If you choose to use these cards, they can give your students options to choose from when describing Jadav.
Thinking About Jadav – Synthesizing Activity
This page will be a close reading guide for students. They will focus on activating schema, thinking, making connections and synthesizing.
Research Practice
There are a few inaccuracies in the book although the overall story in the book is correct. The differences mostly involve Jadav's age and the time when events occur during childhood. Children can read about Jadav and find what parts are not completely accurate.
Problem & Solution
Students will record a problem Jadav faces in the book. They will then share ideas and steps to the solution in the three boxes on the right.
Comparing Lives
Students will share how their lives are different from the life of Jadav. It is possible they might do a little on-line research to add to this organizer.
Jadav's Quote
Students can color the quote and then decorate the space below with words an pictures that tell about the book or a specific part of Jadav's life.
Cause & Effect
Students will focus on cause and effect. There are a set of cards you provide for students to use. Or, they can come up with their own ideas after reading the book.
Reading Response Pages
There are four different pages that have simple reading response questions to be completed after the learning.
Making Words
Students use the letters in the word BAMBOO SAPLINGS to create smaller words. Comes with a page of letters for students to cut out and manipulate to make the words.
Pocket Chart Sentence Cards
These four pocket chart sentence cards can be used during a mini-lesson or as a scrambled sentence center. The borders are color-coded for easy sorting and storage.
You can download this free book study here:
Are you working on learning about ecosystems in your classroom? Be sure to download the free ecosystem unit of study we created in cooperation with VariQuest. You can download your free copy here (click on the image to download your free ebook from VariQuest):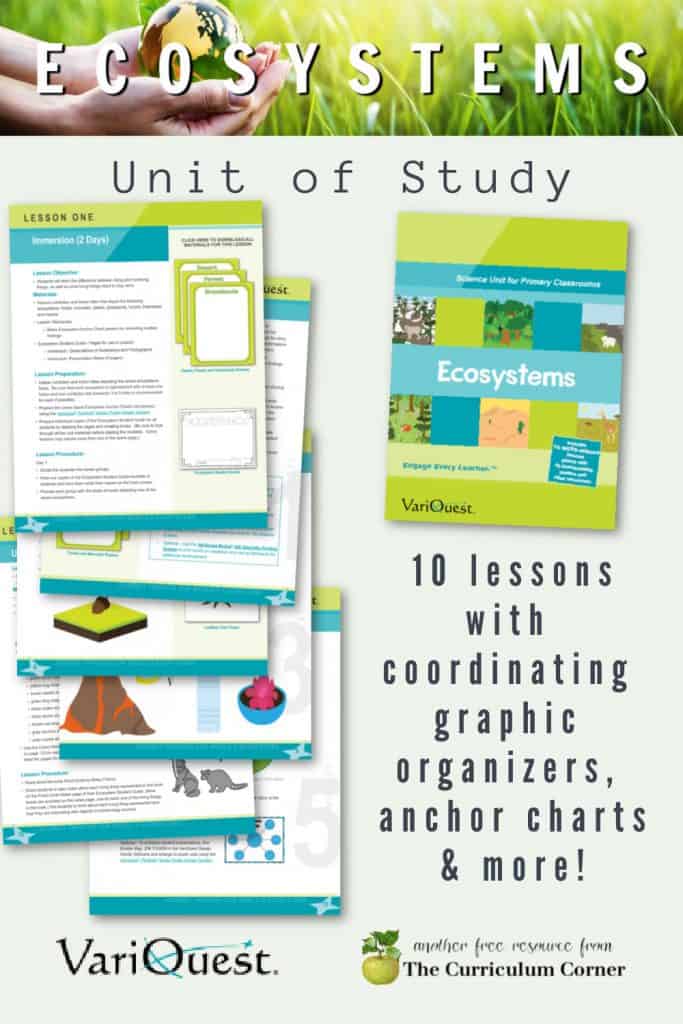 As with all of our resources, The Curriculum Corner creates these for free classroom use. Our products may not be sold. You may print and copy for your personal classroom use. These are also great for home school families!
You may not modify and resell in any form. Please let us know if you have any questions.