Download these elapsed time task cards for elapsed time practice in your third or fourth grade math classroom.
These elapsed time task cards will be a way to provide your students with extra practice during math.
You will be able to use these at a math center or as a scoot game in the classroom.
This is another free resource for teachers and homeschool families from The Curriculum Corner.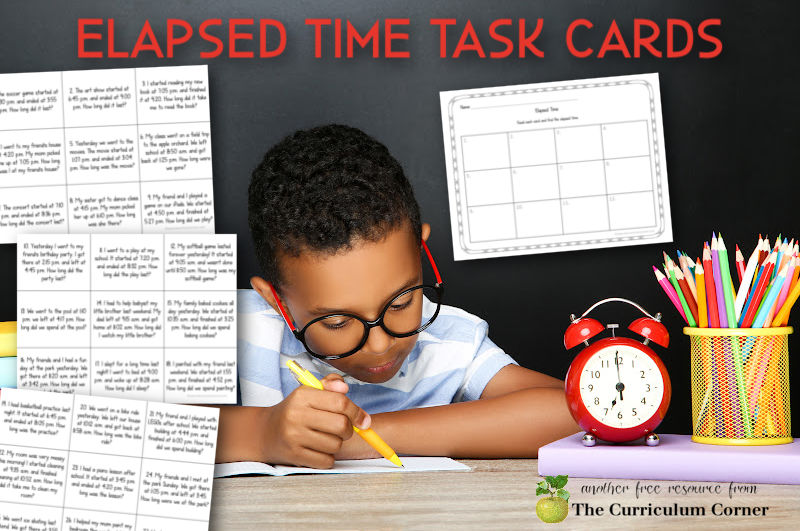 Practicing elapsed time
Elapsed time can be a challenging skill to teach.
Solving problems using this skill requires multiple steps and can be much more complex than a traditional subtraction problem.
As you begin working on this skill, talk through many examples as a class. Share your thinking and record your work on the board for all students to see.
When the skill is new, practice many times throughout the day.
One great way to offer authentic practice is to talk about how long until your next transition at school.
For example, have students read the clock and tell you the time when you begin the morning meeting.
Next, ask students how long it will be until math class, lunch, recess and other activities throughout the day.
This is an easy way to reinforce the skill while making the practice authentic.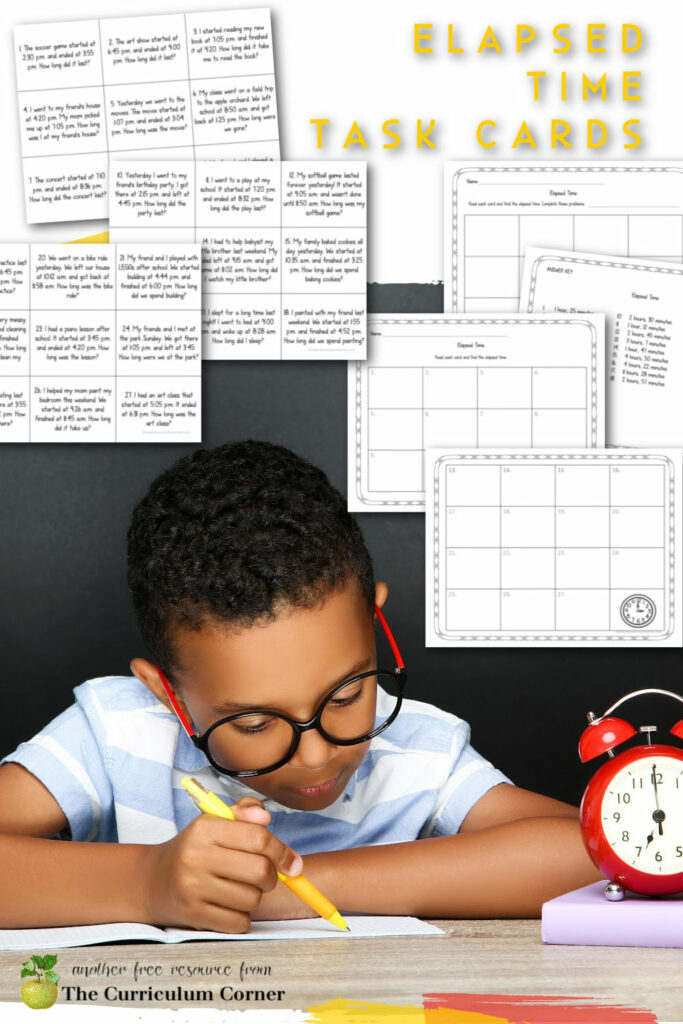 These elapsed time task cards
This download contains 27 elapsed time practice cards.
I have created them with a white background so that you can print on white or colorful card stock in order to help you conserve ink.
After printing, laminate the pages for durability and then cut apart.
I am including two different recording pages.
On the first, students can choose problems to complete or you can assign specific numbers.
The second page can be used as a scoot game.
To play scoot, place the cards at spots around the classroom.
Each student will have a recording page that you have printed front to back. Having a clipboard can also be helpful.
Students begin at one card. When you have given them enough time to complete their problems, you will yell scoot. They then rotate to the next spot.
Be sure to make it clear to students which way they will rotate before you begin.
You can download this math activity here:
As with all of our resources, The Curriculum Corner creates these for free classroom use. Our products may not be sold. You may print and copy for your personal classroom use. These are also great for home school families!
You may not modify and resell in any form. Please let us know if you have any questions.