Download these free Theme Anchor Charts to use when teaching how to identify the theme in reading.
This set of free theme anchor charts will be a great tool for your reading workshop.
Within this download you will find an assortment of anchor charts so you can find a just-right fit for your students.
This is another free resource for teachers and homeschool families from The Curriculum Corner.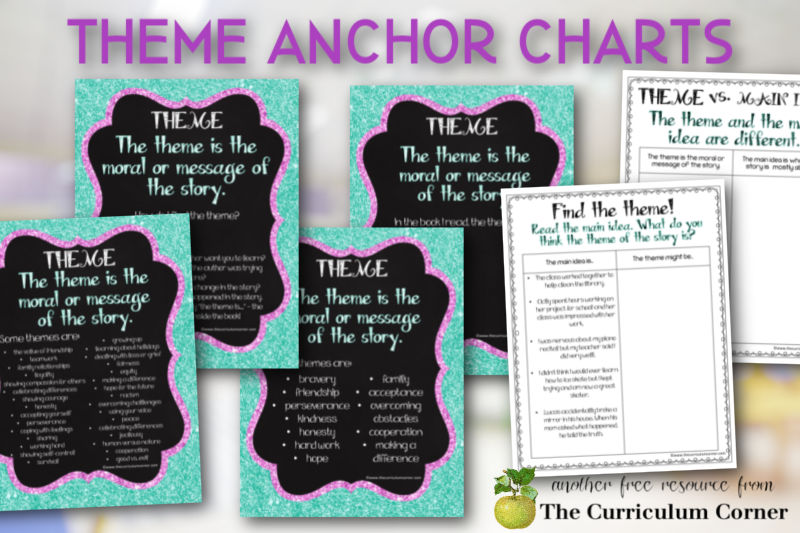 What is a theme?
A theme is the moral, message or lesson that is shared in a story.
It can be thought of as the big idea.
The theme is different from the main idea. The main idea tells us what happened. The theme tells us what message the author is trying to share with us.
When working to determine the theme, you must first read the entire text.
You will then pause and think about what the author wanted you to learn.
Usually, a reader will need to infer the theme. An author does not often come right out and say "the theme is…"
The one exception is that sometimes a fable will end with "and the moral of the story is.."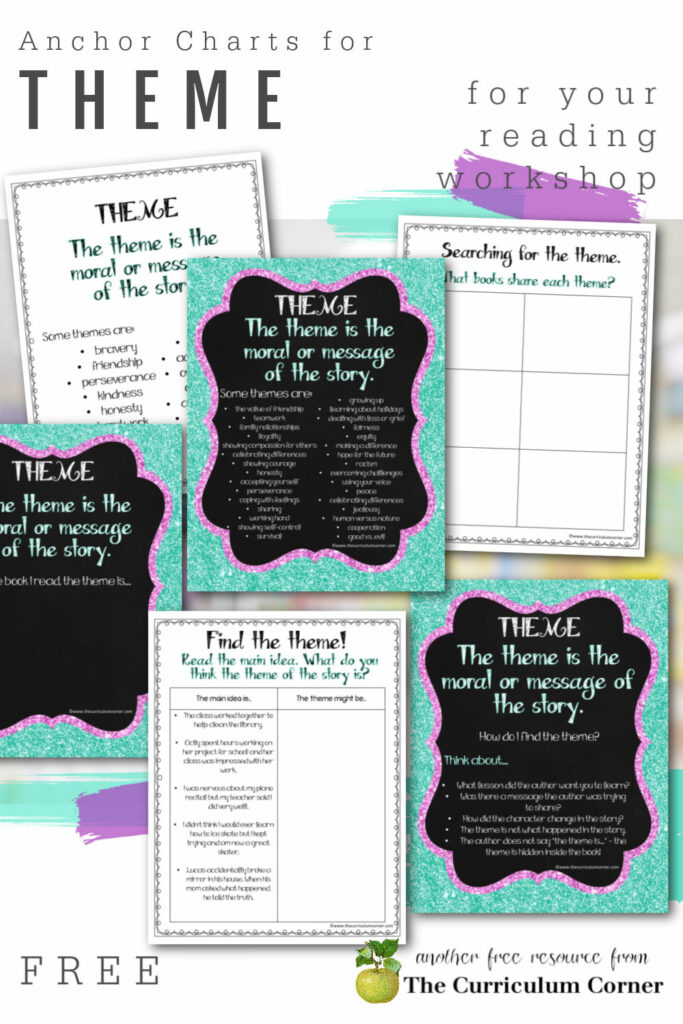 These theme anchor charts
This download contains a variety of anchor charts for you to use in the classroom. Some are designed to be used as is and some are interactive so that you and students will add to them.
You will find the following:
Theme definition and tips for finding the theme
Theme definition with spot for identifying themes in current books – this is designed so you can have students record their responses on post-it notes and then they will stick it on the poster.
Theme definition plus a list of common themes in children's books – there are two version of this one. The second has an expanded list of themes which might fit better into an intermediate classroom.
Theme vs Main Idea – As a class, determine the theme and main idea in books you have read together. This is designed for you or students to write on.
Find the theme! Students will read the main idea and determine possible themes that would fit. There can be more than one correct answer.
Searching for the theme. Begin by writing a theme in each box. Students then go on a search for books that fit the themes. This was designed to be an anchor chart you print as a poster. However, this could be printed on regular paper and passed out to small groups.
You can download these free anchor charts here:
As with all of our resources, The Curriculum Corner creates these for free classroom use. Our products may not be sold. You may print and copy for your personal classroom use. These are also great for home school families!