These free resources are designed to give your students fact & opinion practice. Includes a scoot game, centers & more.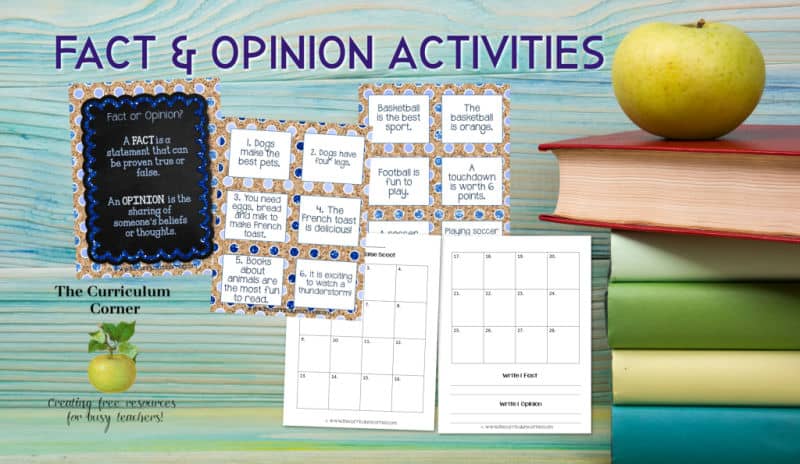 This is another free resource for teachers from The Curriculum Corner.
Teachers are always asking us for additional fact & opinion practice opportunities for the classroom.
We've created these new resources to provide a variety of activities to give your students this needed practice.
These activities might be used during reading instruction or during writing workshop when you are helping your students understand the difference between writing facts and opinions. This can be a needed skill during opinion writing or during a focus on informational text.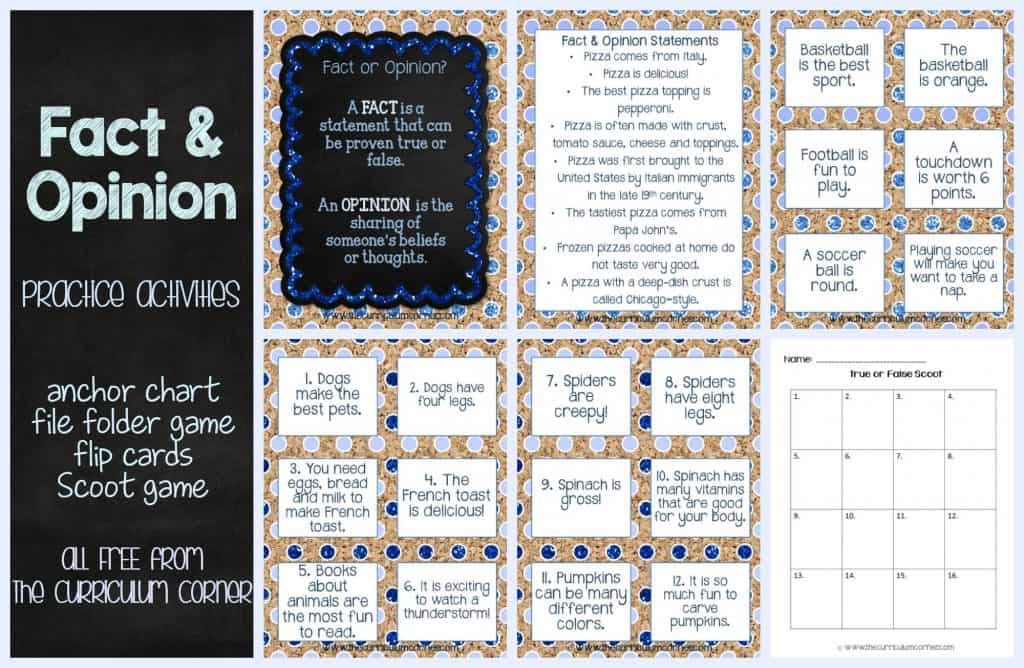 You can download the complete collection by clicking on the bold, blue link at the bottom of this post.
Within this collection you will find the following resources:
Fact or Opinion Anchor Chart

Fact & Opinion File Folder Game Print slides 2 and 3 in color, glue onto a file folder and laminate. You will find the sorting cards on pages 4 and 5. Print, laminate and cut these cards. Students sort the fact and opinion cards onto the correct side of the file folder. You can also use these to create an interactive bulletin board. Post the full size sheets labeled fact and opinion. Place glue dots on the board and the back of the fact and opinion statements. Students can attach the statements to correct page.
Fact & Opinion Flip Cards These cards are created to be printed front to back. Students will then each have a card that says fact on one side and opinion on the other. Read from the Fact & Opinion Statements or create your own to fit your class. Students flip the card to fact or opinion depending on the statement.

Fact & Opinion Scoot Print, laminate and cut the cards. Place a card at each spot. Students are given a recording page. Students start by determining if the statement at their seat is a fact or opinion. They will then record their response and move to the next spot when you announce "scoot". When the Scoot game is complete, students can show their understanding of the concept by recording their own fact and opinion at the bottom of the page. You will also find a blank page of cards for you to add your own statements.
You might also like our sorting cards: Fact & Opinion Sort