This fall making 10 digital game will give your students practice with how to make 10.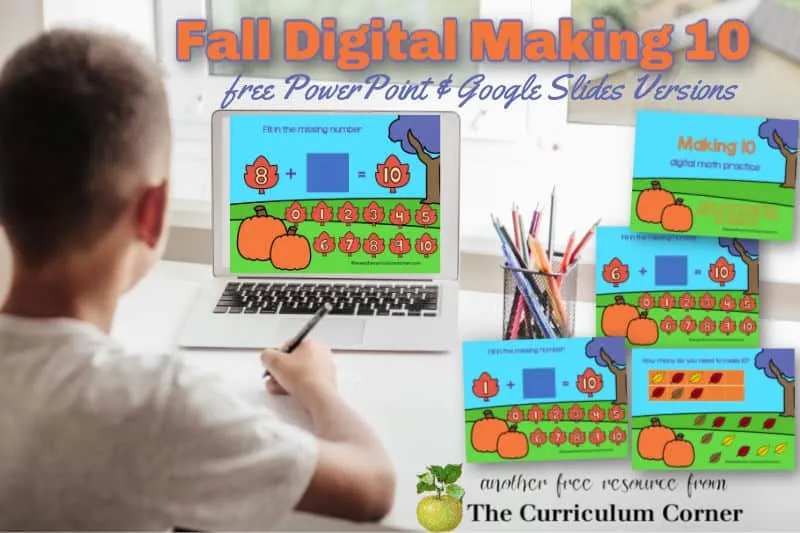 This is another free resource for teachers and families from The Curriculum Corner.
We are providing this making 10 digital game to help children build number sense.
You will be able to download the PowerPoint version or access the Google Slides version.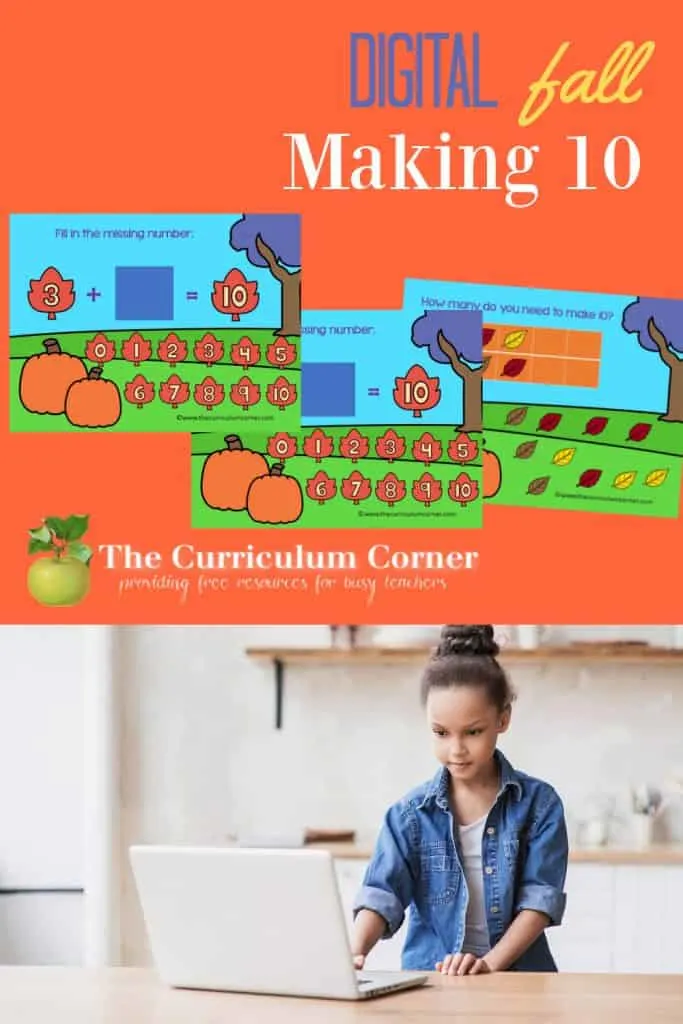 Working on Making 10
This activity is designed to help children build number sense.
Working on building groups of ten can help children establish a solid number sense foundation.
It is also an important piece of building mental math skills.
When working on making 10, students will be given a number. They then determine how many more are needed to make 10.
For example, a child might be given the number three. They will then use counters or a ten frame to determine that seven more are needed to make 10.
How to use this fall digital making 10 game
You will start this game using PowerPoint or Google Slides – make sure you choose the correct download for the file you will be using.
When students play this game, they will not put the game in present mode. Doing this prohibits them from moving the leaves to answer the questions.
This game has been created so that students can only move the leaves in the game. We are not able to further unlock this activity due to copyrights.
There are two formats for the slides found in this game.
For some, students will click and drag the leaves to fill the ten frames.
On the other slides, students will click and drag the leaves containing numbers to complete the equation.
The slides are ordered so that students will complete the ten frame for a number and immediately follow it with the matching equation.
You can download the digital leaves game here:
*** You do NOT need to request access for the Google Slides version. Simply save a copy to your Google Drive.
Access the file using your Google Drive here: Google Slides Version
Looking for other fall resources for math? Try these:
Thank you to Whimsy Clips and EduClips for the moveable clip art used.
As with all of our resources, The Curriculum Corner creates these for free classroom use. Our products may not be sold. You may print and copy for your personal classroom use. These are also great for home school families!
You may not modify and resell in any form. Please let us know if you have any questions.