This fall preposition practice collection will help you introduce and practice the concept with students.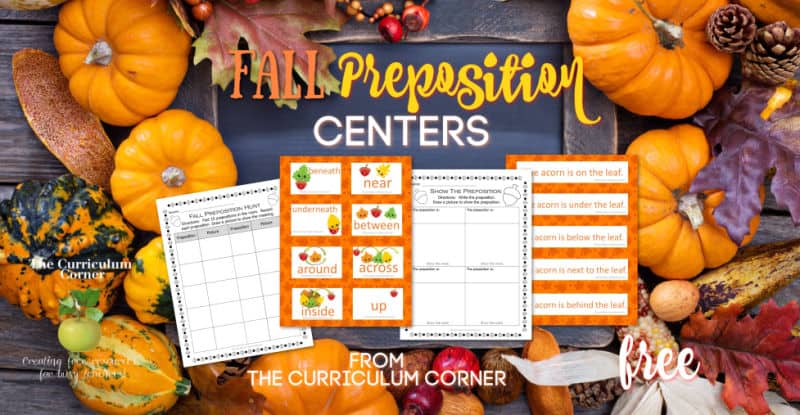 This is another free resource for teachers from The Curriculum Corner.
Use this fall preposition practice with your students to practice language skills.
If prepositions are new to your students, begin with a mini-lesson introducing the concept.
To make the idea stick, use props or maybe even students. Give students a preposition and have them act out the word. For example if you say under, they might get under their tables or desks.
Once students are familiar with the concept, you can use the resources below to reinforce the idea.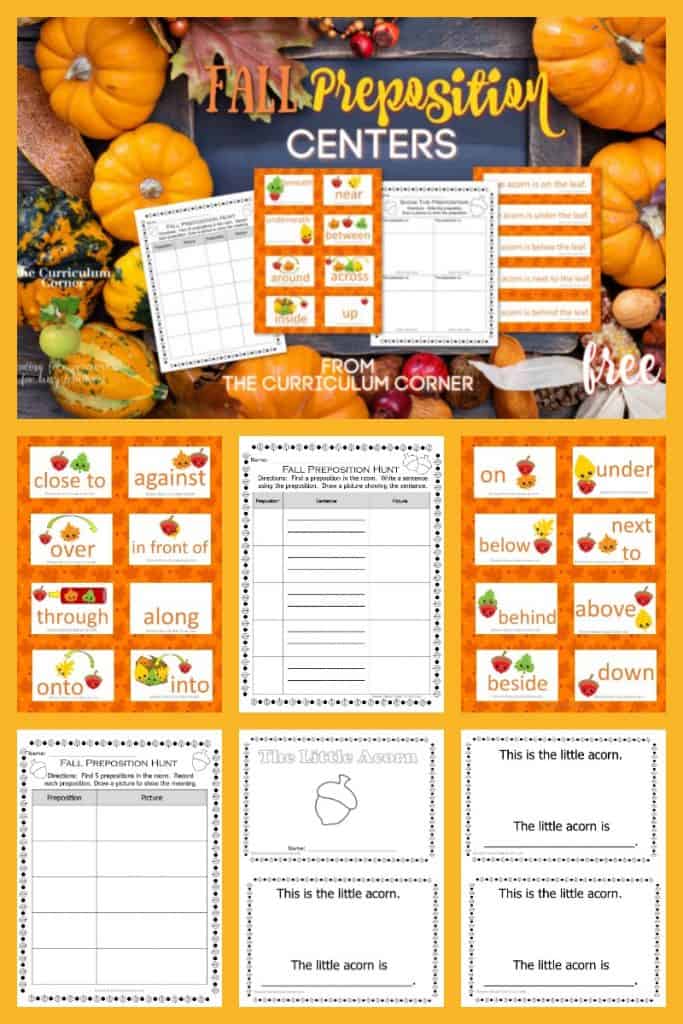 Fall Preposition Practice Activities
Acorn & leaf shapes Students can use these to model the prepositions they are practicing. These can go with the word cards or the sentence cards.
Preposition sentences These sentences tell where the acorn is. Students can use the acorn and leaf shapes to model each sentence. Or they can use the included recording sheet to draw what they are reading.
Preposition cards set 1 This set contains a single acorn in the top left for decoration. Each card contains a preposition.
Preposition cards set 2 This set contains a preposition along with pictures to illustrate each preposition.
Fall Preposition Hunt Pages Hide the preposition cards around the room. Students will find prepositions and record them on the page. There are multiple choices so you can choose the pages that fit your students.
Show the Preposition Recording Pages Students record the preposition and draw the word. You can use these along with the acorn and leaf cards if desired.
The Little Acorn Booklet Students can write their own booklet about the acorn. They will complete each sentence by saying where the acorn is. They can then illustrate their words.
You can download this Fall Preposition collection here:
Preposition Practice
You might also like these free fall resources: