These Fry word scrambled sentences will make an easy to put together literacy center that students love.

This is another free resource for teachers from The Curriculum Corner.
These Fry word scrambled sentences are designed to give your students practice with forming sentences.
These eight pages contain mostly words from the first 100 Fry list.
The first three sentences are 7-word sentences and the last five are 8-word sentences.
Students love these sentences for practice. Being able to draw a picture at the end adds to the engagement for students.
To set up as a literacy center, provide printed pages along with supplies. Students will need scissors, glue and crayons or colored pencils for drawing.
Directions for Write, Read, Draw Pages
Students cut out and read the words at the bottom of the pages.
They then create meaning by arranging them into a sentence, gluing them in the blank boxes.
Write the sentence on the line.
Illustrate the sentence to show understanding.
We have also provided a blank page so that you can differentiate by adding your own sentences from other sight word lists.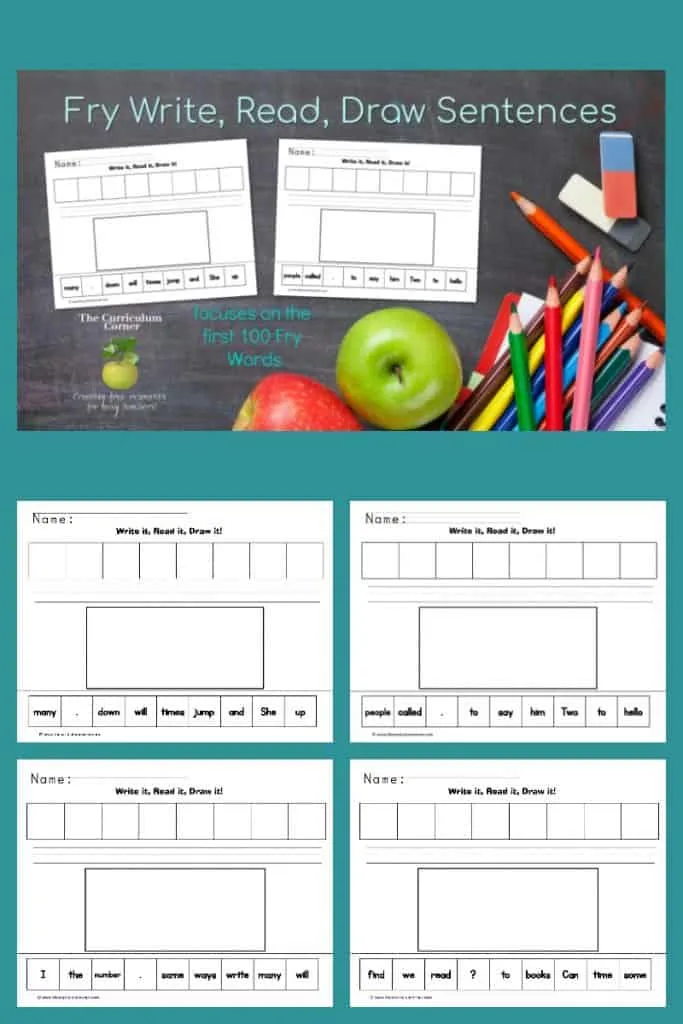 You can download these Fry Word Scrambled Sentences here:
First 100 Fry Word Read It! Write It! Draw It!
This version has the first letter of the sentence capitalized and punctuation mark for students to place at the end:
Read It! Write It! Draw It! w/ Capitals & Punctuation
Need something a little easier for your struggling students? You will find the five word sentences (using Dolch words) on The Kinder Corner here:
Dolch Word Read It! Write It! Draw It!
If you are looking for additional Fry word resources, take a look at our entire, free collection:
If you would like additional Write, Read, Draw practice activities, here are a few others: