Help students identify a variety of genres with this free set of genre posters from The Curriculum Corner.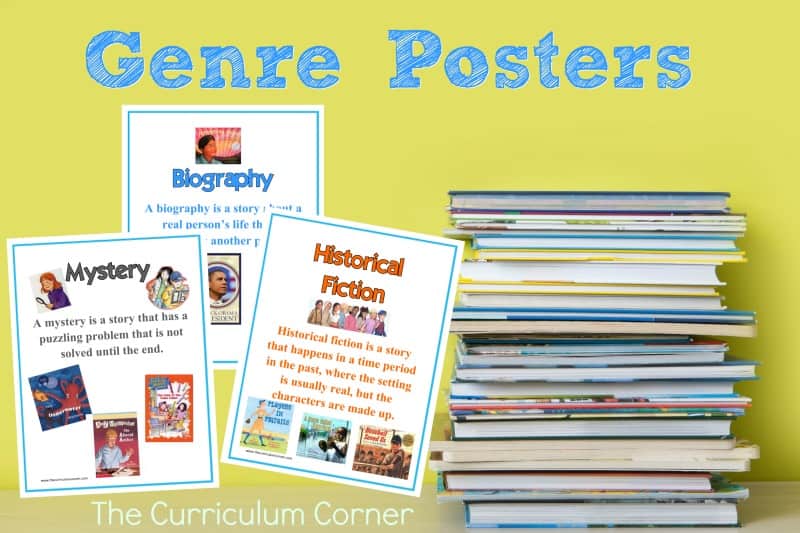 These free genre posters that were created by The Curriculum Corner can be used as a new, free teaching resource in your classroom.
You might choose to print on your poster maker at school. Or, laminate and place at a literacy center when needed as a reference.
A great way to teach your students all the different genres that they should be reading is by explicitly teaching them those genres. Then, give them a visual with examples to help them classify the texts they are reading.
As an activity, you might place two or three genre posters at a center along with a basket of books you have selected. Ask the students to sort the books to match each poster. We often find that sorting a basket of books can encourage discussions and teamwork.
You might also choose to place a genre poster at a writing center when students are being asked to write a certain genre.
Display these posters one by one in your room as you introduce the genres to your class and watch their understanding of all types of literature grow!
As an extension, you might encourage your students to create their own genre posters. They can draw pictures of their own books or even use pictures of books from book order forms.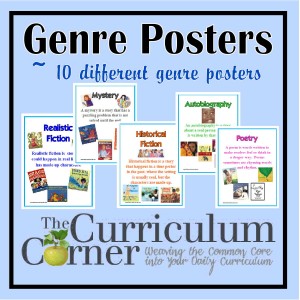 You can download our collection of free genre posters below.
Click on each genre title to download the poster.
Posters are only provided as individual downloads.
These posters are provided for free, classroom use. They may not be sold or modified and sold.