This is The Curriculum Corner's original launching reading workshop unit of study.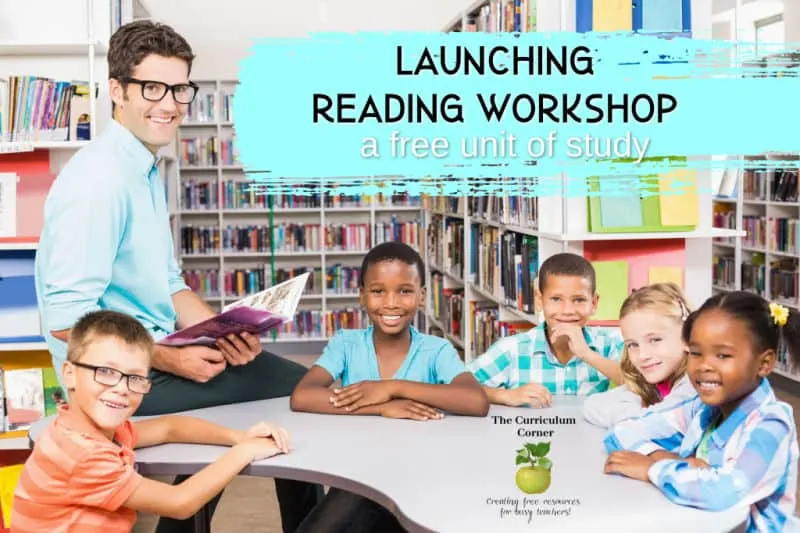 This is another free resource for teachers from The Curriculum Corner.
Start here when launching your reading workshop!
If you are new to reading workshop, this unit of study is designed to help you get started with implementing an effective workshop in your classroom.
We also have an additional launching unit with a "Growing Readers" theme. You will find the link to this free unit at the bottom of this post.

The Key to Success when Launching Your Reading Workshop
The key to a successful readers' workshop is beginning by teaching procedures. This will help your workshop run smoothly and effectively.
Use these launching lessons to create a more organized and meaningful experience for you and your students.
Because many of these lessons build the foundation of your workshop, not all address an academic standard.
Before you get started, create a plan for organizing your workshop. We have an editable reading management binder you might like: Reading Binder
What Does Reading Workshop Look Like?
What is Reader's Workshop?
First of all, it is important to know what reading workshop is. Below is a short description of what workshop looks like in many classrooms. Time frames can vary depending on your school and expectations.
Reading Mini-Lesson

– A true reading workshop begins with a 5 to 15 minute mini-lesson. This mini-lesson focuses on a specific concept or skill. Sometimes you might reference a read aloud. Often, it is a good idea to read this book before the lesson. Maybe as a time filler the day before as you are waiting on dismissal. You don't want the whole mini-lesson to be your read aloud. This allows the students to enjoy the story before being asked to focus on a specific concept or purpose.

Independent Reading and Teacher Conferencing

– Following the mini-lesson, students move to self-selected or independent reading. During this time students should be given a task to complete. The idea is for them to have the opportunity to practice the skill taught in the mini-lesson. They should not be spending the entire time writing instead of reading. Think simple! Maybe a post-it note response or an exit ticket. As students read independently and practice the new skill, the teacher conferences with individual students. (You will find conferencing forms in our reading management binder – link below.)

Lesson Wrap-Up

– At the conclusion of independent reading, the class returns to a meeting spot. Here they will review the lesson and discuss what students did to practice a new skill on their own.

Literacy Centers

– In our classrooms, we then immediately follow Reader's Workshop with our Literacy Centers. This is the time where students can complete Word Work, Vocabulary & Comprehension Building Activities or other reading skills practice. It is also the time that we meet with our small leveled guided reading groups.
**As this is an older unit of study, the set up is slightly different. Each lesson will be provided by clicking on the lesson title. All of the printables to accompany the unit will be available below the unit outline.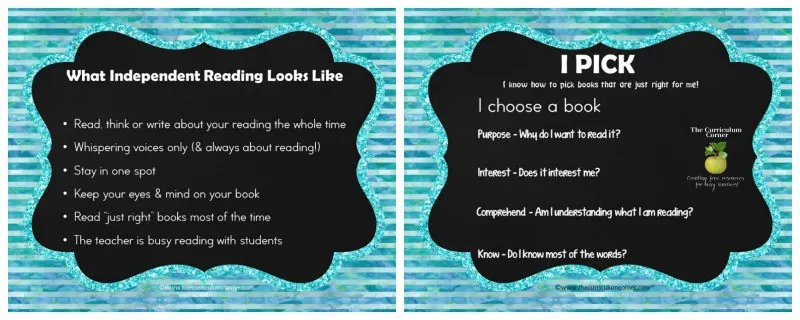 Launching Your Reading Workshop
Lesson 1: What Readers' Workshop Looks Like This beginning lesson helps students set classroom rules for a readers' workshop.
Lesson 2: How to Choose Just Right Books – This lesson includes a fun way to illustrate to students how to make sure they are picking "just right" books. (In the materials download you will find a t-shirt template for this lesson and an "I Pick" poster.)
**T-shirt template for above lesson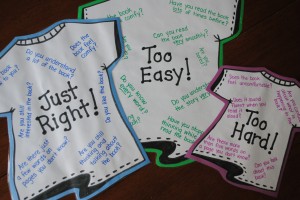 Lesson 3: Good Readers Build Stamina This lesson includes a class graphing activity where readers practice building stamina during readers' workshop.
Lesson 4: Buzzing About Books! – This lesson helps students understand the expectations involved in discussing the books they are reading (with partners) during sharing time.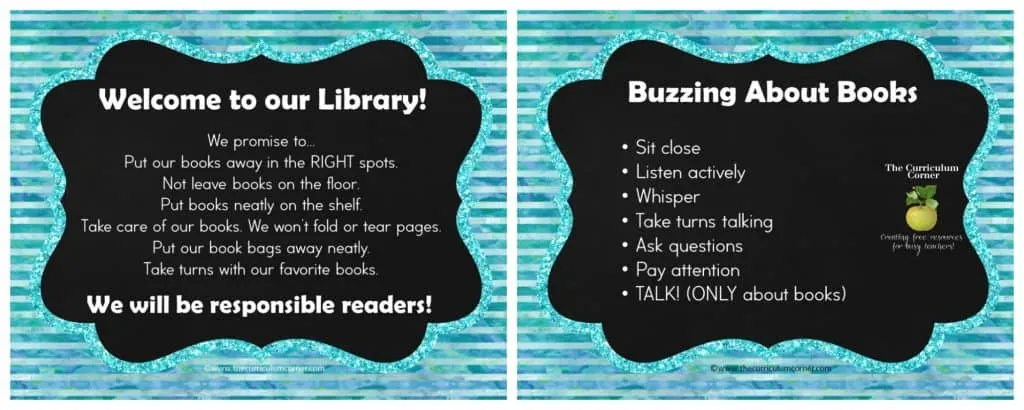 Lesson 5: Being Respectful and Organized This lesson follows a read aloud of the book The Librarian of Basra: A True Story from Iraq by Jeanette Winter. In this story, a librarian in Iraq works to protect her books during war. Students create a list of ways to take care of the classroom books.
Lesson 6: Procedures for Exchanging Books for Independent Reading Time – Students need to be able to exchange the books in their baggies or baskets at least once a week in order to keep interest high and a more focused independent reading time. Here we present a lesson to show students how to pick which books they will exchange and a few different book exchange procedure ideas that have worked in our classrooms. Regardless of your system for exchanging books, be sure that one of your early mini-lessons teaches students the specific procedures for this in your classroom.
Lesson 7: What Good Readers Do – This lesson gets your students thinking about how they can take charge of their own reading growth.
Lesson 8: The Habits of GREAT Readers – This lesson has students talking with older, more experienced readers to learn the habits that they have created. This is similar to the lesson "What Good Readers Do", but goes into more depth about the thinking that should take place before, during and after reading.
Lesson 9: Good Readers Listen to Their Inner Voice as They Read – This lesson teaches students what their "inner voice" is and how to listen to and use that inner voice to make sure they understand what they're reading.
Lesson 10: Good Readers Use Context Clues to Read New Words This lesson includes a read aloud of the book Splat the Cat by Rob Scotton where students use context clues to decode new words. (Another book of your choice can be used.)
Lesson 11: Good Readers Use Pictures to Read New Words This lesson can be done on a smartboard. Students read the text and discuss how picture clues can help readers read new words.
Lesson 12: Good Readers Use Chunking to Read New Words This lesson can be done on a smartboard or other type of board. Students practice using chunking to decode new words.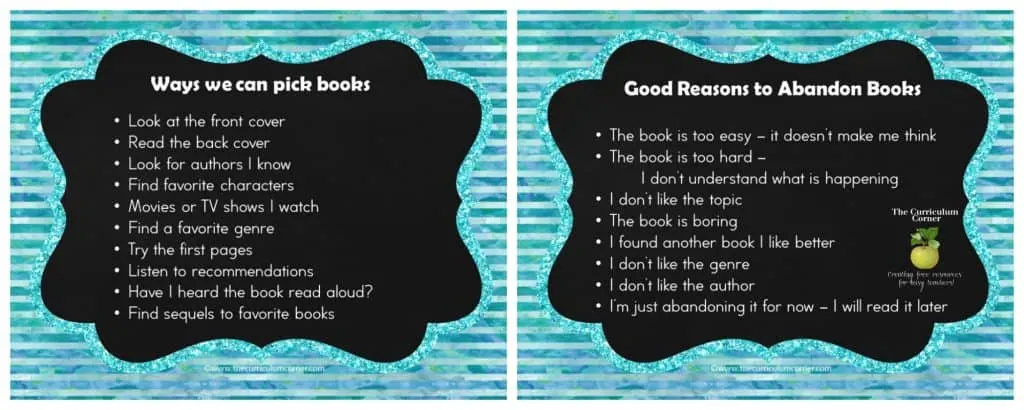 Lesson 13: Good Readers Use Strategies to Help Them Understand What They Read – This lesson teaches students about the importance of picture walks, rereading, questioning, visualizing and summarizing in comprehending stories.
This chart might be helpful to teachers as you conference with students: **"What Can I Do to Make Sure I Understand My Book?"
Lesson 14: Good Readers Record What They Have Read This lesson shows students how to record and keep track of what they have read. The teacher can choose any book to read aloud and a reading log of choice. The teacher models how to use then reading log and then, students use the reading log during independent reading.
You might like this reading response collection: Reading Notebook for Students
Lesson 15: Good Readers Practice Fluency This lesson includes a read aloud of the book Pirates Don't Change Diapers by David Shannon.
Lesson 16: Good Readers Use Post-It Notes as They Read This lesson includes a read aloud of the book Too Many Toys by David Shannon. The teacher models using post-it notes to record thinking while reading. (Another book of your choice can be used.)
Lesson 17: Readers Need Strategies for Reading Nonfiction Books – It seems many primary students are drawn to nonfiction books. This lesson is an introduction to reading nonfiction books that may or may not be too difficult. You will go into more depth about nonfiction strategies in your Nonfiction Unit of Study, however students will need some strategies for books they are reading right now and this lesson gives them a start.
Lesson 18: Asking Questions Before, During and After Reading – Students need to learn to purposefully and spontaneously ask questions as they read. You can have students practice this by recording questions on Post-It notes or in a reading journal. After completing the model as a class, have students practice on their own during independent reading. Go here to find more resources to extend this lesson: Responding to Reading The reading notebook we shared in lesson 14 might also assist you with this lesson.
You will find a completely updated Launching Reading Workshop unit of study here: Growing Readers Launching Unit This post contains updated lessons along with a larger collection of anchor charts, graphic organizers and so much more! It is still free.
If you are new to reading workshop, you might want to start here: Preparing Your Reading Workshop
Contains affiliate links