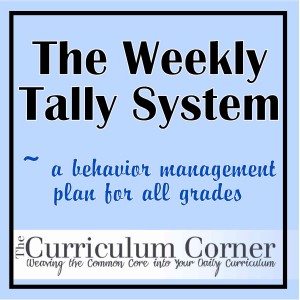 This is a great daily system to help improve student behavior! Begin by printing the weekly tally chart. This chart has a spot for you to write/ type each student's name (choose the word document if you would like to type the names, the pdf if you would like to hand write the names.)
Weekly Tally Chart – Word Document PDF
Once you have entered your names, you are ready to introduce the plan to your students. Share your classroom expectations and show students what the chart looks like. Need help setting up classroom expectations? Look here: http://www.thecurriculumcorner.com/2012/07/30/lifelong-guidelines-lessons/. Explain that this is a chart you will always have with you (clip it on a clipboard to make it easy to carry.) When students are repeatedly corrected for a behavior, record the matching mark under the first number. Usually telling students they have earned a number will help move children towards the correct behaviors.
At the end of the week, complete a behavior report for each student. We have it below in English and Spanish. Children take it home on Friday, talk it over with their parents and return the report on Monday. Students who need to improve their behavior have a spot to set a goal for the next week. A good motivator for students is a trip to your classroom treasure chest or prize box for a great week. Need some free rewards? Look here: http://www.thecurriculumcorner.com/2012/07/27/rewards-certificates/. You might start with students earning 5 or less numbers the first week of school and decrease it as students adjust to the new school year.
English Behavior Report Spanish Behavior Report
An important component of this plan is parent support. Students are often encouraged to do better or to keep up the good work by their families at home. Because of this, it is important to introduce this plan to parents. It is recommended that you mention the plan in your first newsletter. Then, at the end of the first week, you might choose to send home this chart:
This plan has many benefits! One is great student behavior. The other is constant documentation on student progress. For kids with an intervention plan in the area of behavior, this plan provides continual documentation!