This set of gingerbread color key math practice pages gives children practice with addition and subtraction facts.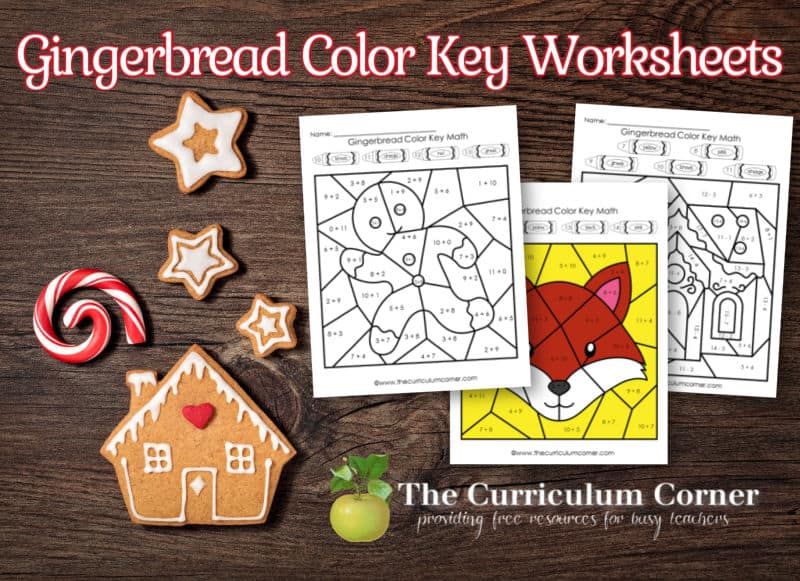 This is another free resource for teachers and homeschool families from The Curriculum Corner.
You can download this free gingerbread color key math practice set for addition and subtraction fact practice at the bottom of this page.
This new set of worksheets will be a great addition to your gingerbread story focus in the classroom.
These color key worksheets with a gingerbread man theme are like a set of color by number pages for addition and subtraction practice.
Children love these pages – usually they don't even realize they are completing work while having fun.
If your students enjoy these pages, these can make for a calming morning entry task or a break throughout the day.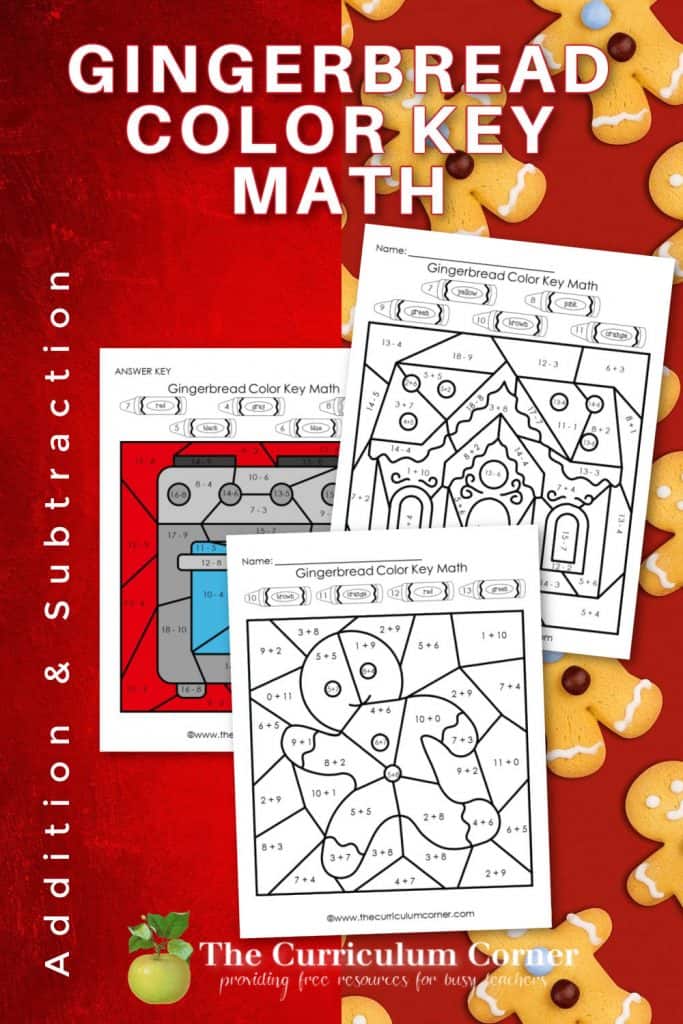 Completing these Gingerbread Color Key Worksheets
Children will need crayons or colored pencils to complete these worksheets.
I prefer colored pencils because it can make coloring in the lines a little easier. Of course, then you might also have to fight the battle of sharpening the colored pencils. Choose which works best in your room or let your students choose.
You might choose to have children begin by finding the answers to each math fact and writing them in with a pencil.
Once your students have filled in the answers, they can color the spaces to find the hidden picture.
Another tip is to have children start by coloring the crayons at the top. This will help children who may not be able to read all of the color words well yet.
You can download these gingerbread color key pages here:
Looking for other gingerbread themed resources? Try these other free printables:
Thank you to Zip-a-Dee-Doo-Dah Designs & Ink n Little Things for the clip art used in creating these designs.
As with all of our resources, The Curriculum Corner creates these for free classroom use. Our products may not be sold. You may print and copy for your personal classroom use. These are also great for home school families!
You may not modify and resell in any form. Please let us know if you have any questions.