This informational text passage collection along with graphic organizer activities focuses on a variety of birds.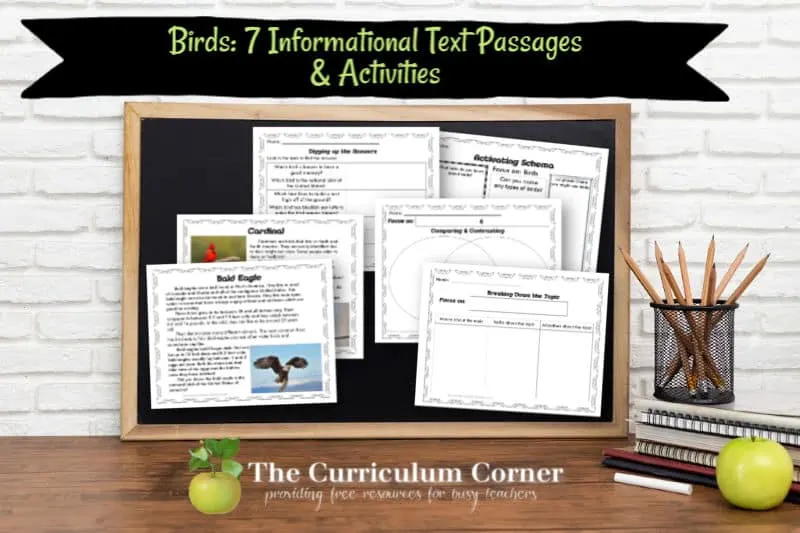 This is another free resource for teachers from The Curriculum Corner.
Add these informational text bird passages and graphic organizer activities to your nonfiction collection in your classroom.
This collection is designed to help you when focusing on informational text in the classroom. Below we will share some ideas we have created. However, you might just choose to use the nonfiction passages and create your own!
This set contains seven text passages. Each passage focuses on an individual bird. The collection contains a range of birds so students will learn about smaller birds along with larger ones such as the bald eagle.
Challenge your students to create their own passages!
Within each of the passages we have written students will learn about the diet and habitat of each bird. For many students there will be new words along with clues in the text students can use to decipher the meaning.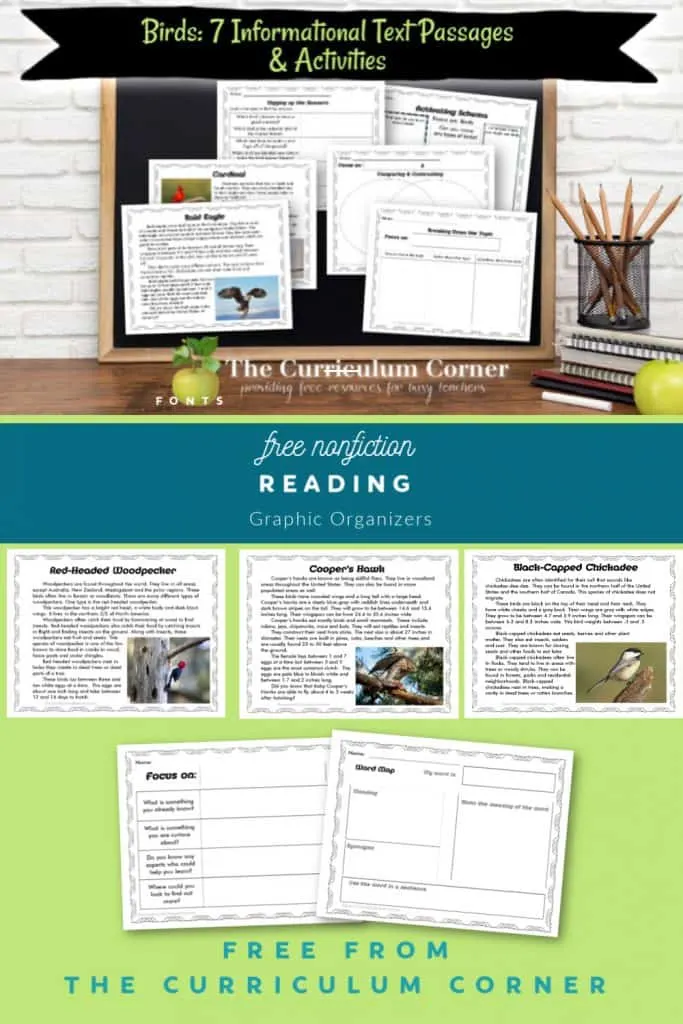 The passages will be helpful if you are working on close reading skills with your students.
We always believe that beginning a reading lesson by activating schema can be a meaningful way to engage students. The connections they can begin to create before they read can be helpful in building understanding as the text is read.
While students are reading you might choose to offer them a note-taking page of some sort. There are a few provided. We like to give students spaces for words and pictures or doodling.
Other printables included with our birds informational text
Digging up the Answers This is a quick quiz for student to identify the bird described.
Fact & Opinion
Compare & Contrast
Are, looks like, lives, eats
Breaking Down the Topic Students identify nouns, verbs and adjectives that tell about the bird they choose.
Word Maps
Bird Encyclopedia Students will share what they have learned about each bird. When they finish, they will have a booklet that tells about each bird. As an extension, have students research a new bird and add to the booklet.
All About Children will focus on one bird. In this booklet they will describe the bird's habitat, diet and more.
You can download this free Birds Informational Text Collection here:
Students can choose to add more birds to their bird encyclopedias. National Geographic offers a good section on birds that your students might find helpful.
Looking for a digital twist? Try these graphic organizers designed for digital learning.
Images in this post are stock photos purchased from ShutterStock. We can not give permission for the photos to be extracted from the materials and used in any way other than as provided.
---
As with all of our resources, The Curriculum Corner creates these for free classroom use. Our products may not be sold. You may print and copy for your personal classroom use. These are also great for home school families!
You may not modify and resell in any form. Please let us know if you have any questions.