These free menu math activities are designed to give your students real world math problem solving practice.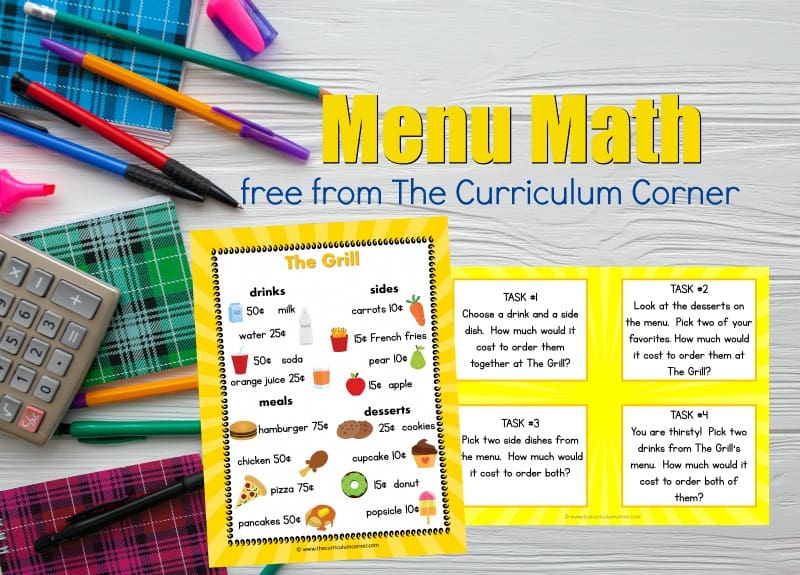 You will find the free collection to download below in this post. You will also find a link to a similar, coordinating set available on VariQuest's site. (This second set is also free.)
Giving students experiences that are similar to real-world situations are always useful in math.
We created these simple menus and task cards so that students can get practice with reading menus and performing operations with money amounts.
Simply print and laminate the menus and task cards, copy recording pages for students and place at a center with appropriate money manipulatives.
These menu math activities will make a great, easy to assemble math center. It can be used as a problem solving activity that provides your students with review of money skills. Grab the set on VariQuest's site for an easy way to extend this center for multiple weeks.
We have created two levels on menus and task cards for differentiation.
Each set of task cards contains 12 problems.
To make it feel like a more authentic experience, you could set up the center to mimic a restaurant table with a table cloth, centerpiece, plates, napkins and silverware. Our students always loved when we did this!
As an extension, you might choose to have students create their own menus and task cards.
You can download these free Menu math boards here:
The Grill GREEN Menu Task Cards
The Grill YELLOW Menu Task Cards
We used these same menus for our work with VariQuest, but created different word problems for each set.
If you'd like more resources for this math center, check out VariQuest's blog with our other resources here: