This collection of free resources can be used to help your student writers as they learn about writing editorials for newspapers.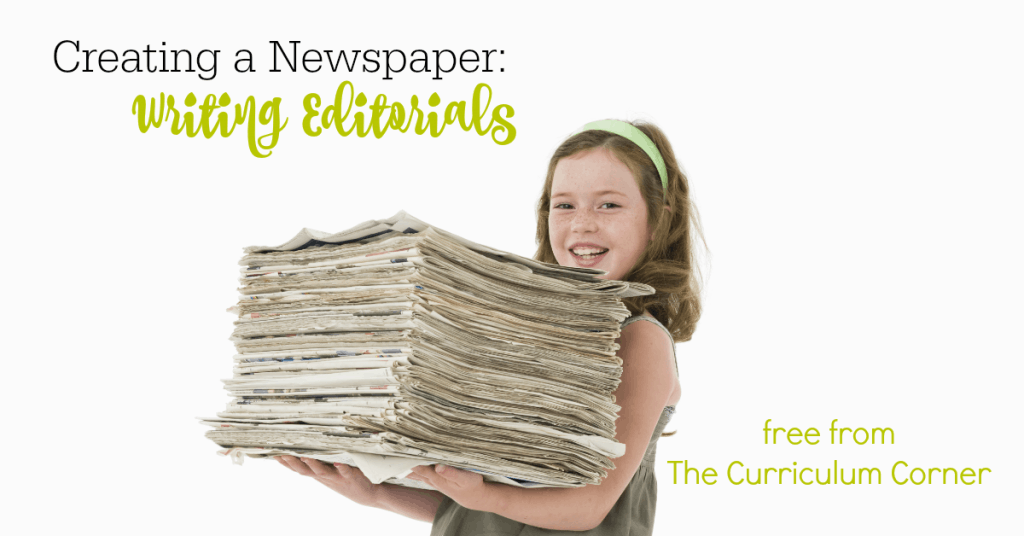 These free writing editorials resources are designed to help you put together a unit of study on writing newspapers in the classroom.
Editorials should be a part of teaching your students about newspapers, but are also an important and relevant way to show your students how opinion writing is used in a real-world context.
In this lesson, we have provided two examples of kid-friendly editorials for you and your students to read together.
We have chosen topics that we believe will be of high interest to students – more recess time and a break from homework!
Share and discuss one or both of the articles aloud and then fill out the graphic organizer for them to help students understand the important parts of editorial/opinion writing.
As a follow-up activity and to give students more practice, you can use these additional five high interest kid-friendly editorial ideas as group work and/or a literacy center.
Simply give the suggested topics and have students write their own editorials on the papers provided.
You might even make copies of "A Closer Look at Editorials" for students to use as their writing organizer to make sure they include the necessary support for their opinions.

You can download the free resources described above here. (Just click on the title to download each individual resource.)
Our prompts for editorial writing can be found below:
The Importance of Joy at School
_______________________________________________
Need more resources for opinion writing? Take a look at our Opinion Writing Unit of Study.
And if your students are still struggling with the difference between fact and opinion, you might want to look at these resources for some help: