These morning center suggestions are designed to help you put together a meaningful morning rotation.
When we arrive at school as teachers, we put down our things, say hi to our friends and maybe grab a cup of coffee. Of course there are mornings when there is much to do and we get right to work, but we feel so much better when we can ease into our mornings.
We like to offer this same opportunity when our students arrive whenever possible. Because our students come into the room over a period of 30 minutes and many leave for breakfast and then return, we do not like to give assignments. We often choose to offer opportunities for students to prepare for their day, participate in small group learning opportunities or practice important skills.
Below we are sharing ideas we have used in our own classrooms in the past which have been successful.
You might choose to assign children to groups or let them have free choice.
One rule I often followed was that there could not be more than 4 or 5 students at a center (depending on the activity.) Some classes might be able to manage this without a visual. However, many classes will need a visual on the board. We suggest putting a PowerPoint slide on your SmartBoard along with center names and student groupings. If students are choosing their own centers, you can have them use the SmartBoard pen to write their name in their chosen spot.
Management Boards & Punch Cards This is a PowerPoint file so you may download and edit to fit your needs.
We have included two different boards (each with two different background colors) so that you may choose the one that works best for you. You can edit the text on the boards with the names of your morning centers. You can display a page on your SmartBoard for students to write in their choice (or you can assign students to spots and add their names yourself.)
If you don't have a SmartBoard edit the text on the page you plan on using and then print and laminate. You can use a Vis-a-Vis marker to write in student names.
Our final management choice we've included is a punch card. If you want students to have free choice but want them to visit each of your centers, you can use a punch card system. Add the names of your centers to the punch cards and then print. You can even differentiate by giving different students different centers on their punch cards depending on their needs. Students get a punch each day depending on the center they visit. This will prevent students from going to the same center everyday if this is a concern of yours.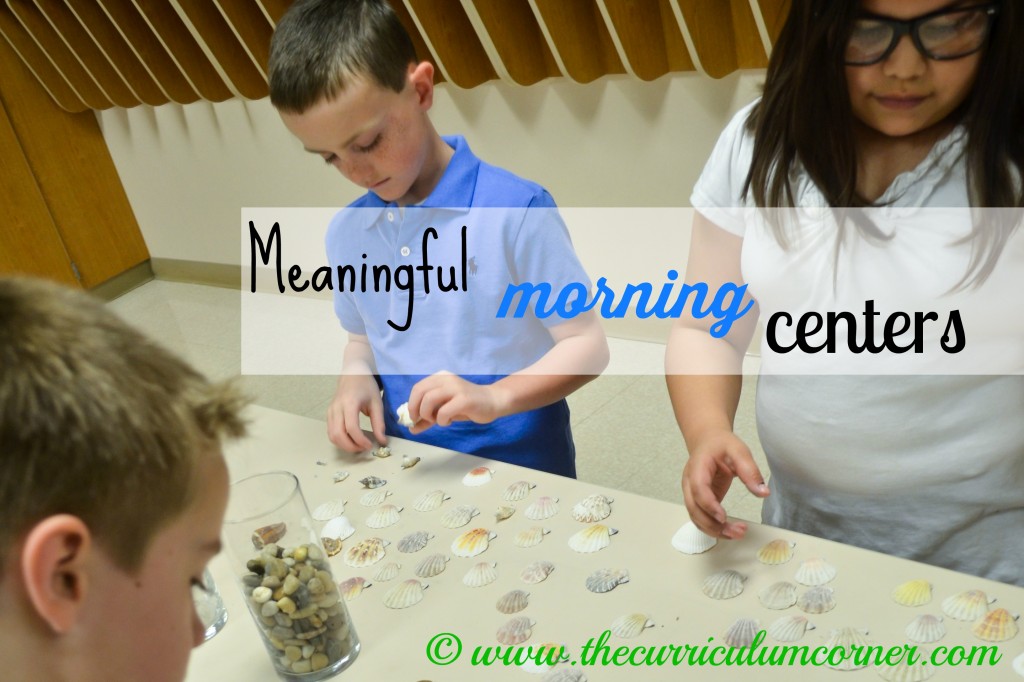 Morning Center Suggestions
To help get you started in your planning, we have put together a list of morning centers we often used:
Book exchange In our classes, students had a bag or basket of books for silent reading time. We liked students to have five just right books. Having students rotate these books first thing in the morning prevented them from needing to switch during independent reading time.
Math Fact Practice This could be a math game, flash cards or having students quiz each other on white boards. Here are a few of our favorite math games for morning centers:
Reptile Bump 4 in a Row Math Fact Game 80s Themed Mixed Fact Game Let's Spin Addition Game
Domino Addition & Subtraction Graph the Sums Boggle Math Fact Sorts
Listening Center
Number of the Day Display a number of the day on the board or on a card. Students complete a number of the day page to develop number sense skills.
For Grades 1, 2 and 3 For Grades 4, 5 and 6
Discovery Basket Create a basket of items that align with a future unit of study. For example, if you will be studying rocks, put together an assortment of rocks along with magnifying glasses. Leave a stack of paper and pencils. Students are given time to explore the items, make drawings, do rubbings and sort. This can be done with a variety of subjects.
Fry Word Games & Activities
Rainbow Fry Word Strips Frozen Fry Word Games Flip, Flop, Fry Games 3rd Hundred Fry Stop Game
Wild Roll, Read & Keep Fry Game Boggle for Fry Practice Super Mario Themed Fry Game
Do you have other suggestions for morning activities? We would love for you to share below!
weekly punch card