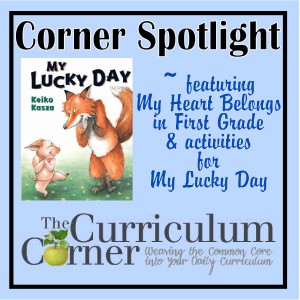 We have hooked up with Tamera from My Heart Belongs in First Grade to bring you our newest Corner Spotlight.
A little about Tamera:
I have been teaching for 20 years. I have taught K-2 and held a few reading position along the way. My absolute favorite grade to teach is first grade. It is a magical place where 5 & 6 year olds turn into readers in writers right before my eyes. A few years ago I received my Master's in Reading from Appalachian State University.
I began blogging last year after Christmas. Soon after, I began selling some of my personally made items on Teachers Pay Teachers. Both have been a blessing in my life. Currently, fellow bloggers have helped me raise over $900 to help fight EB – a terrible disease that causes the skin to blister with the slightest friction inside and outside the body! I am married to my high school sweetheart and have 3 fantastic children. We are all dog lovers and currently have 3 furry friends. We spend most of our time at football fields or basketball courts. My husband and I also spend quality one on one time together riding our Harley.
Tamera has put together a great collection of activities that emphasize vocabulary from the book My Lucky Day. We're sure you'll love these lessons as much as we do!
Grab the activities here: My Lucky Day
Visit Tamera on her blog: http://myheartbelongsinfirst.blogspot.com/.