This collection of free resources can be used to help your student writers as they begin writing feature articles for their own classroom newspaper.

This is part 4 in our series on Newspapers and focuses on how to teach students to write feature articles.
As part of our series on studying and writing newspapers in the classroom, we are focusing on helping writers learn how to write feature articles for newspapers.
Our goal in creating these resources was to help kids write feature articles that will become part of a classroom or school newspaper. Add our other lessons on writing newspapers to your writing workshop and you will be ready to create a complete newspaper in the classroom!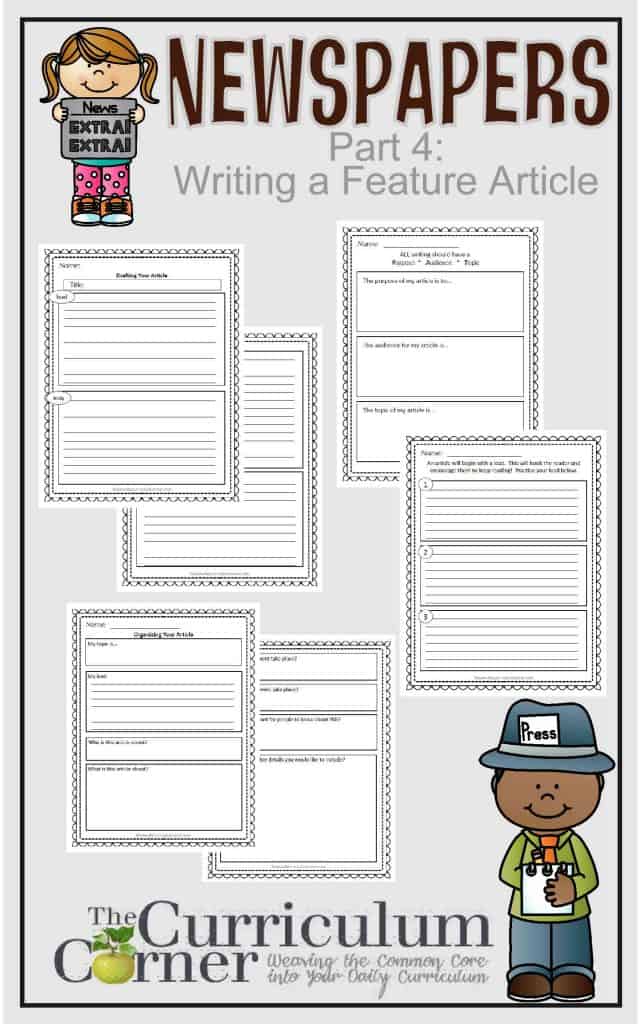 We suggest taking the students through the entire writing process of writing a feature article by modeling how to use each graphic organizer in this set. In that way students will see how all of the organizers flow together to write the article.
The graphic organizers for this writing newspapers post (with the exception of one anchor chart) are linked at the bottom of the explanation of lessons.
Ready to focus on writing feature articles? You will find our lesson ideas below:
Lesson 1: Determine Your PAT (Purpose, Audience, Topic) – Start by brainstorming some good feature article topics. Use the graphic organizer we have provided to model how to focus on a purpose, audience and topic for a feature article. Be prepared to use that topic in a guided writing exercise with your students.
Lesson 2: Writing Engaging Leads – Use our Top Ten Ways to Write Engaging Leads Chart (click the title to download) to show students several ways to write creative leads for their feature articles. One way to make sure students understand each technique is to take the topic that was chosen in the previous lesson and have students practice writing leads in each of the top ten ways. (You may want to put them into groups for this and assign techniques.)
We have also provided a lined page for practicing leads. Each has three lined boxes so students can draft a different techniques to determine the best. Some explanations and examples of the techniques on the anchor chart are shown below in case you want to use them as illustrations:
Lead with a Question – Helps to immediately get your reader thinking and wondering about the answer (Have you ever thought about how doughnuts are made?)
Lead with Dialog – Introduces the reader to the subjects in the article ("From the time I was only a child, I have always been interested in horses and how to take care of them," explained Dr. Smith.)

Lead with a Famous Quote – Makes the reader want to know how this quote relates to the topic of the article ("To be…or not to be." That is the question that twelve-year old Noah seemed to be asking of his friends.)

Lead with Onomatopoeia – A sound effect can create immediate interest in the topic of the article (CRACK! The lightning cut through the old barn and the fire ignited.)

Lead with Action – Gets the reader to start visualizing what has happened (The girls' horse got spooked and was out of control – running wildly around the field.)

Lead with a Small Moment – Gives the reader a snapshot of something that happened to the subject of the article (The football spiraled through the air towards the receiver and the fans held their breath to see if it would be caught and their dreams of a sectional victory would come true.)

Lead with the Ending – Creates interest in how the story came to that point (It was the first and last time that 30-year old Doug Henry would get the chance to see a space shuttle take off.)

Lead with an Interesting Fact – Teaches the reader something new and sparks interest in the topic (The Kentucky Derby had its first winner in 1875 when Aristides outran his other four-legged foes.)

Lead with Strong Feeling or Emotion – Gets the reader to feel something that will make him/her want to read further (When 22-year old Marian's dog Pumpkin died, she felt lost and wasn't sure she would ever be able to find a pet so loyal.)

Start with a Flashback – Helps the reader to relate to the subject or topic of the article (18-year old Aidan only overslept once in all his years of school, but turned out to be one of the best things that ever happened to him.)
Lesson 3: Organizing a Feature Article – Use our graphic organizer to model how students should be thinking about the organization of a feature article. It needs to make sense and flow well, in addition to including critical and pertinent information. It is also important to note that an article might not require all parts of this organizer. This is a two page organizer that has a box for the lead and then boxes for students to describe the who, what, when, where and why of their topic. It also contains a box for other important information that may be important to add.
Lesson 4: Drafting a Feature Article – Use this final graphic organizer as simply a place to write a first draft for a feature article. It is labeled with the words lead, body and closing as a reminder to include all parts. Again, we recommend that you model how to use this graphic organizer by continuing the writing process with the article the class chose at the beginning of these lessons.
You can download all of the writing feature articles resources as described above by clicking on the link below:
In case you are interested, here are the links to the first three in our series on Newspapers as well as a link to our post focusing on vocabulary surrounding newspapers.