These number word charts will be a useful tool for your students during math class.
Download our free number word charts to add to your math toolbox.
There are a range of options so you can choose a just-right fit for your students.
This is another free resource for teachers and homeschool families from The Curriculum Corner.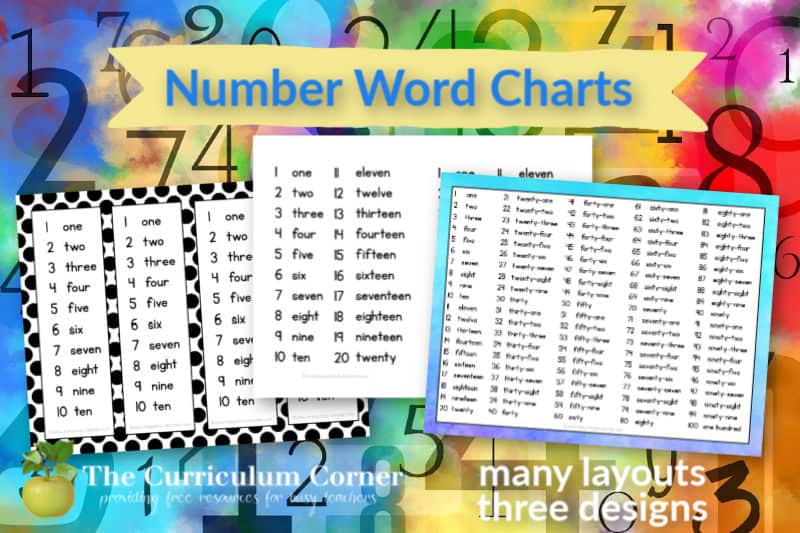 Add these number word charts to your collection of math resources
As your students are learning to read and write numbers and number words, these free charts can be a useful addition to your class.
When creating our charts, we worked to make a variety of styles so that you could find a chart that will be best for all of your students.
These are designed to assist students who might need a little extra help with writing their number words.
Have your students store the charts in their math folder for an easy to access tool!
Or, add to math tubs at a math center or in the middle of student groups.
Another choice is to enlarge and print as a poster for classroom display.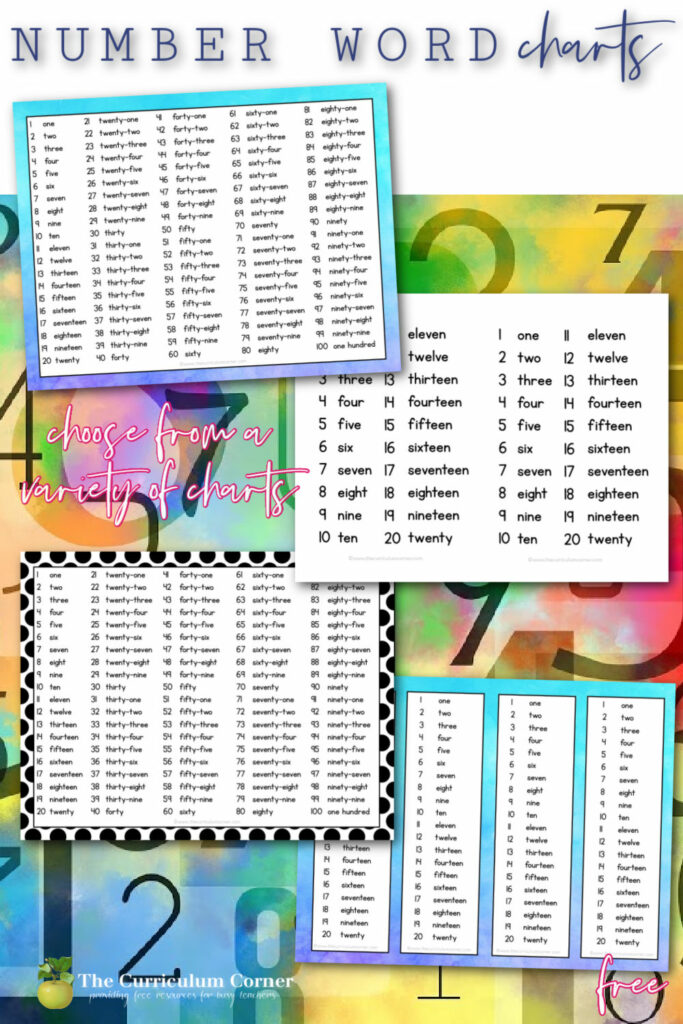 You will find the following charts within our collection:
4 on a page, words one through ten
1 on a page, words one through twenty
2 on a page, words one through twenty
4 on a page, words one through twenty
1 on a page, words one through one hundred
Each chart is provided with a white background, black and white polka dot background and watercolor background.
You will find that other printables on our site to match the polka dots and watercolor styles. Take a look at our Polka Dot Classroom Decor and Watercolor Classroom Decor.
You an download all of our chart in a single download below.
Choose the style that works for your students and print just those pages.
Download the printable number word charts here:
As with all of our resources, The Curriculum Corner creates these for free classroom use. Our products may not be sold. You may print and copy for your personal classroom use. These are also great for home school families!
Remember, you may not modify and resell in any form. Please let us know if you have any questions.