These Fry Word bookmarks will help your students working on learning their sight words.
This is another free resource for teachers from The Curriculum Corner.
These Fry Word bookmarks are designed to be used to help your students practice their sight words. These strips include words 1 – 300.
We suggest giving to students to use as a bookmark, place in their bag of books or even send home a strip for review at home.
As teachers, we are always looking for additional resources to help students learn their sight words. We know that not every strategy works for every student. For this reason, our goal is to provide as many choices as possible.
This set of Fry Word bookmarks will allow you to give students ten words to focus on at a time. Learning ten words at a time as opposed to a full list of 100 words will make the task seem less overwhelming.
Because these lists are provided in a bookmark format, the lists will be portable.
You can choose to copy on card stock for durability or on regular copy paper.
You will find bookmarks with a rainbow background below as long as a set with a white background. We know that color ink can get expensive!
The set on white might also be copied on colorful card stock.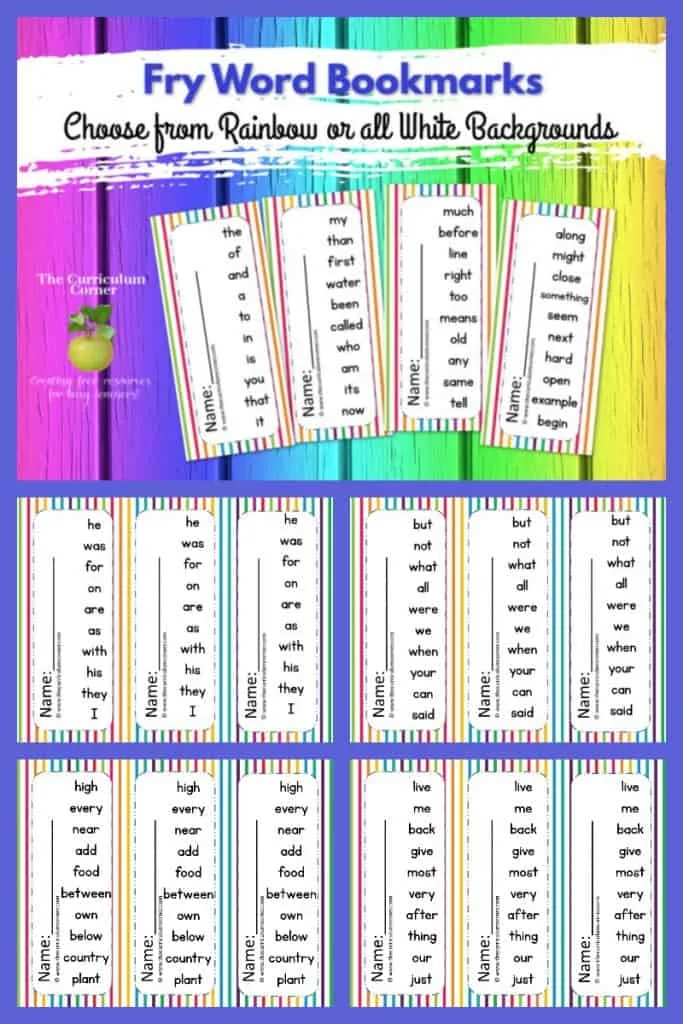 You can download these free Fry Word Bookmarks here:
Looking for additional Fry Word resources?
As always, these are a free resource for teachers and families. Please feel free to copy and use in your own classroom.
You may not sell this resource or modify and sell this resource in any way.
If you have any questions, please feel free to contact us.