Use our Did You Know? spring facts as an engaging display and/or discussion for your students. This set of 8 free spring facts is designed to be shared once a week on your smart board.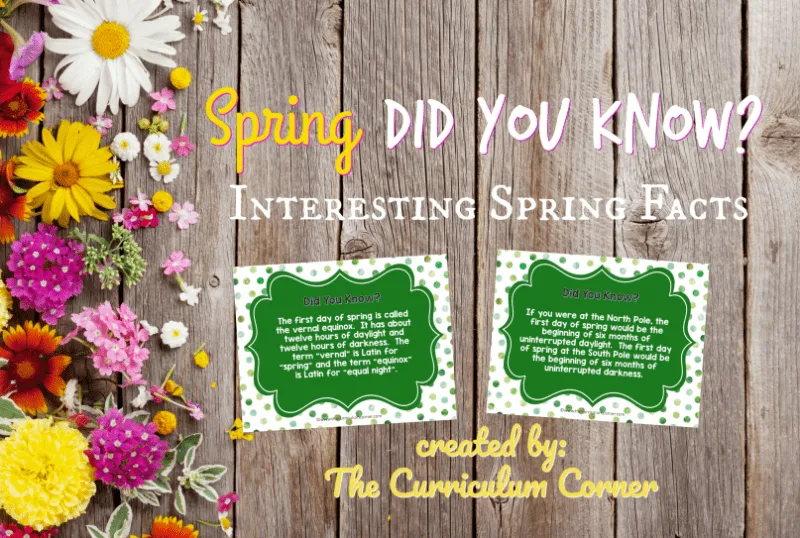 These "Did You Know?" spring facts can be used in various ways in your classroom.
We have created this set of eight Did You Know? spring facts as something to spark interest with your students, but you might also use them as:
an engaging piece of text for students to read & talk about to start their day
a springboard for a science or experiment or short research project to attempt to prove/disprove a fact
a launch or anticipatory set for a social studies unit of study
a spark for a discussion or debate on a current event

This new set of spring facts has been created for our newsletter subscribers! If you know someone who might like to have these, be sure to let them know to sign up so they have easy access to these PLUS get quick links to all of our newest posts delivered to their inbox weekly!
Also making sure that you all know we have a 456 intermediate site AND pre-K/kinder site in addition to this site for primary teachers. If you didn't, you can check those out by finding and clicking on the permanent links at the very top of this (or any) page or simply click below now:
Again, remember if you aren't currently an email subscriber, all you need to do is enter your email address on one of our home pages to get access to other "Did You Know?" sets that will come out AND to keep up to date on all of the most current resources that we are putting out each week on all three sites. It's the easiest way to see, access and bookmark the resources that fit your grade level and type of instruction the best.
You can download all of our free "Did You Know?" spring facts here: