Use these snowman scrambled sentences at a literacy center to help your students stay engaged while learning.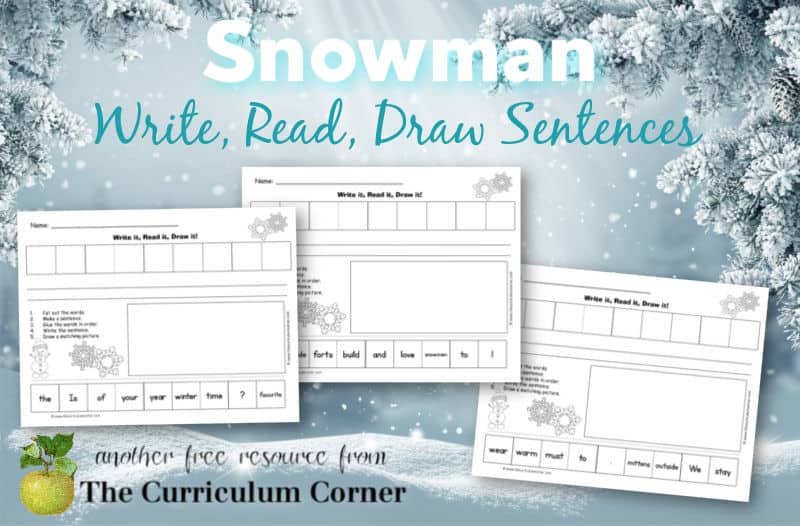 This is another free resource for teachers and families from The Curriculum Corner.
Try these snowman scrambled sentences in January and February.
Need a seasonal literacy center? Read, Write and Draw It! activities are great!
This set of snowman scrambled sentences are an easy to put together and engaging center.
You can download the free sentences by clicking on the bold links lower down in the post.
This set of Read, Write & Draw It! pages are perfect for the winter season.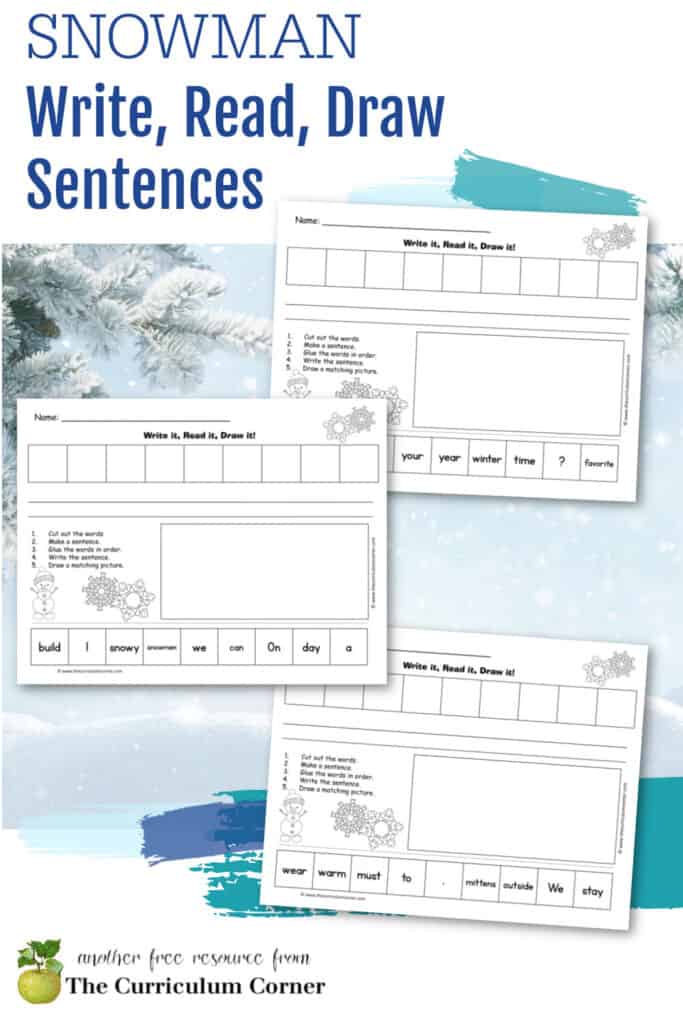 These snowman scrambled sentence pages offer many benefits.
First of all, they give children fine motor skill practice. Students will practice cutting and gluing. They will also write and draw.
Reading is practice when children are looking at the words.
Also, children work on comprehension when they are unscrambling the sentences to create meaning.
Comprehension is also touched upon again when children illustrate the sentence.
Best of all, children love this activity! It seems simple but we often hear requests for new themes because children enjoy them so much.
How to use these Snowman Scrambled Sentences
Place these pages at a center along with scissors, glue and drawing materials.
Students cut out the words at the bottoms of the pages.
They then create meaning by arranging the words into a sentence.
Next, they will glue the words in the blank boxes.
After that they will write the sentence on the lines.
Finally, have children illustrate the sentence to show the meaning.
You will find a total of eight scrambled sentences in this download. There is also an answer key.
You can download this free set of snowman scrambled sentences here:
Looking for other materials to help you in planning for winter? Try these freebies we have also created:
As with all of our resources, The Curriculum Corner creates these for free classroom use. Our products may not be sold. You may print and copy for your personal classroom use. These are also great for home school families!
You may not modify and resell in any form. Please let us know if you have any questions.