This free telling time practice booklet will offer independent practice for your students learning to tell time.
This free telling time practice booklet is great for independent practice while you are working with small groups.
This is another free resource for teachers and families from The Curriculum Corner.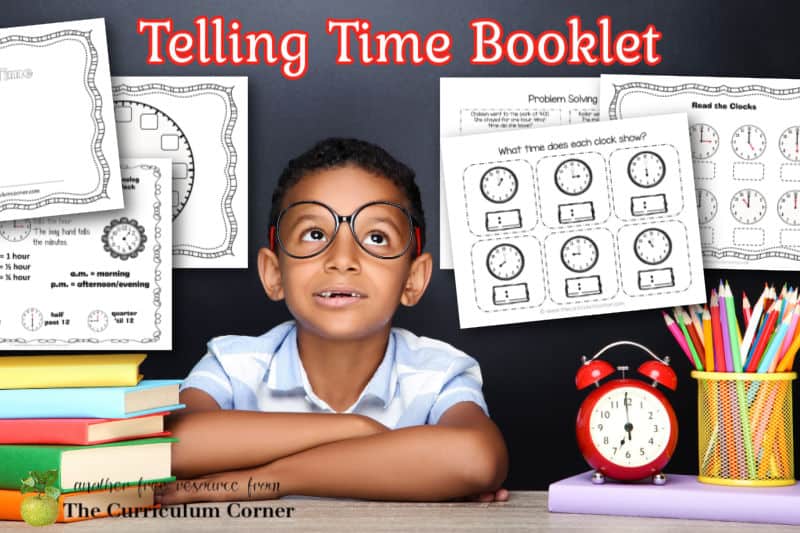 About this telling time practice booklet
This free booklet is designed to give your students practice with a variety of telling time skills.
It is newly updated to include more skills.
Among the standards covered for first and second grade classrooms are:
CCSS.MATH.CONTENT.1.MD.B.3
Tell and write time in hours and half-hours using analog and digital clocks.
CCSS.MATH.CONTENT.2.MD.C.7
Tell and write time from analog and digital clocks to the nearest five minutes, using a.m. and p.m.
We have also included other basic skills related to telling time.
Students will complete clocks, count by 5s and practice recording the time shown on clocks.
There are also two pages of problem solving activities.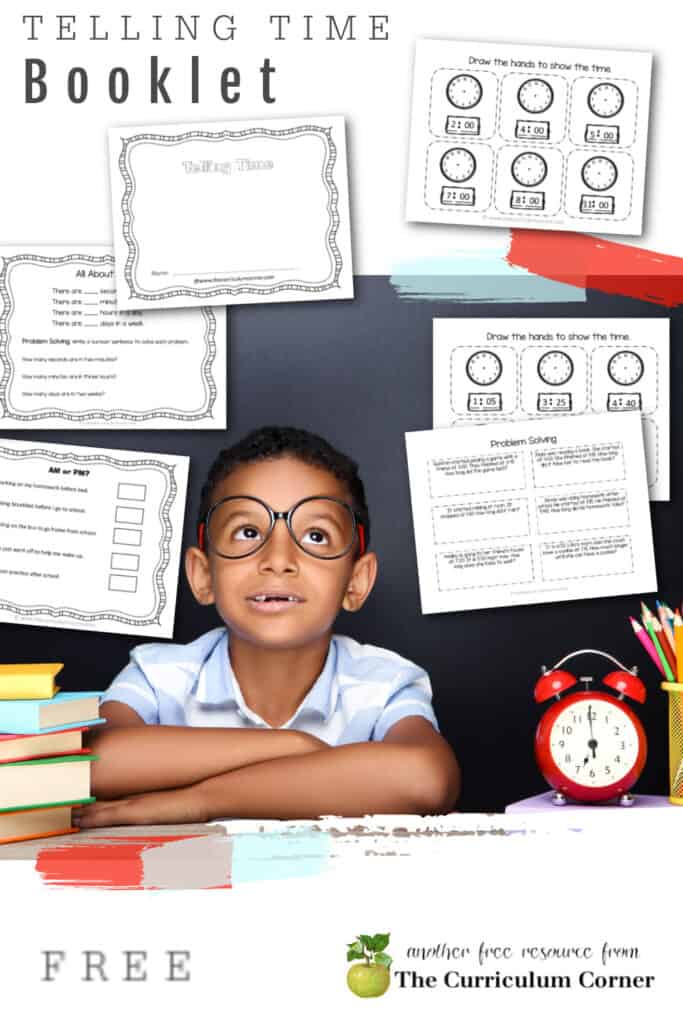 Assembling your booklets
Simply print and copy for your students to have ready to go practice.
Use this collection of pages to create telling time practice pages for your students. We have included one page with blank clocks so you can draw in hands to create just right practice for your students.
These pages will provide students with review and practice of taught skills. They are not designed to teach students independently. Some students might benefit from using manipulatives while they are completing the work.
For students who are not ready for pencil and paper telling time practice, you might provide practice with counting by 5s.
When assembling your booklets, remember to differentiate your booklets by providing the pages that are appropriate for the children in your class.
You can download this free booklet to help students practice telling time here:
As with all of our resources, The Curriculum Corner creates these for free classroom use. Our products may not be sold. You may print and copy for your personal classroom use. These are also great for home school families!
You may not modify and resell in any form. Please let us know if you have any questions.