Our collection of free telling time worksheets will give your students practice with reading clocks.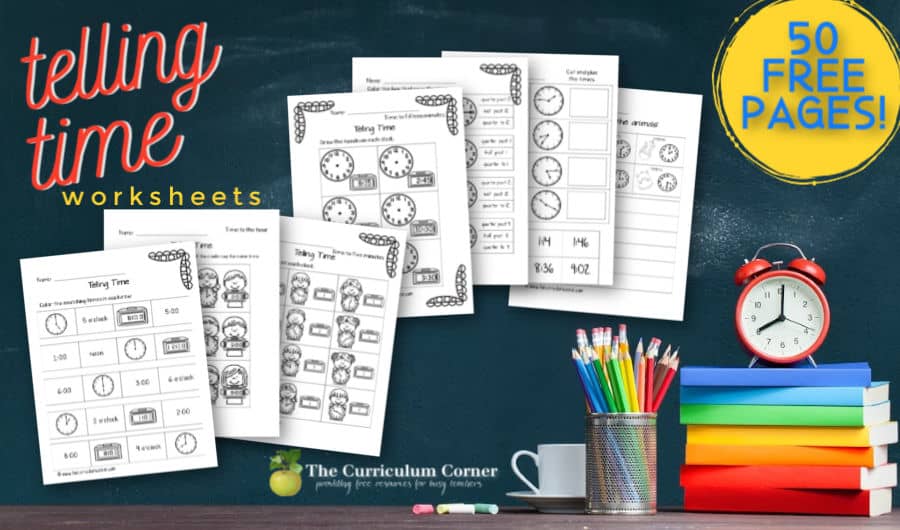 This is another free resource for teachers from The Curriculum Corner.
In need of more telling time worksheets? We've got you covered!
This set of telling time practice pages include 50 pages for you to choose from.
These pages will help your first through third grade students practice telling time standards in the classroom.
You will find the following in this set:
Telling Time in Grade 1 Worksheets
Telling Time in Grade 2 Worksheets
Telling Time in Grade 3 Worksheets
You might want to add our free telling time anchor chart to your wall. This anchor chart will help your students who need a little guidance as they master the skill of telling time.
This collection of pages has not been created for teaching. As always, we like our teaching to include hands-on practice with manipulatives!
Some of our favorites are dry erase clocks and individual student clocks. We also like adding some clock stamps to our math centers.
Introducing the skill of telling time can require lots of whole class practice where your students can practice moving clock hands and checking with their neighbors. This is never a quiet time – you will want to encourage your students to help and support each other.
Once your students are familiar with the skill of how to tell time, you might move onto some of our worksheets for telling time.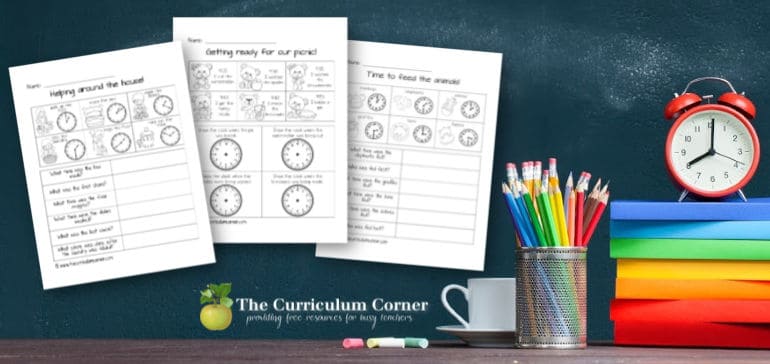 Because we have created a range of levels within this worksheet set, you will be able to find pages that are just right for all of your students. Be sure that you are providing your students with practice that isn't too easy and isn't too hard!
You don't want to turn paper and pencil practice into busy work and you also don't want to have your students reach the point of frustration while mastering this skill.
The following measurement skills are covered in these pages:
Parts of a clock
Reading a clock
Telling time to the hour
Telling time to the 1/2 hour
Telling time to the 1/4 hour
Telling time to five minutes
Telling time to the minute
Reading schedules
Along with regular worksheets where students are expected to write, you will also find a range of cut and paste activities with clocks.
You can download these free telling time worksheets here:
You might also be interested in the following time resources:
Telling Time to 5 Minutes PowerPoint
---
As with all of our resources, The Curriculum Corner creates these for free classroom use. Our products may not be sold. You may print and copy for your personal classroom use. These are also great for home school families!
You may not modify and resell in any form. Please let us know if you have any questions.
Thank you to the following for the telling time clip art: