These free domino math worksheets are designed to help your children practice addition and subtraction with dominoes.
Add these domino math worksheets along with a set of dominoes to a math center for an engaging way to practice.
This is another free resource for teachers and homeschool families from The Curriculum Corner.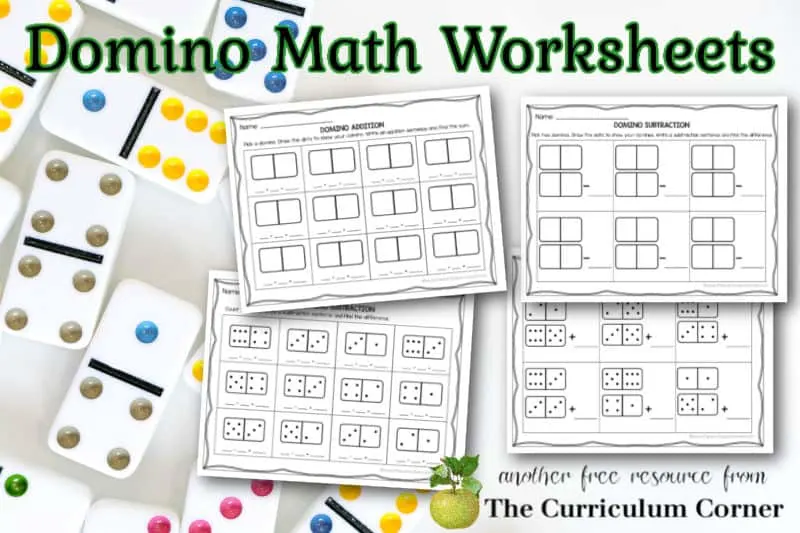 What kid doesn't love dominoes?
Using dominoes for a math practice center is a way to engage students in math center practice while giving them a chance to review addition or subtraction skills.
As an extension, you can have students use the dominoes to create their own math problems for classmates on white boards.
Domino Math
These printable domino math pages will help you create a fun and engaging center.
Get started by putting a box of dominoes at the math center.
You will then have a choice of pages to provide your students with.
We have included pages for addition and subtraction.
The first four pages will require students to use the dominoes. They will pick a domino and draw in the dots.
Children will then write in the number.
For the double digit numbers, students will write the digit in the first section followed by the digit in the second section. If a domino has 4 dots in the first spot and 2 dots in the second, the number will be 42.
You will need to help students understand how to put the biggest number first when they are working on subtraction.
We have also included four pages that include preprogrammed dominoes. These can be used for practice when you don't have dominoes available for your students to use.
The variety of pages we created allows you to choose the practice page that is just right for each student. All students are completing the same activity, just at their own level.
You can download these free domino math pages here:
Looking for other resources to offer addition and subtraction practice to your students? Try these freebies we have created:
As with all of our resources, The Curriculum Corner creates these for free classroom use. Our products may not be sold. You may print and copy for your personal classroom use. These are also great for home school families!
You may not modify and resell in any form. Please let us know if you have any questions.