Use this Verb Tense PowerPoint Practice Game to give your students practice identifying past, present and future verbs during your literacy stations.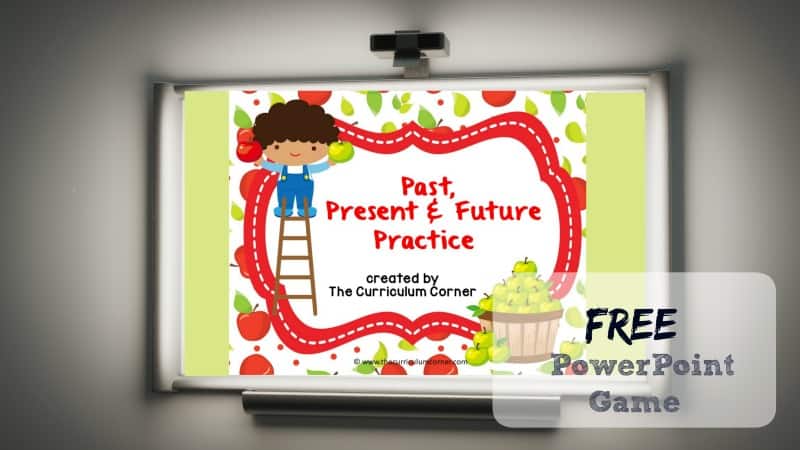 This apple picking themed PowerPoint game is meant to provide engaging practice for your students on the computer.
This free PowerPoint game is designed to give your students practice with identifying past, present and future tense verbs within the context of sentences.
You can download this free Verb Tense PowerPoint Game by clicking on the bold, bright link at the bottom of this post.
Like our other PowerPoint practice games, this interactive practice is designed to be a free literacy center for your classroom. Students can work independently and receive immediate feedback on their answers.
As many teachers are moving towards classrooms with less paper, these types of resources for computer literacy centers or even for whole class participation as a mini-lesson or review is a great alternative.
This free game is designed to give your students skill practice after they have already been taught about past, present and future tense verbs.
Set this up on your student computers for morning practice, during literacy centers. Or project it onto your Smart Board and guide your students through the slides discussing answers as you go.
To use this with your whole class, we suggest you give your students small white boards and dry erase markers.
Display a slide with the problem
Give students time to read, determine their answer and write it on their small white boards.
Read and discuss the answers as students reflect on the answer they chose.
Students can self check and get excited as they see that their answers match the correct answers on the PowerPoint presentation.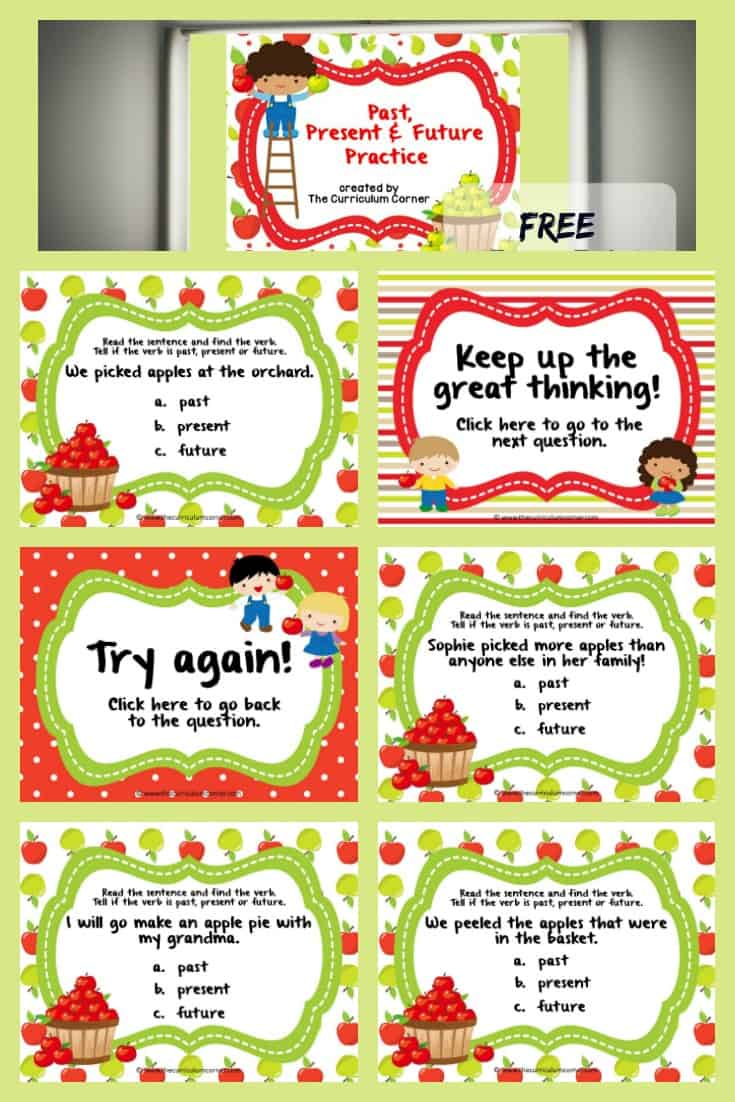 One nice feature of this game is the immediate feedback students are provided. Correct answers throughout the game are praised with a praise slide! When students answer a problem incorrectly they are met with a "Try Again" slide and will click to be taken back to the original sentence for another attempt.
To begin practice a student will need to click on the words on the title slide and will immediately be taken to the first question. Once the student makes an answer choice, he/she will need to click on words on the feedback slide to be taken back to the original question or move on to the next one.
(Note: Students must click on the actual text for the slides to correctly work.)
The practice is created so that the final slide is linked to return to the first slide.
You can download this Verb Tense PowerPoint game here:
*Once you have downloaded your game, click on "Enable Editing" in the small white box located at the top. Then click on the "View" tab and "Reading View" or simply click on the small icon on the top left of the screen for "Start From Beginning. *
You will need the following KG Font for your game to display correctly: KG From Where You Are.
(We have a commercial use license for ourselves, you will just need to download the free version!)