Add this virtual learning art break to your collection or resources for distance learning.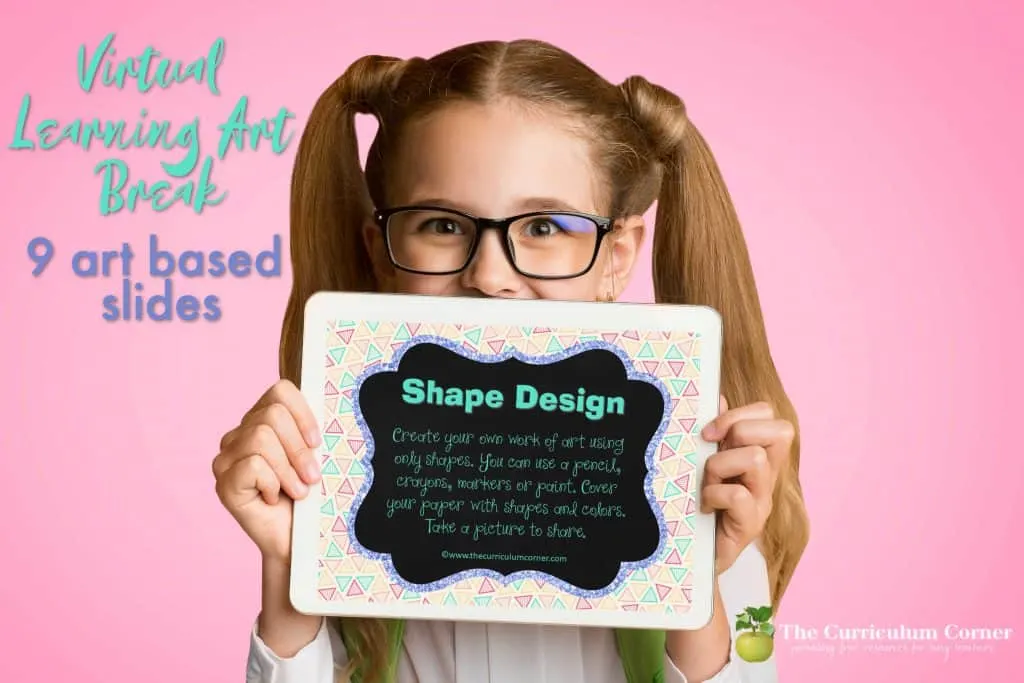 This is another free resource for teachers and families from The Curriculum Corner.
This virtual learning art break is a fun way to help your students get away from a screen for a little bit during your distance learning.
Our children are being asked to spend lots of time in front of a screen during distance learning. Even as adults this can be challenging
We hope that this art break we have created will be a good way for your students to regroup and get ready to learn again.
For many of the tasks, students will need few supplies.
They can use a pencil or crayons and paper. If you are looking for some fun supplies to send home, you could add water colors and Play-Doh.
About These Virtual Art Break Slides
You will find 10 slides total. The set begins with a title slide.
Next, there are 9 different art tasks.
The tasks include:
Color Hunt Children will create an art collection focusing on one color.
Castle Design Children will draw or build a castle.
My Magical Creature Children will use paper and pencil or clay to create their own creature.
Shape Design Children will draw shapes to create their own collage.
Fashion Design Children can work as fashion designers to create their own new outfit.
Video Game Design Children will create a video game screen design.
Toy Design Children will design their own new toy.
Rubbing Children will find a textured object in their house to create a rubbing.
You can download this free set of slides here:
Looking for other brain breaks for your virtual learning? Try these:
As with all of our resources, The Curriculum Corner creates these for free classroom use. Our products may not be sold. You may print and copy for your personal classroom use. These are also great for home school families!
You may not modify and resell in any form. Please let us know if you have any questions.