Try this virtual would you rather introduction activity to get to know your students during distance learning.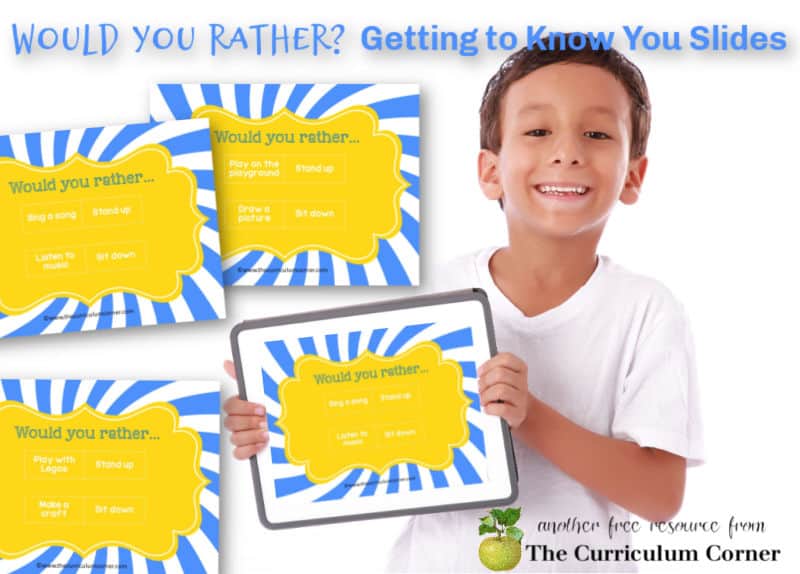 This is another free resource for teachers from The Curriculum Corner.
Add this virtual would you rather introduction activity to your distance learning collection.
A challenge for so many teachers this year is figuring out how to get to know students via a computer screen. Distance learning makes building those connections we spend the first weeks on difficult.
We have been constantly brainstorming ideas that we can create to help you with this task.
If you have any ideas of your own that you think we might be able to create, please send them our way.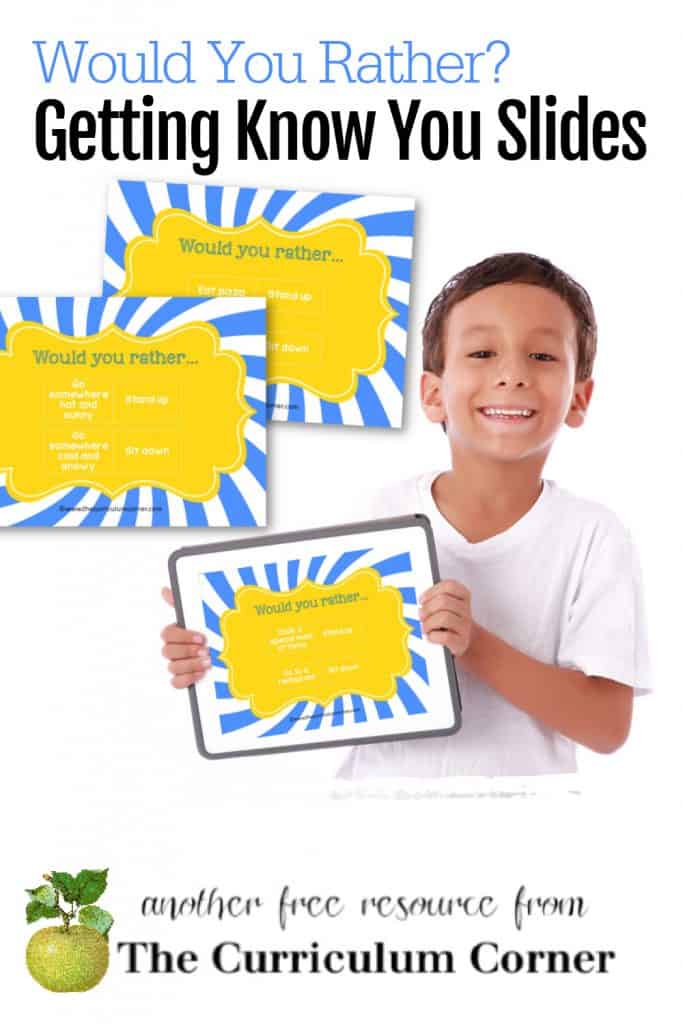 Using these Virtual Would You Rather Introduction Slides
Children love would you rather games and we thought they might be a fun way to add a little movement to your virtual learning.
This set contains 15 slides plus a title slide.
Each slide has a simple getting to know you question such as would you rather watch a movie or read a book.
Students are instructed to stand up or sit down to show their answer to the question.
We have tried to include a mixture of questions so that you find out a range of information. While we know this activity won't be as good as meeting your children in person, we hope it helps you learn a little bit about your students.
If you are teaching in person, these can also be a fun activity to include in your day. The slides are perfect for displaying on your smartboard.
They will offer a way for students to learn about each other without making contact.
You can download this set of virtual would you rather activity here:
Looking for other activities to help with your virtual instruction? Try these:
As with all of our resources, The Curriculum Corner creates these for free classroom use. Our products may not be sold. You may print and copy for your personal classroom use. These are also great for home school families!
You may not modify and resell in any form. Please let us know if you have any questions.