Help your children learn bird vocabulary words with this free collection for your classroom word work.
Add this bird vocabulary words resource to your bird focus in the classroom.
This newly updated resources can help you quickly create a word work center for your literacy rotations.
This is another resource for teachers and homeschool families from The Curriculum Corner.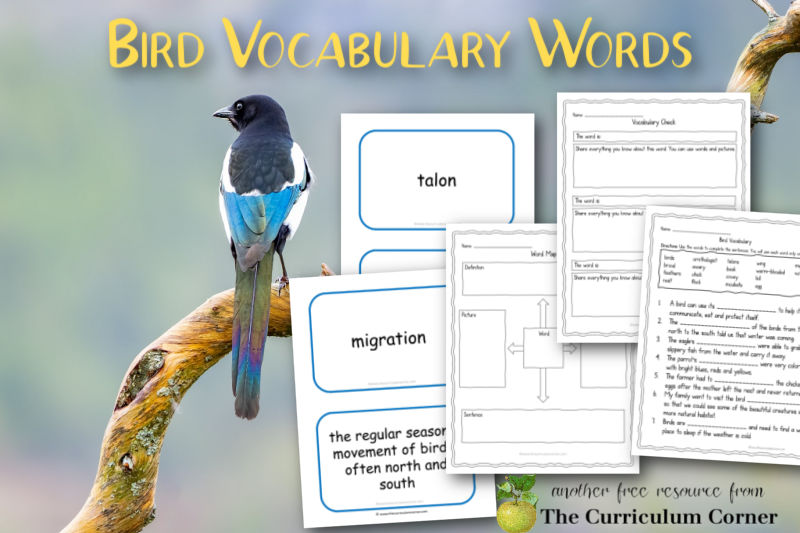 Working on vocabulary
Try helping students learn new words related to your bird focus with this bird vocabulary set.
You can use this collection to add to your science work woven into your literacy instruction.
This set contains materials that can help students learn and practice words.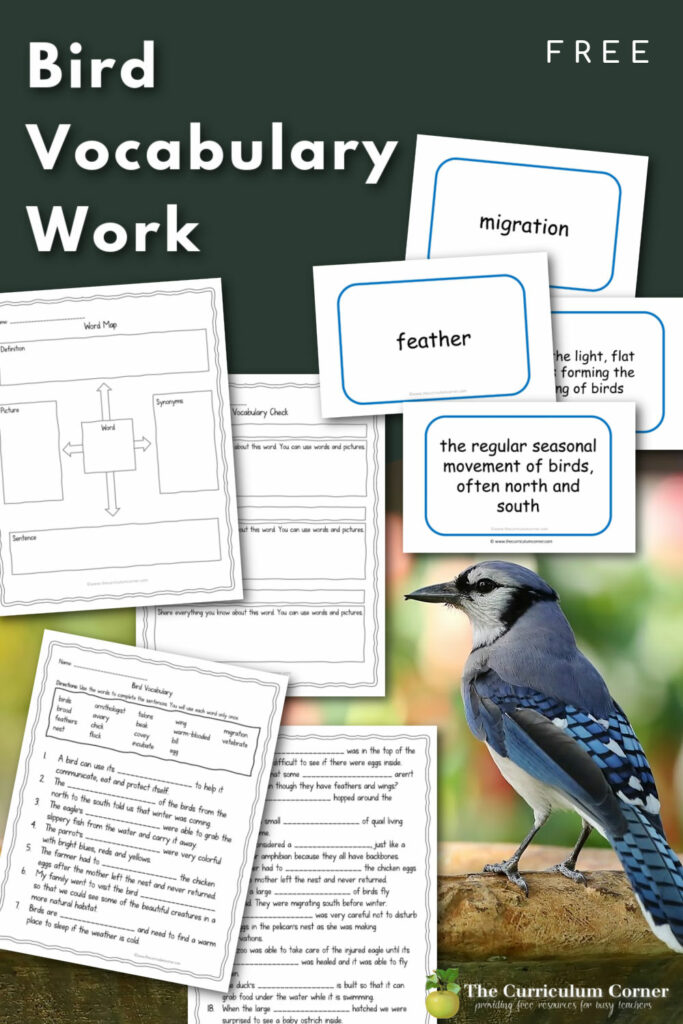 This vocabulary set includes the following words
bird
aviary
beak
bill
brood
chick
covey
egg
feather
flock
incubate
migrate
nest
ornithology
talons
veterbrate
warm-blooded
wing
Students will find two pairs of words that are very similar.
When talking about bill and beak, students can talk about synonyms.
Covey and flock are another pair of similar words. For this pair, have students complete research to find the small differences.
A flock is typically used to describe a larger group of birds, often these birds are migrating.
A covey is usually a group of 8 to 12 birds. A covey might also be referred to as a small flock.
This bird vocabulary set includes:
Vocabulary word & definition cards – these words can be used for matching words and definitions. Along with sorting at a center, you could use these for whole class instruction. Give each student a card and they will find their partner.
Word map – if there are two or three important words you want students to master during your vocabulary study, you might use this page. Word maps give students to dig deeper into a word and really help students learn a new word. This is not something we would choose to do for every word.
Vocabulary check – this is a very open-ended word check. You will write in three words you want to check understanding of. Then, students can use words and pictures to share everything they know.
Fill in sentences – students will use the word bank to complete the sentences. This might be a task students work with a partner or small groups on. Allowing discussion will help students carefully place the words, especially the word pairs that are similar.
You can download this vocabulary set here:
Looking for other resources to add to your bird study? Try these freebies we have created:
As with all of our resources, The Curriculum Corner creates these for free classroom use. Our products may not be sold. You may print and copy for your personal classroom use. These are also great for home school families!
You may not modify and resell in any form. Please let us know if you have any questions.