Download this free winter literacy center set to help create your winter centers.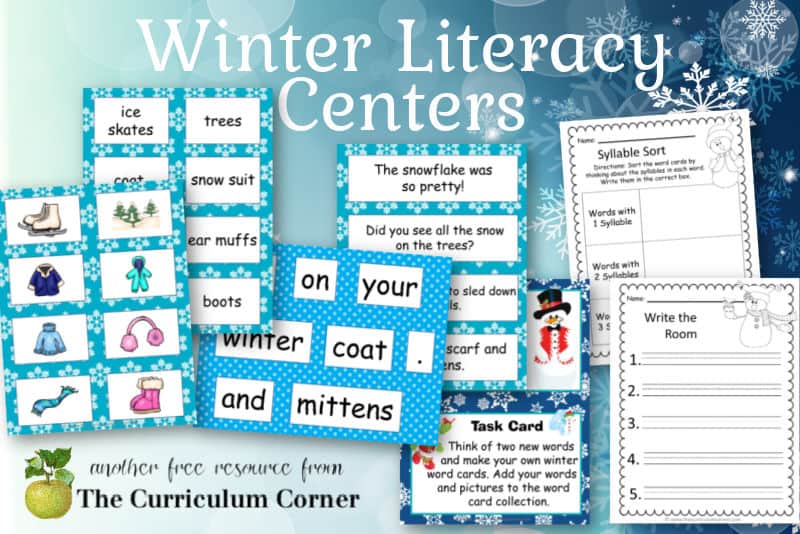 This is another free resource for teachers and families from The Curriculum Corner.
This winter literacy center set is a great way to add a little winter themed fun to your literacy centers.
We have included a variety of materials to make your planning faster and easier.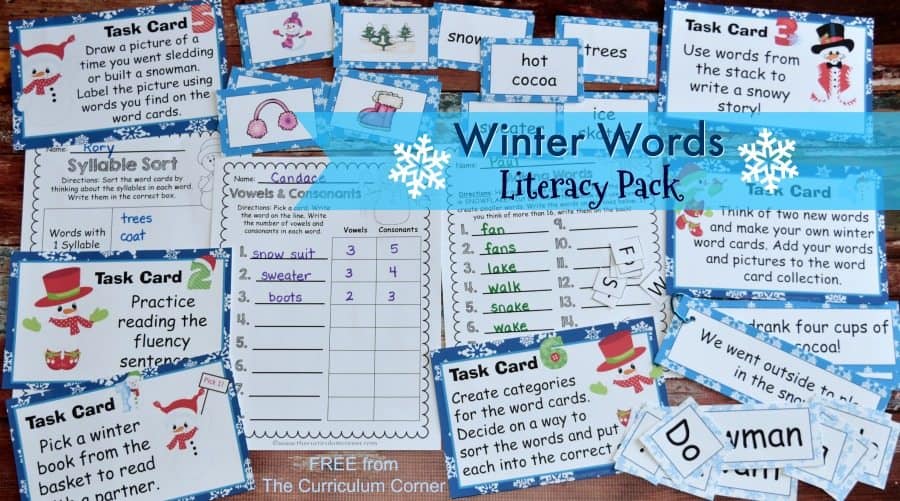 What is included in this winter literacy center set:
Word Cards & Matching Picture Cards
Use these as matching cards or with our write-the-room recording pages.
There is also a blank page so you or your students can add additional words & pictures.
Add the cards to the recording pages included and create centers.
Not sure how to set up a write the room activity? Follow these directions:
Choose 5 or 10 word cards (or picture cards if desired.)
Number the cards 1 through 5 or 1 through 10.
Place the cards around the room.
Students will go on a hunt around the room. They will write the correct word on their recording pages.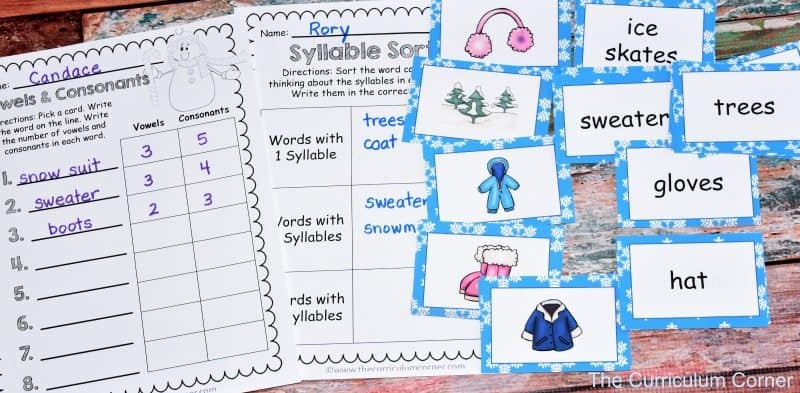 Pocket Chart Sentences
You will five different sentences, each printed on a different background. (This will make sorting easier.)
Have sentences unscramble the words to form sentences.
This center can be used in a pocket chart or simply on the floor.
We have written five different sentences, each on a different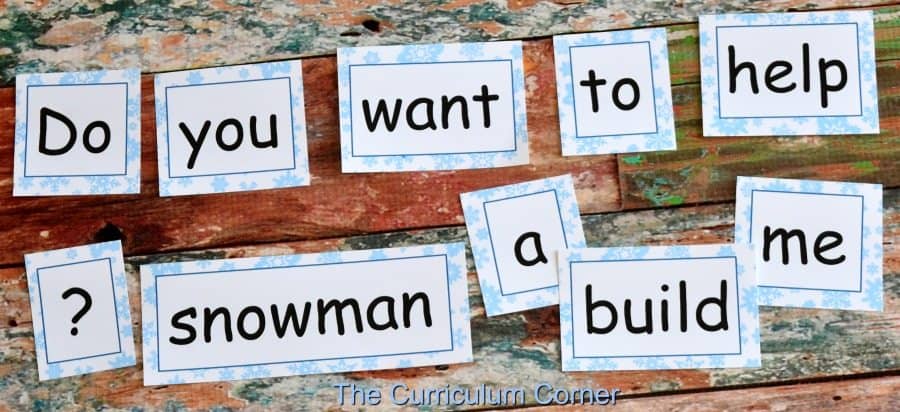 Fluency Sentences
Print these sentences on cardstock and cut apart. We like to laminate the pages for durability. You can then place them on a binder ring for easy storage.
Students might use these at a fluency center during literacy rotations. You can add them to student book bags for in
dependent reading. Or, send home for parents to practice with their children at home.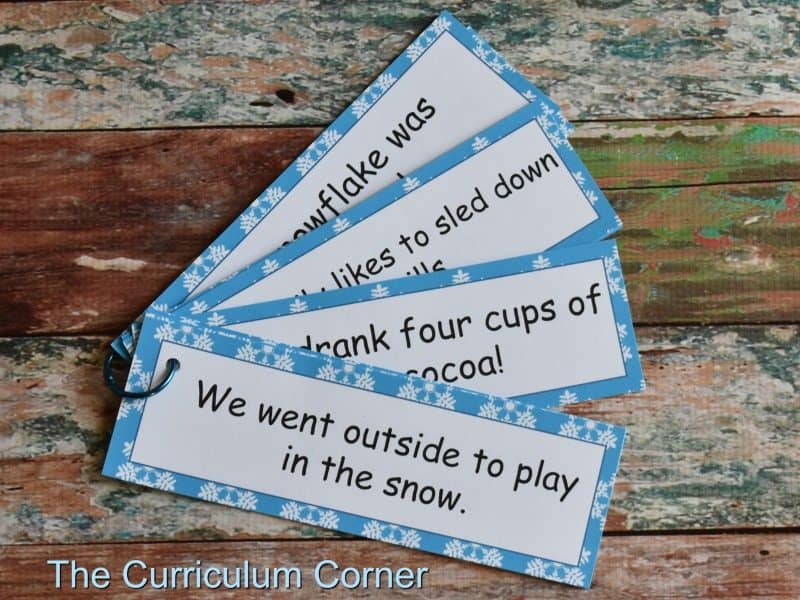 Task Cards
There are 6 different task cards.
You can provide a specific card at a center or allow for student choice.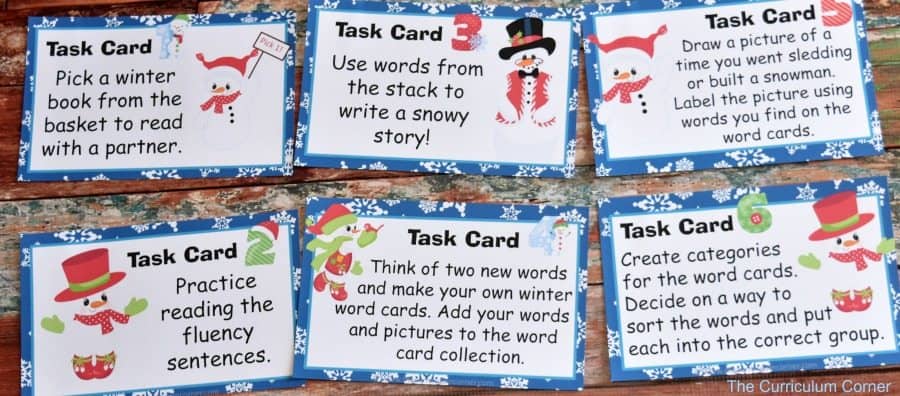 Winter Practice Pages
Word Shapes – Words from the word card set.
ABC Order – Use word cards for this activity.
Show Meaning – Use the fluency sentences for this activity.
Syllable Sort – Use the word cards for this activity.
Vowels & Consonants – Use the word cards for this activity.
Making Words – SNOWFLAKE & ICE SKATES
Word Families – (ow, at, ed, oat)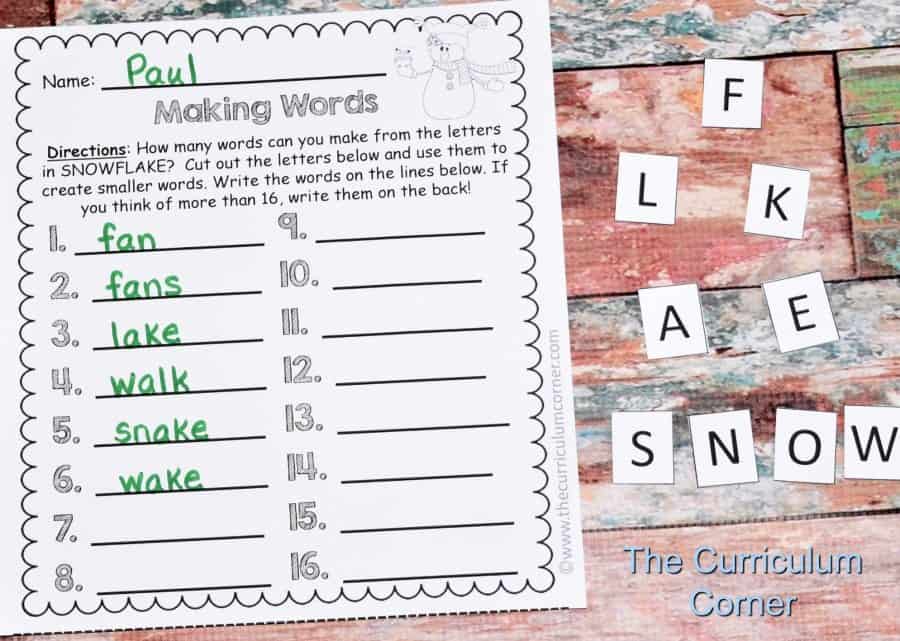 Lined Writing Paper
There are four options themed to fit your literacy center work.
You can download this free winter literacy center set here:
Looking for other winter themed resources? Try these freebies:
As with all of our resources, The Curriculum Corner creates these for free classroom use. Our products may not be sold. You may print and copy for your personal classroom use. These are also great for home school families!
You may not modify and resell in any form. Please let us know if you have any questions.