Word work homework is made easier with these sets of 19 practice pages for any word list.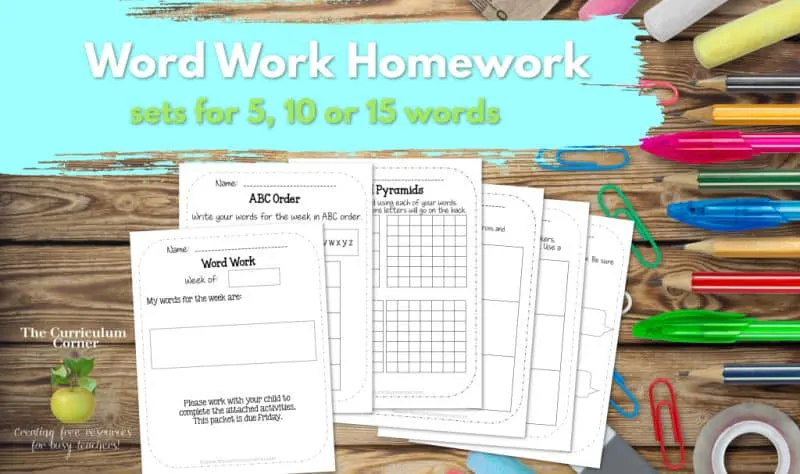 This is another free resource for teachers from The Curriculum Corner.
Use these word work homework packets to help you create just right practice for your students.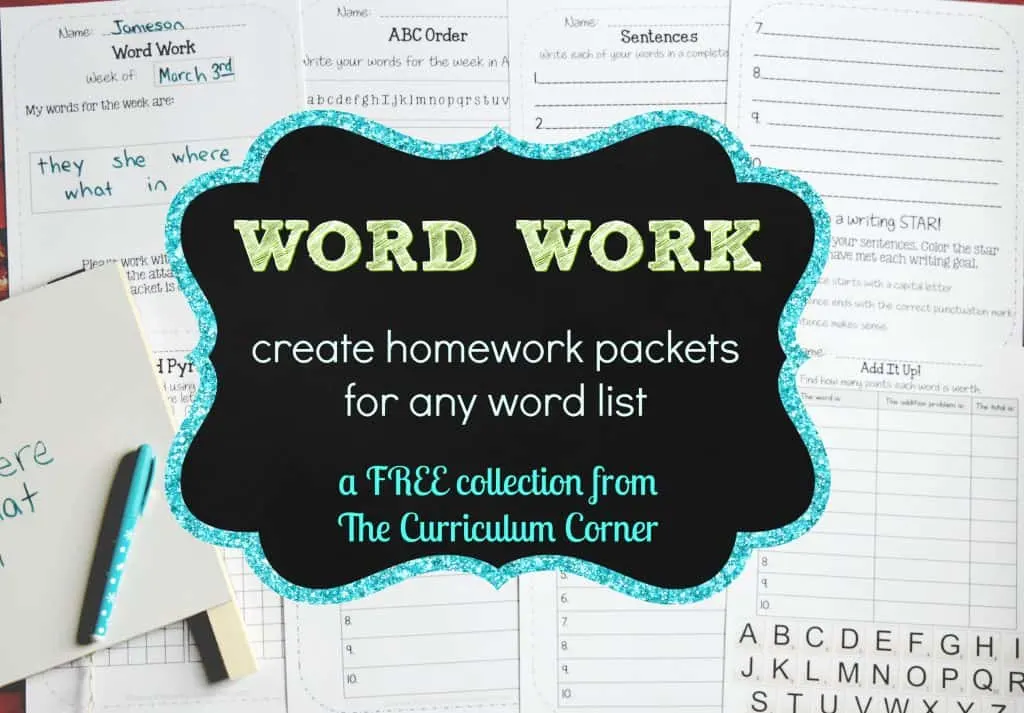 These word work packets will help you create weekly homework. Contains options for 5, 10 or 15 words.
Easily create word packets for your students each week with these printable resources.
You might also decide to place individual pages at a literacy center if a printed choice is needed for students.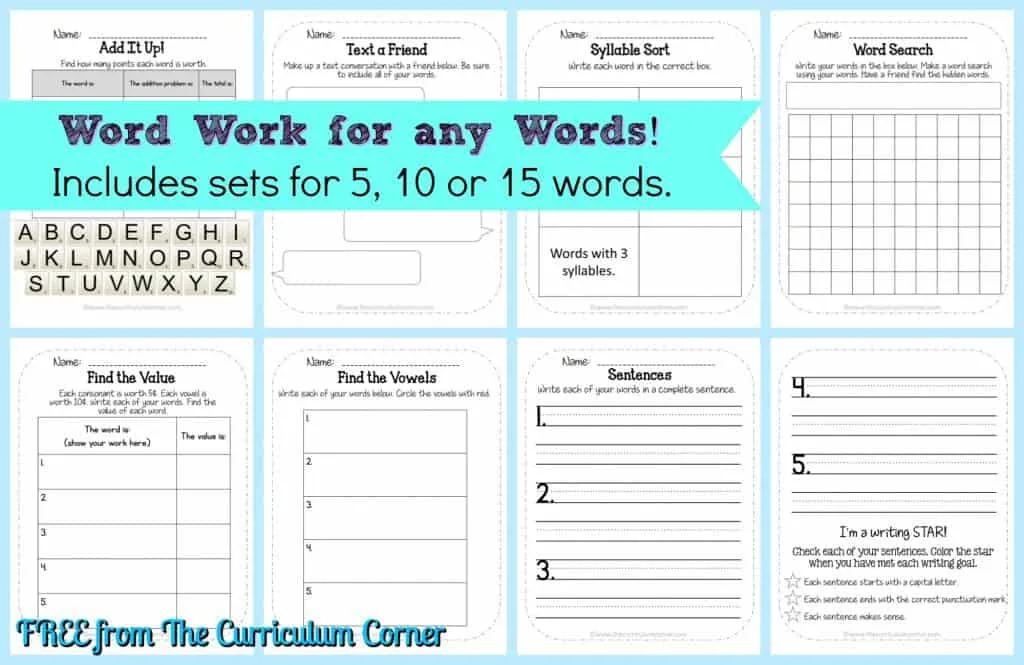 You can download the resources by clicking on the bold links at the bottom of the page.
Choose between the options provided to download the set for 5, 10 or 15 words.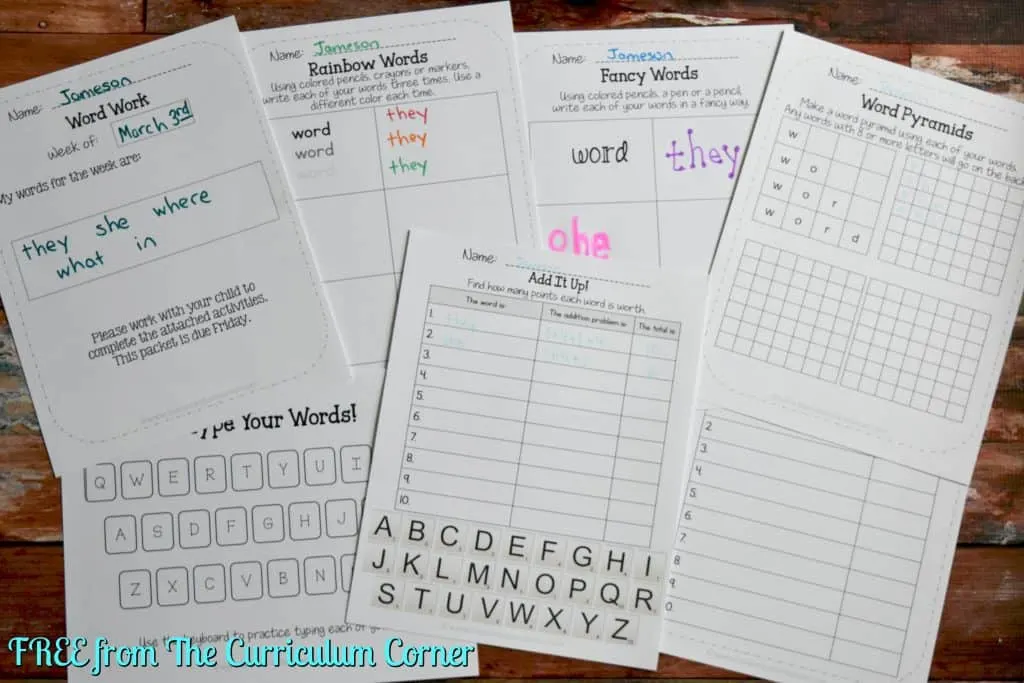 The following practice pages are included:
Cover Page Have students write in their words or write in the words before copying.
ABC Order You will find an alphabet line for students who might need assistance.
Sentences I'm a Writing STAR! checklist is included on the back. Teach students to read through their work and check for each guideline.
Word Pyramids Students create pyramids using their words. The 10 and 15 word files contain a variety of options so that you can provide pages with the necessary number of boxes.
Find the Vowels & Find the Consonants
Code the Letters Students identify both the vowels and consonants in each word.
Find the Value Students practice counting by 5s and 10s.
Across & Down A simple page for practice writing each word.
Fancy Words Encourage Students to add variety to their letter formation and color choices.
Rainbow Words Have students write each word using multiple colors.
Syllable Sort Students write each word in the correct box depending on the number of syllables.
Word Search Students create their own word search using their word list. They can then ask a family member or classmate to find the hidden words.
Cloudy Fun Students write their words along the outline of the cloud. When using with 15 words, students may need to write on the outside and inside of the cloud.
Text a Friend Students create a text conversation that includes their words.
Add It Up! Students write and solve an addition problem using the value on the letter tiles.
Type Your Words Students can practice typing their words using the printable keyboard.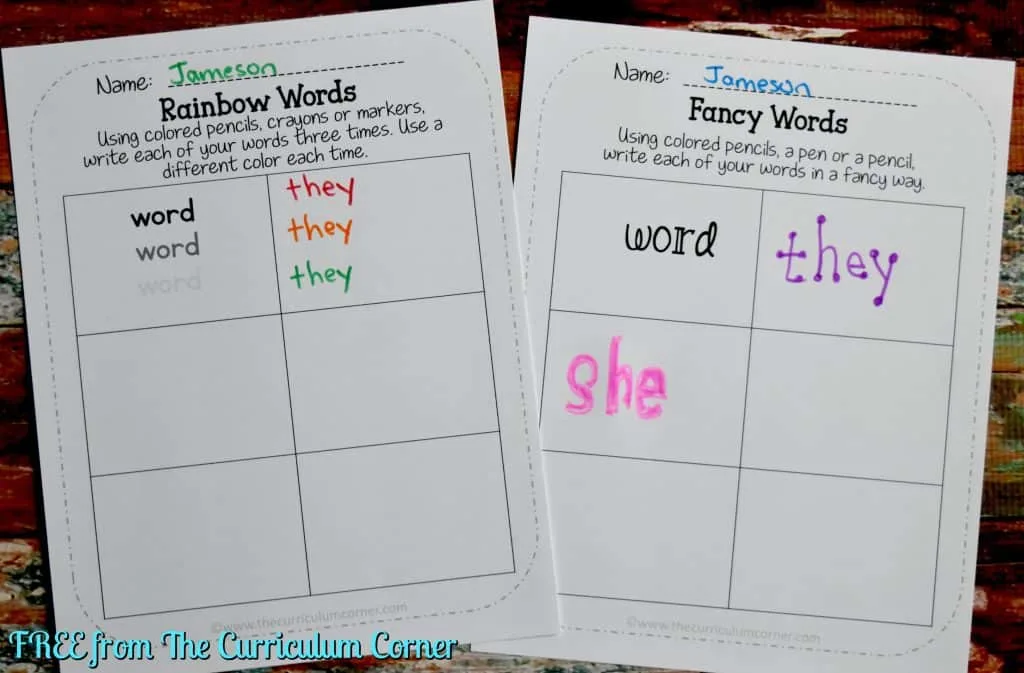 We are sharing many choices so you can choose the pages that meet the needs of your students.
You might also choose to differentiate packets depending on individual needs.
Also, because there are many choices, you will be able to add variety to your weekly packets.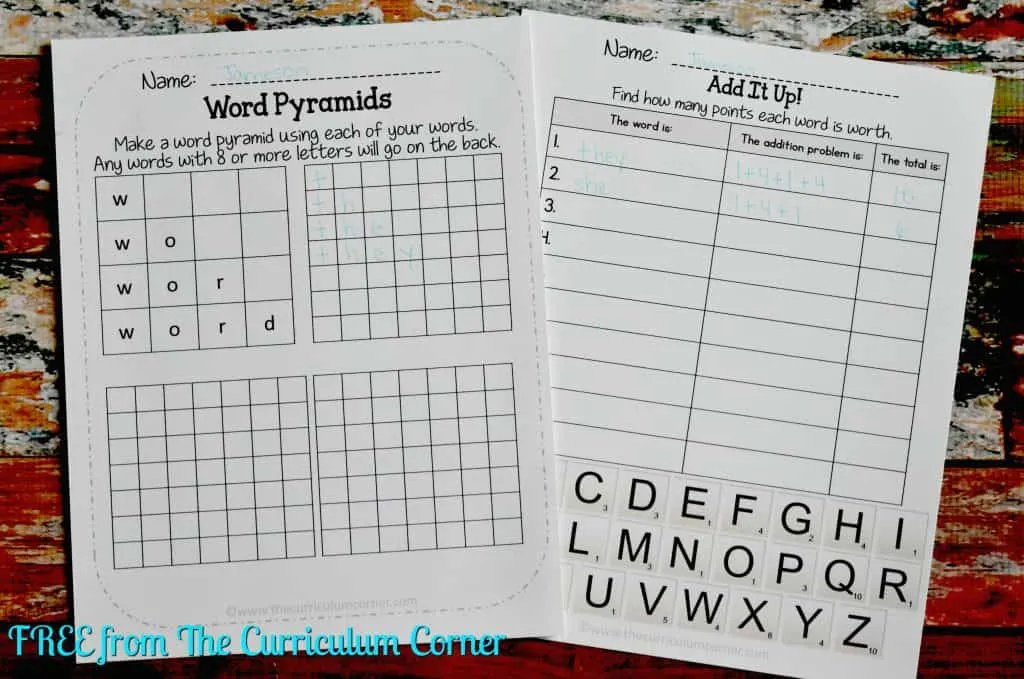 You can download the complete collections below:
You might also like these additional, FREE resources we have created:
Work for Words – Small Group Instruction
Roots, Prefixes & Suffixes Collection
Contains affiliate links:
As with all of our resources, The Curriculum Corner creates these for free classroom use. Our products may not be sold. You may print and copy for your personal classroom use. These are also great for home school families!
You may not modify and resell in any form. Please let us know if you have any questions.