This collection of 30 "Would you rather…?" Writing Prompts is a fun way to get even reluctant students writing!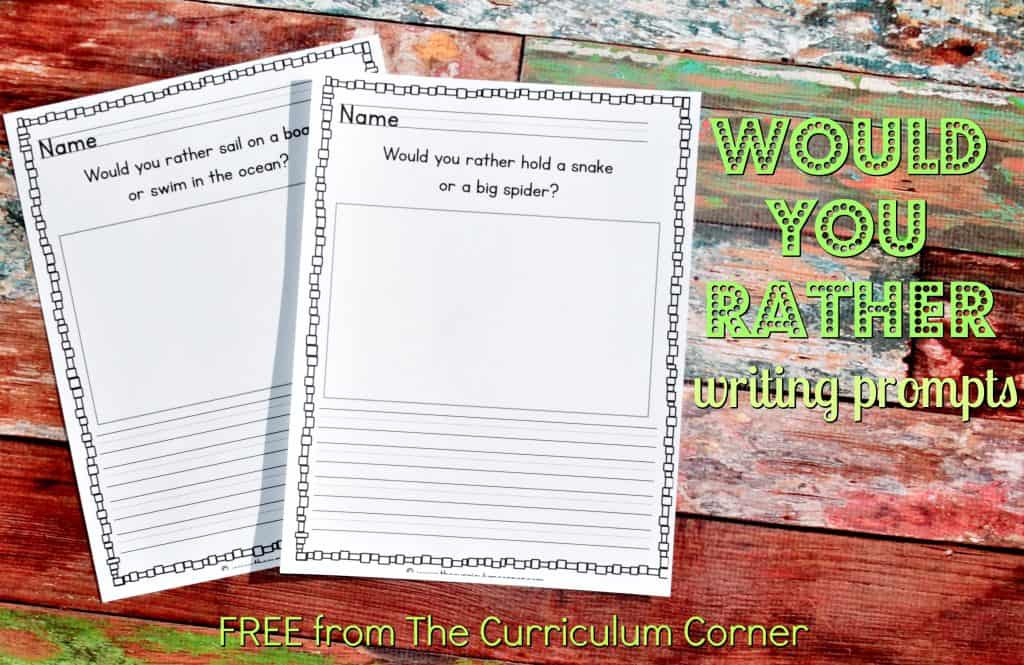 We have created these writing prompts to be of high interest and engaging for students.
The topics are kid-friendly and sometimes even silly. Each page gives the students a choice between two ideas or situations. Students decide which they prefer and then explain why they made that choice. They also have space to illustrate their writing.
We suggest that you model a few of these in front of your class so that they will understand your expectations. Their choices need to be supported with relevant ideas and reasons. You can even choose to give them a minimum number of supporting details if you want to informally assess their writing.
Take a look through pages to see which ones you feel might be of the highest interest for your students. It might also be a good idea to make several copies of each and then let students choose which prompts sound interesting to them.
Another idea for these prompts is to print the cut-apart prompt boxes, fold them in half and leave them at a writing center in a basket. Students can choose a slip of paper from the basket and write about whatever is on their paper. This can make for some especially funny writing when students get unexpected prompts to write about! (For example if a boy randomly chooses the prompt about being a princess or a fairy!!) For this type of activity, we have provided blank writing templates for students to write the prompt or cut and paste it at the top.
There is also an additional lined writing page for students who need more writing space. You can copy this onto the back of any of the pages included in the post.
You will find all the pages for this post here: