Download these free conferencing forms for reading workshop to help you create a successful workshop in your classroom.
Use these free conferencing forms for reading workshop to help you as you begin to conference with your students.
These newly updated forms are designed with intermediate classrooms in mind.
This is another free resource for teachers and homeschool families from The Curriculum Corner.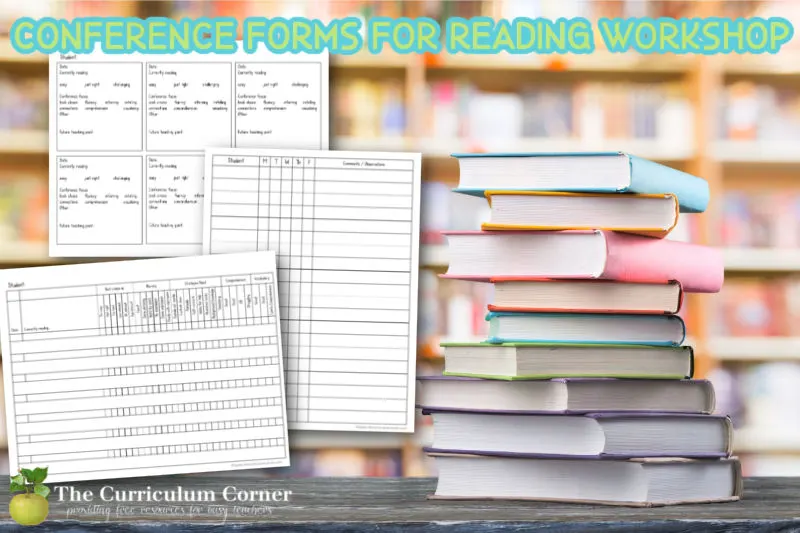 Why should I hold conferences?
As students grow older, it becomes easier for us to skip conferencing during reading workshop. In fact, as I've talked with my sixth graders, I have learned that many are not familiar with what a conference should look like.
Because of this, as I begin setting up classroom procedures, I am working to practice conferencing right away.
It is such a great way to get to know your students better. In the beginning, I like that it lets me get a quick picture about how they feel about reading. It is also a good time to ask about book preferences so that you can build a library that meets the needs of your students.
I find that I learn so much more about my students from our first conference in comparison to a reader survey. I did start with a survey but then I've used this survey to help me as I start the conferences.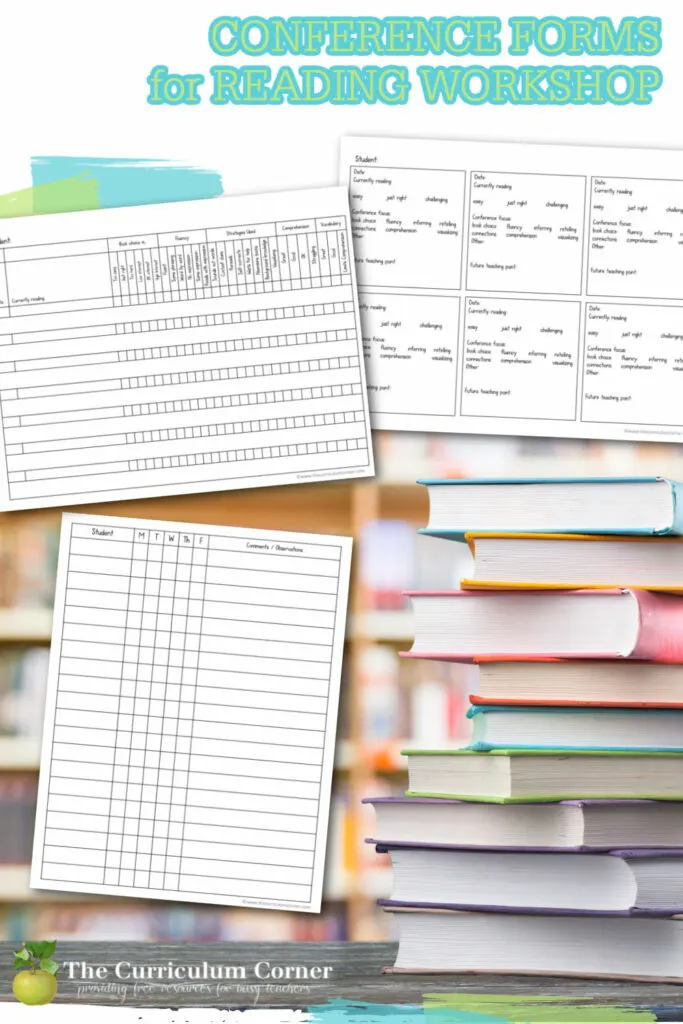 These free conferencing forms for reading workshop
This set contains three different forms for your conferences.
I have set up a three-ring binder with tabs.
Behind each student's tab, I have placed their reading survey and their writing sample. Next will be the conference forms. I am using the second one being shared below. It is similar to the one I created for my second grade classroom. I liked that there were some checkboxes for some quick information. I would then write a little more about the teaching point we discussed during the conference.
I switched out some categories and added a vocabulary section. I might think of changes to make later but for now, this fits what I envision I will need.
My goal is always to conference with each student at least once a week. For students who are reading below grade level, I increase this to two or three meetings. Obviously, things don't always work out as planned but I set this as my goal.
I like having individual forms for conferencing because it makes it easy to allow other adults to jump in. When a support teacher pops in or even a principal, they can grab a form and do a check in with a student.
You will also find a form where you can include all students on one page.
The final page has six boxes with a few prompts for your conference.
Choose the format that works best for you and your students!
I do like having a page for each student – they can easily be placed in the binder and shared with parents during a conference.
You can download these forms by clicking on the apples below:

Looking for more reading workshop resources? Check out our reading management binder… Reading Management Binder for Grades 4 – 6
Looking for help in creating a reading workshop in your classroom? Check out our launching unit… Launching Your Reader's Workshop