Use these printables to create your own objectives board in your classroom with a watercolor theme.
These pages will help you create a spot to display your daily objectives or I Can statements.
The simple watercolor theme of these will fit into many different classrooms.
This is another free resource for teachers from The Curriculum Corner.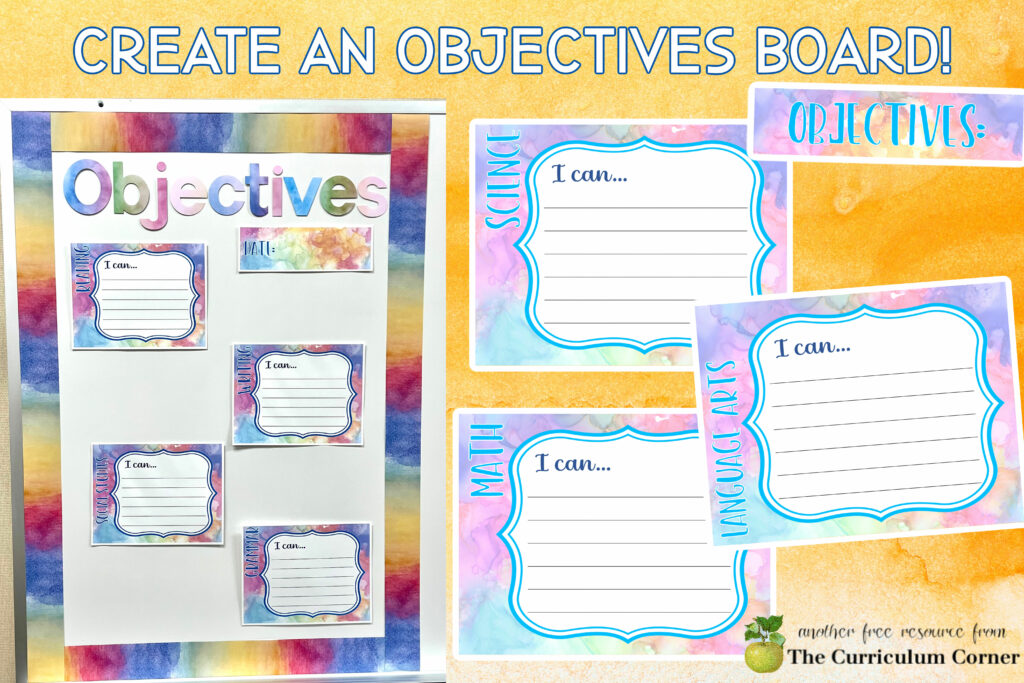 Posting your daily objectives
Many schools now ask that you display your goals for each day in a spot visible to your students and your visitors.
This will help your students understand the purpose of their learning for the day.
You might use your standards as they are written or rewrite them in kid-friendly terms. Or, you might just be working on a piece of a standard so you pull out that one part.
If you are looking for "I Can" statements to help you get started, you will find our complete set for kindergarten through 8th grade here: "I Cans".
Creating your watercolor objectives board
What your display looks like can vary depending on your classroom and your students.
Since I am teaching humanities, my board lists reading, writing, grammar and social studies. Yours might look different!
Also, you will notice that mine printed a little darker than the file shows – this is dependent on your printer and toner.
I chose to use the pages with lines but I am also providing a set without lines. Choose what will work best for you! I printed mine on cardstock instead of printer paper so that they will be a little more durable.
I then laminated the pages and taped them to my board.
Instead of the header I created, I used watercolor scrapbook paper to cut out the letters for objectives at the top.
You can download this free set by clicking on the green apples below:

As with all of our resources, The Curriculum Corner creates these for free classroom use. Our products may not be sold. You may print and copy for your personal classroom use. These are also great for home school families!
You may not modify and resell in any form. Please let us know if you have any questions.
You may not modify and resell in any form. Please let us know if you have any questions.