This introduction to ancient civilizations booklet has been designed to help give your students an overview of ancient civilizations.
It was created to touch about five different civilizations.
You can use the booklet to begin a more in-depth study, to review, or even if you only have time for a quick check in during your social studies time.
This is another free resource for teachers and homeschool families from The Curriculum Corner.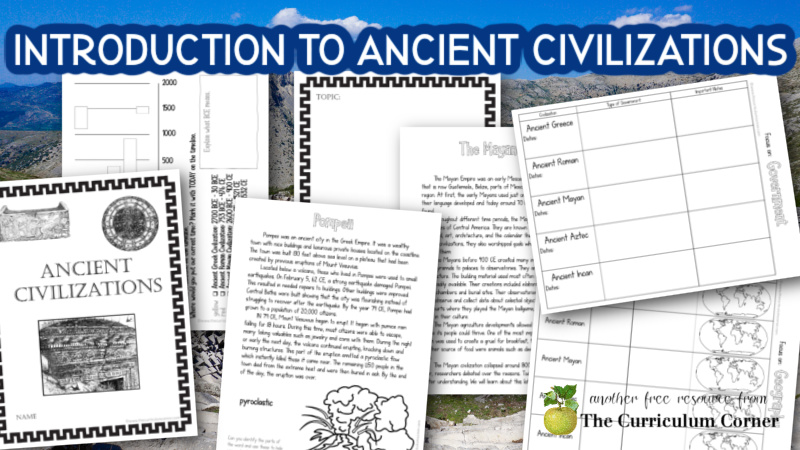 Introducing students to ancient civilizations
As I began digging into ancient civilizations, I found that there was much for me to learn before I was ready to teach the content!
In Indiana, our sixth-grade social studies standards cover Ancient Greece, Rome, the Mayan, Incan, and Aztec Empires.
At first, I was working to learn in order to then help my students learn. The first resource I began creating was this booklet. My plans have since changed but I wanted to go ahead and share this in case it is a good fit for other classrooms.
This booklet provides passages about each civilization plus graphic organizers to help students as they continue researching and organizing their thoughts.
At the end, you will find five cards that can be printed on heavy card stock and laminated to that the students have a map showing the boundaries of each civilization.
Links to use:
Here are a few favorite videos and other resources I have found to weave into our study. These links have all been checked in November of 2022. I'll add new links as I find them.
Games in the Colosseum – HISTORY
Colosseum – the arena of death – YouTube
The Rise and Fall of the Mayan Empire | Science Mission Directorate (nasa.gov)
Xcaret – Pok-ta-Pok – Mayan ball game – YouTube
Why Did the Mayan Civilization Collapse? A New Study Points to Deforestation and Climate Change | Science| Smithsonian Magazine
Creating your introduction to ancient civilizations booklets
To create booklets for your students, you will be able to print the pages front to back. There are blank pages with a border that students can use for notetaking. You can add extras of these in to fit your classroom needs.
One thing I like about these booklets is that they provide children with passages they can write and highlight on. I am finding that many of my students need help finding information in text and passages like these provide the needed opportunity.
Also, my students have benefited from practice with notetaking when we use resoruces like these.
You can grab your free download by clicking on the apples below:

As with all of our resources, The Curriculum Corner creates these for free classroom use. Our products may not be sold. You may print and copy for your personal classroom use. These are also great for home school families!
You may not modify and resell in any form. Please let us know if you have any questions.