Download this verb tense review center to provide your 4th through 6th graders with an opportunity to review verbs.
This verb tense review center has been designed to provide your students with an easy to create center.
This is another free resource for teachers and homeschool families from The Curriculum Corner.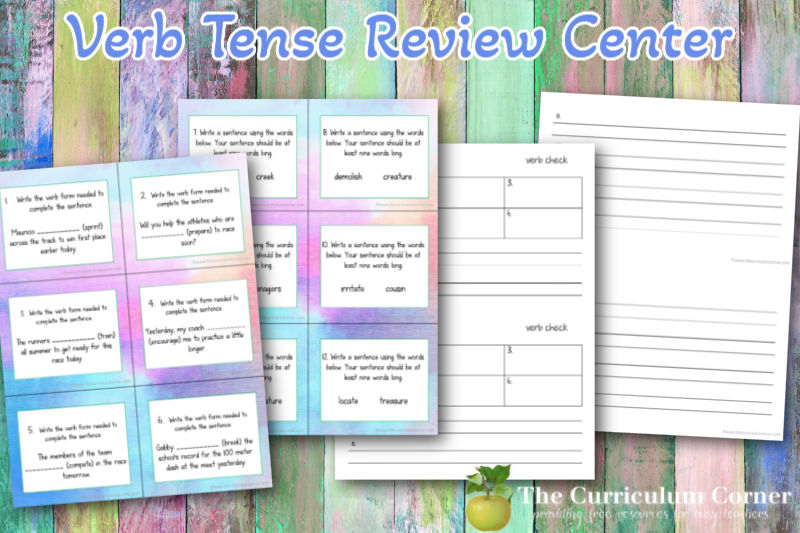 Practicing verbs
Even though students have been taught correct verb usage for years, I am finding that many still do not consistently use the rules.
I have students who need to work on choosing the correct verb form and on creating more developed sentences.
We will be working on this through a variety of quick activities as a class next week. I wanted to follow this practice up with a written check. I'll then use the data from this check to determine who needs reteaching in a small group.
I'm finding that one hard thing about getting this data is that students always want to help each other. This can be great. However, if I'm not careful, it means children who need retaught are missing out.
I think I will create four sets of the cards and have four students work at a time. I'll make sure I place them in specific spots scattered near me as I work with my small groups.
About this set
This first six cards contain a sentence along with a verb in parentheses. Children will need to write the correct form of the verb on their recording page.
The next six cards contain two words. Students are going to use these words to create their own sentences that are at least nine words long.
Before students complete this activity independently, we will be practicing writing our own sentences in small groups. I will give the children two words and they will work to write a descriptive sentence. I am finding that I have quite a few writers who need to work on stretching their writing. This will give them some examples of how to do this.
You can download this free set by clicking on the apples below:

As with all of our resources, The Curriculum Corner creates these for free classroom use. Our products may not be sold. You may print and copy for your personal classroom use. These are also great for home school families!
You may not modify and resell in any form. Please let us know if you have any questions.