Practice character traits practice with this collection of resources designed for your fourth and fifth grade reading workshop.
These character traits resources address characters' physical & personality traits, comparing characters & changing characters.
This set is specifically designed for students who have already worked on character traits.
This is another free resource for teachers and homeschool families from The Curriculum Corner.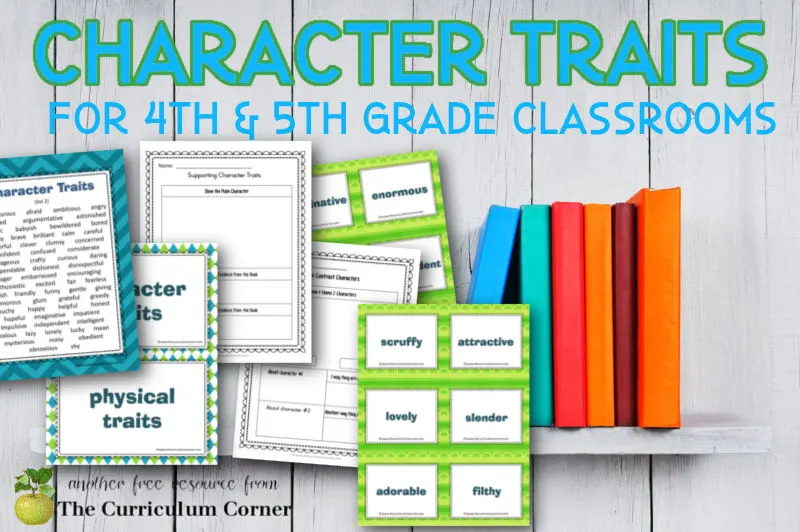 Character or Physical Traits?
When focusing on characters in a text, there are two types of traits we focus on.
First, children are often encouraged to examine what the students look like on the outside. These are the identifying features such as curly hair or tall.
Next, children move on to looking at the inside. They are identifying features such as scared or ambitious.
Identifying physical traits tends to be easier. There are either pictures to help with this or the author comes right out and described the characters.
It often requires work to identify character traits. Readers will look at the clues in the text to find these answers.
Within this collection, students will be given the opportunity to practice both.
These Character Traits Resources
Character Traits Lists
Here are two anchor charts which give your students some ideas for character traits. These will help to move students away from describing their characters using only their appearances and will get them to focus on the personalities of the characters in their stories.
There are two anchor charts so that you can choose the one that is best for your students. You might use both as a means to differentiate among your students.
Character Traits vs. Physical Traits Sorting Cards (with Recording Page)
If you feel some of your students might need more practice with distinguishing between physical and character traits, we have created a set of 36 trait cards for students to sort. (These cards might also be good for discussion as they are more complex traits in terms of the vocabulary.) This activity could be used as a mini-lesson, a small guided reading group activity or even a literacy center. We have included a half-sheet recording page if you want students to write the words they are reading as they sort.
Character Traits Organizer & Exit Ticket
This is s a graphic organizer you can model for students during a mini-lesson to further discuss and/or review character traits. You can use the small exit ticket to do a quick check for understanding during independent reading.
Character's Thoughts, Actions & Words Organizer & Exit Tickets
This set of resources will help your students start to think about how they can support their thoughts about characters with evidence from the text. This beginning phase of gathering support from the text breaks things down so students are able to understand what it actually means to cite evidence from the stories they are reading.
By concentrating on specific things that characters think, say and do, they are able to be clearer in their explanations and arguments about characters.
Supporting Evidence for Character Traits Organizers & Exit Ticket
These two graphic organizers are very similar. They have students choosing characters' traits and then citing any type of evidence from the text to support their claims.
Comparing Characters Organizers
These three graphic organizers have students using what they've learned about analyzing characters' traits to compare characters from the same story or different stories.
Characters Change Organizers
Students need to be thinking about how characters may change in the literature hey read. This will be the basis for understanding static vs. dynamic characters as their reading level grows.
These three organizers help students to think about how characters respond to events in a story and how they change because of those events.
Be sure to remind students that not all characters change in stories, so they will need to think carefully about their specific characters and how they changed.
Story Map
This is a simple story map that includes a review of elements such as characters, setting, problem and solution. It also contains a section for students to list character traits and describe how their main characters may have changed in their stories.
You can download these free reading resources here:
As with all of our resources, The Curriculum Corner creates these for free classroom use. Our products may not be sold. You may print and copy for your personal classroom use. These are also great for home school families!
You may not modify and resell in any form. Please let us know if you have any questions.
You may not modify and resell in any form. Please let us know if you have any questions.