Use these free templates for comic strips at your writing station to encourage students to try new styles of writing.
This set of templates for comic strips contains 21 free pages for your writing workshop.
These will be a fun way to engage your reluctant writers in the writing process.
This is another free resource for teachers and homeschool families from The Curriculum Corner.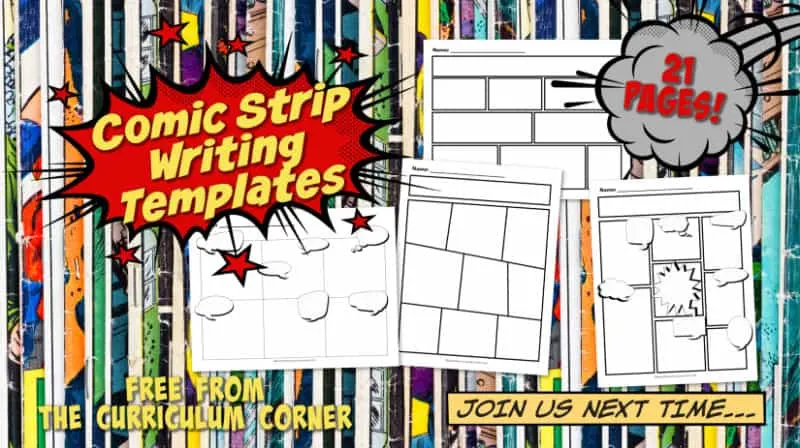 Why should I add comic strip templates to my workshop supplies?
Comic strip writing templates are great for a twist on your traditional writing in the classroom. They are also a good way to motivate writers.
Have reluctant writers in your class? Have you tried giving them the option of writing comic strips? It might be what some of them need to find some writing motivation. We have created a collection of comic strip writing templates to get you started.
This newly updated collection of comic book templates contains unique shapes, callouts and speech bubbles. You will find 21 comic book pages for your students to use in their writing.
Provide your students with an assortment of pages so that they can choose the pages that spark unique writing ideas.
Be sure to also add colored pencils and fine tipped markers to you comic book panels so students can easily add wording and pictures to their writing.
Also, you might find that adding graphic novels to your classroom library will add another piece of motivation. One of the goals of writing workshop is to get students to think like authors. What better way to get them to think like a graphic novel author than to provide them with models? These pages will work great as graphic novel templates.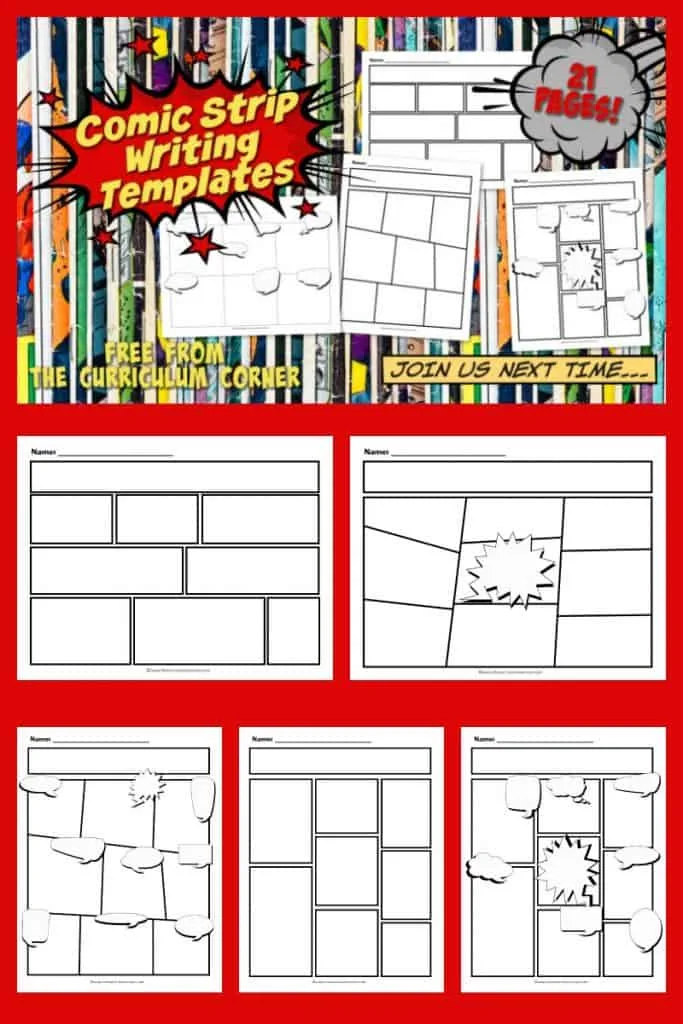 Looking for other ways to use these templates for comic strips?
Maybe try allowing students to take notes on the frames. Turning a social studies lesson into a comic strip will be high interest in comparison to simply recording facts.
What about science? Students could explain a scientific process on a comic strip page.
Social stories could be made by students who are working on social skills. Or, maybe an older student could create a social story for a younger student they are mentoring.
These printable comic strip templates can also be used for story planning. As a starting point, students can outline their writing on a free comic strip outline. This can be much more engaging than a simple page with a numbered outline.
Are your students into Manga? These will also work as manga templates!
We are sure your students will thank you for adding these to your writing workshop supplies!
Download these free writing printables here:
Your students might also enjoy this free unit of study: Genre Focus: Graphic Novels
Do your students love superheroes? You might also be interested in:
As with all of our resources, The Curriculum Corner creates these for free classroom use. Our products may not be sold. You may print and copy for your personal classroom use. These are also great for home school families!
You may not modify and resell in any form. Please let us know if you have any questions.
You may not modify and resell in any form. Please let us know if you have any questions.