Download this free set of figurative language worksheets to help your students explore different forms of figurative language.
These figurative language worksheets can be used to give your students exposure and practice.
Add these to your literacy time to help students work on similes, onomatopoeia, personification, metaphors, alliteration and hyperbole.
This is another free resource for teachers and homeschool families from The Curriculum Corner.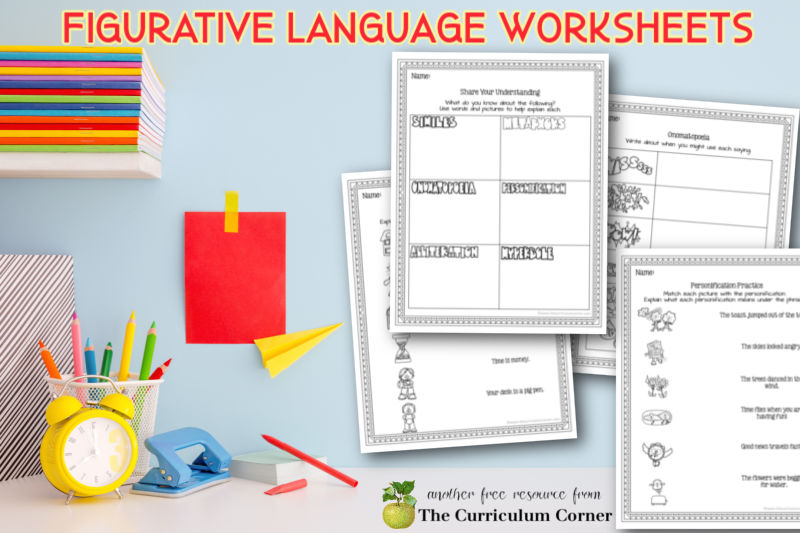 Working on literacy skills
As you help students develop literacy skills during reading or writing workshop, you might work to explore different forms of figurative language.
During reading students might search for examples. During writing you can encourage children to write their own examples.
Students who are exposed to different types of forms of figurative language are given the opportunity to develop their reading and writing skills.
In this collection we are focusing on the followings forms of figurative language:
simile
metaphor
personification
onomatopoeia
alliteration
hyperbole
a comparison using like or as
a comparison that does not have like or as
attributing human characteristics to non-living objects
naming an action by imitating the sound associated with it
when the same letter or sound is sued at the beginning of words that come together in a sentence – sometimes these are referred to as tongue twisters
an exaggeration that is used to emphasize a point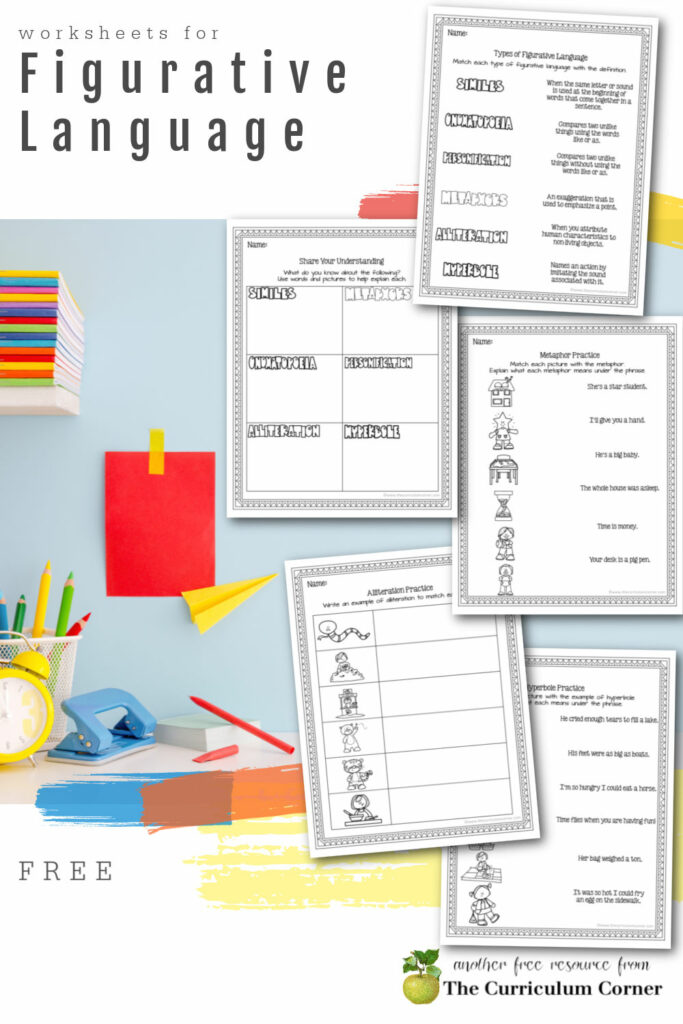 About these figurative language worksheets
This download contains a collection of 9 worksheets.
These can be used to help you introduce different forms to your class.
The first page is a basic check-in. It might be used to complete as a class during your introduction or as an exit ticket.
On the next page students will match the word with the definition.
The share your understanding page allows students to describe the meaning or share an example.
You will then find a page that focuses on each form.
One idea is to just pull one or two pages to use in your class or put them together to create notebooks for students to record their learning.
You can download this free language collection here:
You might also like some of these other resources to help you teach figurative language:
As with all of our resources, The Curriculum Corner creates these for free classroom use. Our products may not be sold. You may print and copy for your personal classroom use. These are also great for home school families!
You may not modify and resell in any form. Please let us know if you have any questions.
You may not modify and resell in any form. Please let us know if you have any questions.