These free winter multiplication practice pages from The Curriculum Corner will help your students practice multiplication.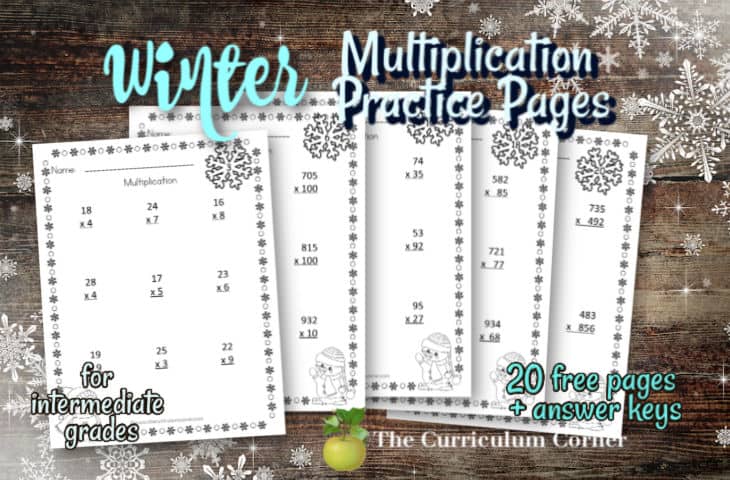 This is another free resource for busy teachers from The Curriculum Corner.
Add these free winter multiplication practice pages to your fall math worksheet collection.
Have you been working on multiplication and need a set of pages available for student review? Look no more! Below you will find a free set of winter multiplication practice pages and they're free!
Of course, we love making learning hands-on. However, no matter how important we believe engagement is, there comes a point when children need to practice with pencil and paper to reinforce new skills.
We intentionally tried not to stuff these pages with too many problems. Six to twelve problems are enough to help you assess a student.
Students who have mastered the skill you are practicing, do not need to do more as busy work. Students who do not yet understand, do not need a large set of problems to become frustrated with. Start small, encourage them and help them build their confidence.
Along with being useful in the classroom, these could also be a good resource for parents looking to review math skills with their children throughout the winter.
We have created a collection of 20 pages for multiplication practice.
This set of worksheets contains a range of multiplication problems – from basic multiplication facts to multiplying larger numbers.
Along with an assortment of practice pages, we have also included an answer key for each page.
Looking to turn these into a reusable center? Print on card stock and laminate. Students can then solve using a dry or wet erase marker. Provide the answer key so they can self check at the end.
Our hope in creating a range of practice pages all in one set is that you will be able to quickly find the just right page for each of your students.
You can download this free collection of winter multiplication worksheets here:
Multiplication Pages
Looking for additional computation practice ideas?
Take a look at these other free resources:
As with all of our resources, The Curriculum Corner creates these for free classroom use. Our products may not be sold. You may print and copy for your personal classroom use. These are also great for home school families!
You may not modify and resell in any form. Please let us know if you have any questions.