This free collection of 30 editable exit tickets is designed to be easily used across a variety of subjects.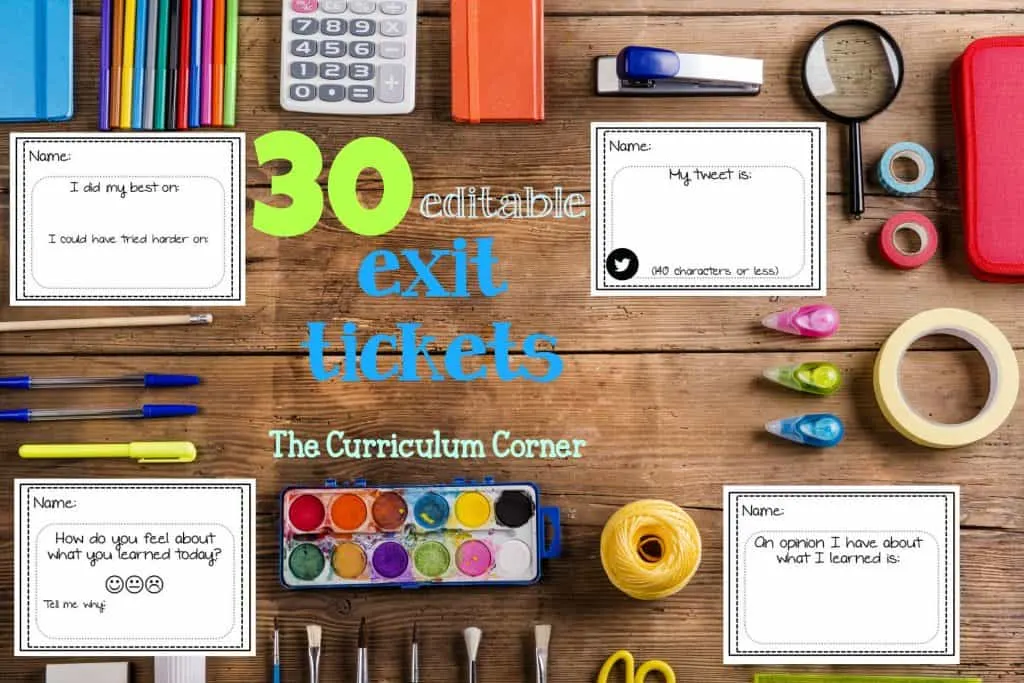 This is another free resource for teachers from The Curriculum Corner.
You've found The Curriculum Corner's free collection of editable exit tickets for classrooms. You will be able to edit these printables to fit primary through secondary classrooms. Even high school teachers will be able to use these!
We are also sharing exit ticket ideas to help you discover new ideas for using exit tickets in the classroom.
Are you wondering: What are the benefits of using exit tickets in my classroom?
Let us give you some ideas!
First, these are a simple way to assess student learning. Give students a question related to the lesson of the day and they can respond on the exit ticket.
This collection will make it easy to differentiate depending on the needs of your students. One layout might be best for most of your students but maybe two or three would benefit from a different style.
Exit tickets can also give your students an opportunity to offer feedback after a lesson. Not sure which students have a good understanding of the lesson taught and which would benefit from additional practice and/ or reteaching? Let students share their feelings on an exit tickets instead of asking them to tell the entire class.
We LOVE the idea of using exit tickets as a way to assess student learning.
We've created a collection of tickets that will hopefully meet your classroom needs.
This assortment can be used across your curriculum for reading, writing, math or other areas.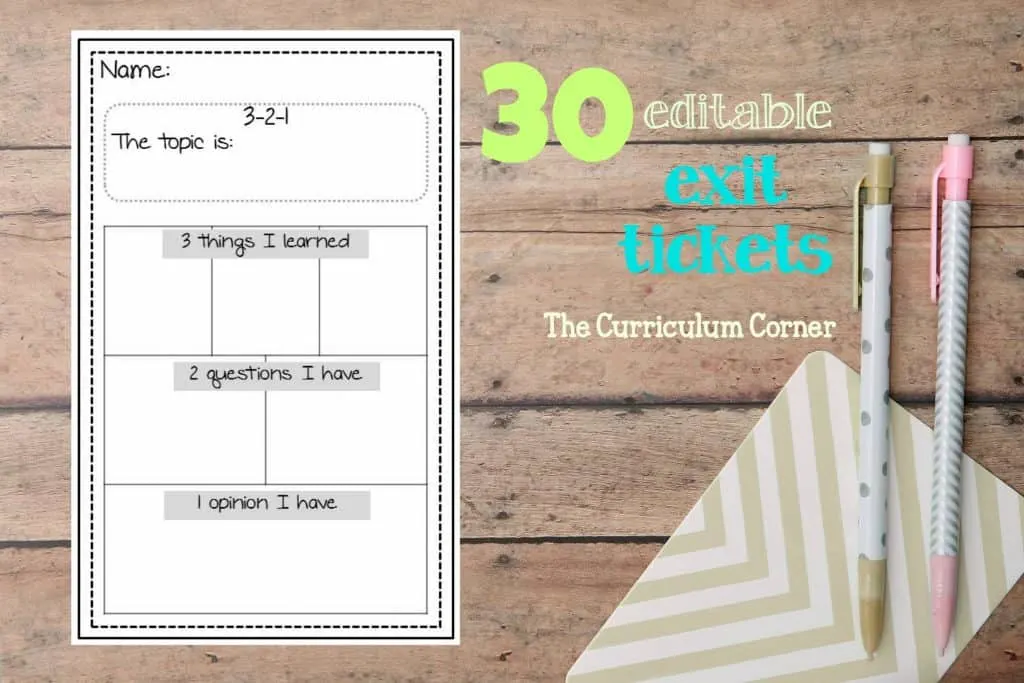 Using these Exit Tickets
This set is editable to make it easy for you to preprogram. Or, simply leave blank and write the task on the board.
For some lessons, you may allow students to choose from a collection of possibilities. For other lessons, you may choose the one that you would like completed.
Because many teachers like to create a display of exit tickets, we have included a Twitter and Facebook version without a spot for a name. Instead, we suggest having students write their names on the back.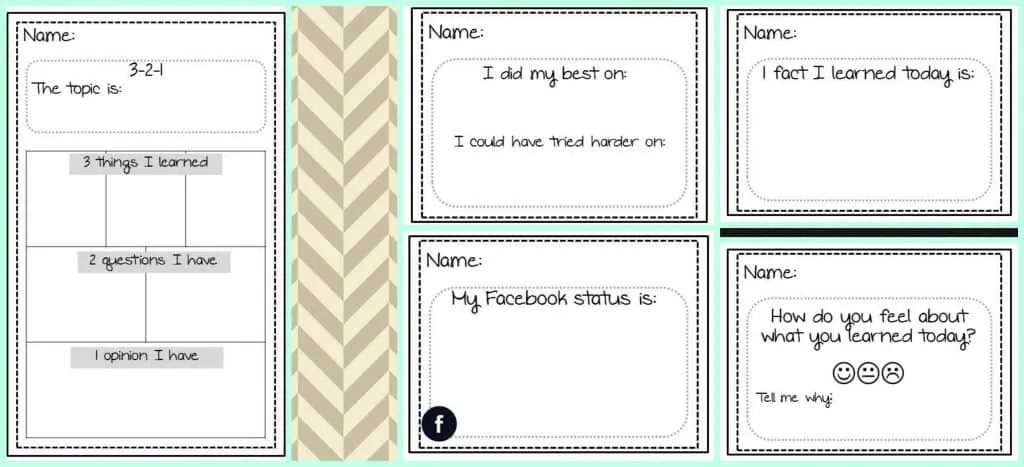 You might choose to use these tickets for open ended questions or give students a specific task to complete that goes with the lesson.
For example, after a math lesson on prime numbers, have students use the 4 box form to write 4 prime numbers.
Along with responses addressing facts learned, we have also included a variety of tickets to address opinions about lessons, sharing when help is needed and more.
Our goal was to create a collection that will meet the needs of a variety of classrooms.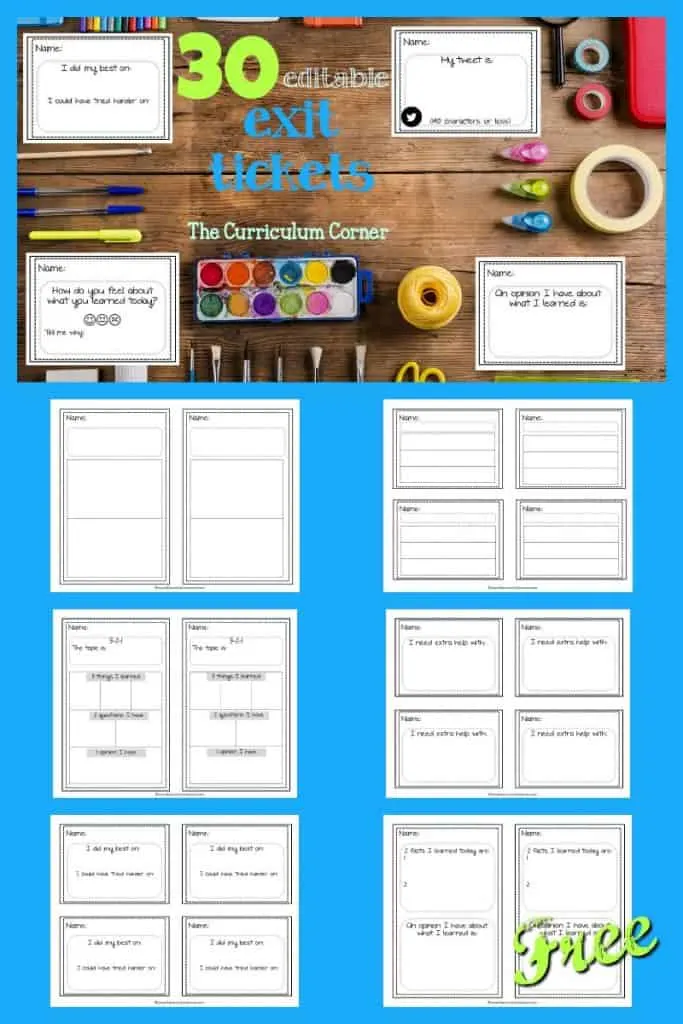 Looking to Activate Schema before a lesson?
As teachers we know how important it is to build background knowledge before we get started on a lesson.
Have you ever tried using exit tickets for this purpose? Maybe we should call them entrance tickets when used in this way.
Students can pick up a ticket as they enter the classroom and share a thought or two about the subject of the day.
Next, encourage your students to share their ideas with their classmates.
This can be a different way to use exit tickets and a creative way to build background knowledge before you dig into a new text or topic.
You can download this free collection of editable exit tickets here:
Editable Exit Tickets
If you have creative ideas on using any of our tickets, please share below.
We would love to know how the materials are being used in order to help other teachers.
---
As with all of our resources, The Curriculum Corner creates these for free classroom use. Our products may not be sold. You may print and copy for your personal classroom use. These are also great for home school families!
You may not modify and resell in any form. Please let us know if you have any questions.
You may not modify and resell in any form. Please let us know if you have any questions.