This free focus on close reading resource helps you teach students about text structures found in informational text.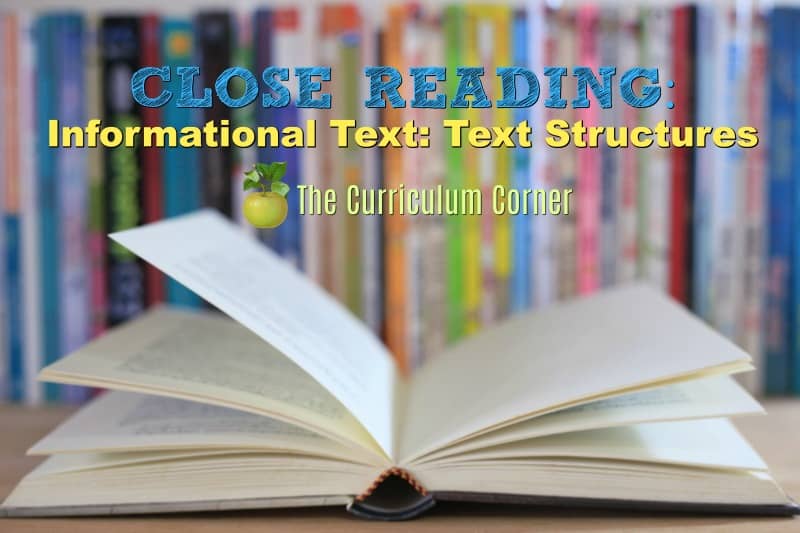 This is another free resource for teachers from The Curriculum Corner.
This informational text structures collection is a part of our series on Close Reading. If you are looking for additional free resources, please visit our Complete Close Reading Collection.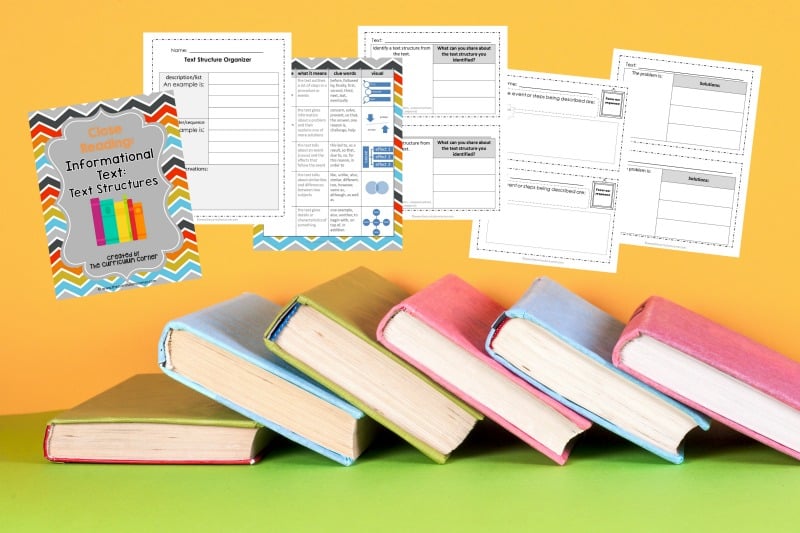 What is text structure?
Text structure is the way an author has chosen to organize the information being shared.
In informational text, authors carefully choose a text structure to help them inform the reader.
One informational text book might contain multiple text structures or just one.
Be sure to have an assortment of books in your classroom so students can see real world examples of each structure.
What are the informational text structures?
The five text structures for informational text are:
problem/solution
cause & effect
compare/contrast
description/list
time order/ sequence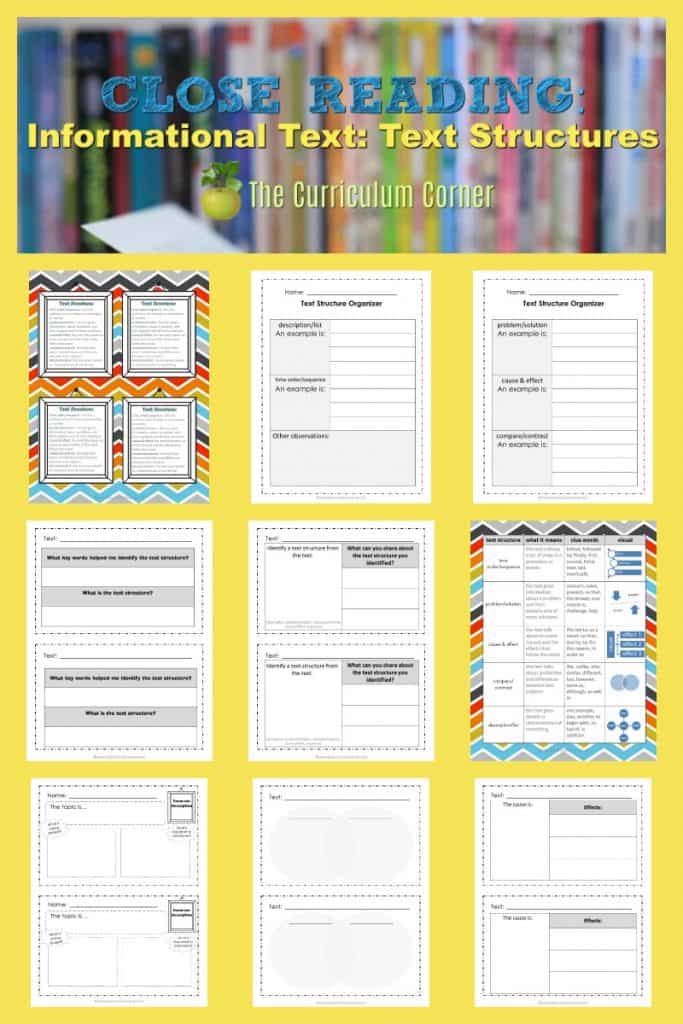 Understanding the 5 text structures
Before you help your students dig into text structures, be sure that you have a good understanding of each.
time order or sequence
the text outlines a list of steps in a procedure or events
clue words: before, followed by, finally, first, second, third, next, last, eventually
problem/solution
the text gives information about a problem and then explains one of more solutions.
clue words: concern, solve, prevent, so that, the answer, one reason is, challenge, help
cause & effect
the text tells about an event (cause) and the effects that follow the event
clue words: this led to, as a result, so that, due to, so, for this reason, in order to
compare / contrast
the text talks about similarities and differences between two subjects
clue words: like, unlike, also, similar, different, too, however, same as, although, as well as
description / list
the text gives details or characteristics of something
clue words: one example, also, another, to begin with, on top of, in addition
Resources for your close reading lessons
Our set of free resources for teachers include a variety of colorful anchor charts and graphic organizers. Add these to your lesson plans to make planning a little faster.
Anchor Chart Includes a brief description of each text structure. You will find one that lists each structure along with a different version that includes clue words and visuals.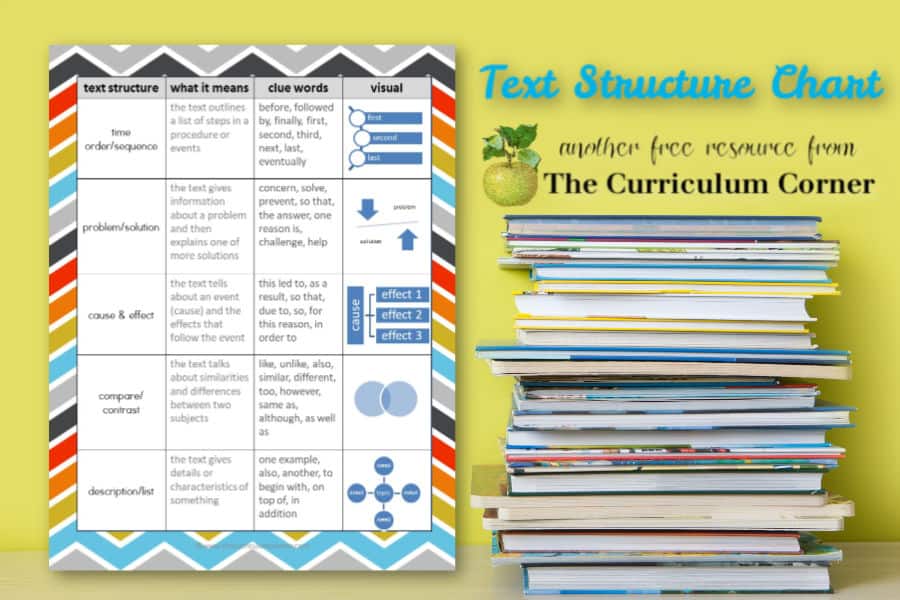 Bookmarks These are a smaller version of the anchor chart. These can be helpful for students to use as they are learning to differentiate between each text structure.
Text Structure Organizer This organizer contains two pages. Students find an informational text written using the given text structure. They record the title in the gray box and then share their thinking in the right column. There is additional space at the bottom for other observations.
Graphic Organizers A collection of 17 graphic organizers will help you focus on text structures during your close reading lessons. Both full and half page selections are available. Organizers for specific text structures along with organizers for students to identify the text structure are provided.
You can download the complete collection of free resources focused on informational text structures here
Below we are sharing a few of our favorite books to add to your book baskets. We like to make sure out basket for this focus includes a few books that model each text structure. Contains affiliate links.
---
As with all of our resources, The Curriculum Corner creates these for free classroom use. Our products may not be sold. You may print and copy for your personal classroom use. These are also great for home school families!
You may not modify and resell in any form. Please let us know if you have any questions.
You may not modify and resell in any form. Please let us know if you have any questions.