This fairy tale study focuses on the story of Rapunzel (Rapunzel Fairy Tale Study), the book we used to create these activities was created by Cari Meister.
This is another free resource for teachers and homeschool families from The Curriculum Corner.
Download this Rapunzel fairy tale study to add to your classroom collection of fairy tales for fouth and fifth grade classrooms.
We have received requests for intermediate teachers looking for fairy tale resources that are different from the more common stories used in the primary grades.
Teachers have noted that Cinderella is very popular and offers a wide variety of options but students have often studied it by the fourth or fifth grade.
While looking into some alternatives we stumbled upon a collection of fairy tale books.
Each book focuses on one fairy tale and retells three versions of the story.
We like that one books provides all three versions. Plus, we were able to find each book for less than $10.
We are beginning this resource collection by looking at Rapunzel.
We hope you enjoy this free for teachers set!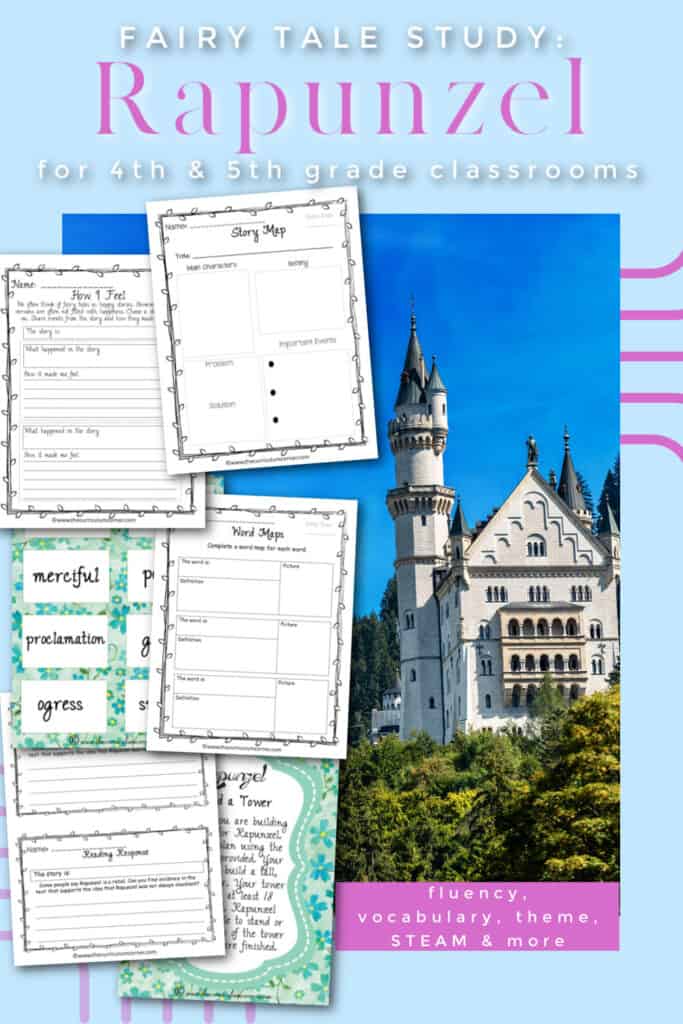 Rapunzel Fairy Tale Study for 4th & 5th Grade Readers
The Rapunzel book contains stories from Germany, the Philippines and Italy.
These are traditional fairy tales, not the stories children often hear today that tend to focus on all happiness.
If your students are only familiar with the Disney version, they will be a little surprised by the traditional tales.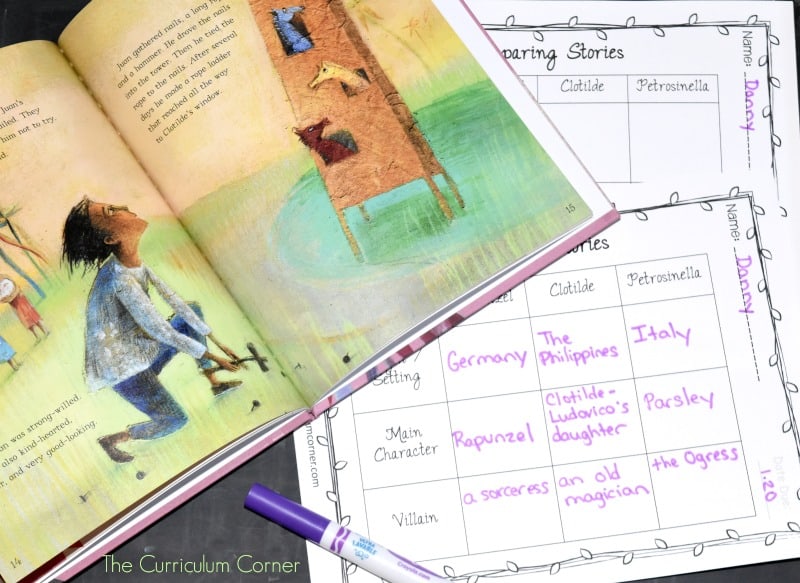 Inside this Rapunzel Fairy Tale Study Collection
We have included the following free resources for classrooms.
Noticings: a blank anchor chart and recording page for noticings. Have students glance through the books and then read. As they look and read, they will record what they notice about the fairy tales in each story.
What is a Fairy Tale? The author begins with a page that tells the importance of fairy tales in cultures throughout time. She includes reasons that there are so many variations of each tale. This page asks students to share what they have learned about fairy tales.
Story Map: You might use this page to ask students to complete a story map for each Rapunzel version
Comparing Stories Chart: Students can create a visual to highlight the difference they find in each version.
Focus on Theme: Students choose one version and talk about the theme.
How I feel: Students share their reactions as they read.
Reading Task Cards: This page contains four cards that can be used to guide center activities.
Word Work: We have included words that might be new to students on word cards along with a word map page.
Reading Responses: You will find six preprogrammed reading response pages plus one blank page for you to add your own prompt.
Create your own Version: Students can use the planner to lay out their own version of Rapunzel.
Build a Tower: Add a STEAM activity to your literacy centers with this direction card. Provide a variety of materials for building. Students will work to use the materials to create a tower to hold Rapunzel. For a whole class activity, you might choose to provide each group with different materials and ask them to build the best tower possible with their resources. A blank page for planning is included.
Lined Papers: You can use these blank pages for students to write their own version of Rapunzel or other activities as desired.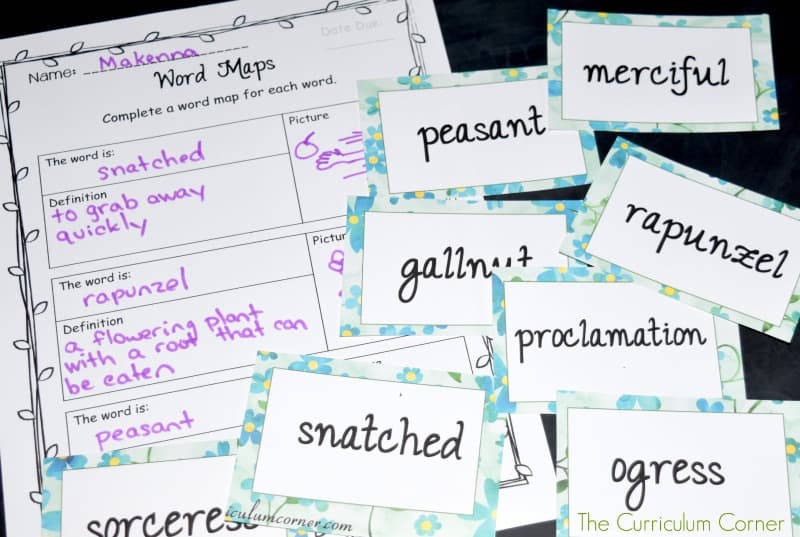 You can download this free Rapunzel resource here:
You can purchase the book we used plus other versions of Rapunzel on Amazon. (Contains affiliate links.)
As with all of our resources, The Curriculum Corner creates these for free classroom use. Our products may not be sold. You may print and copy for your personal classroom use. These are also great for home school families!
You may not modify and resell in any form. Please let us know if you have any questions.