Download this collection for sight word practice for older students in the intermediate grades or middle school.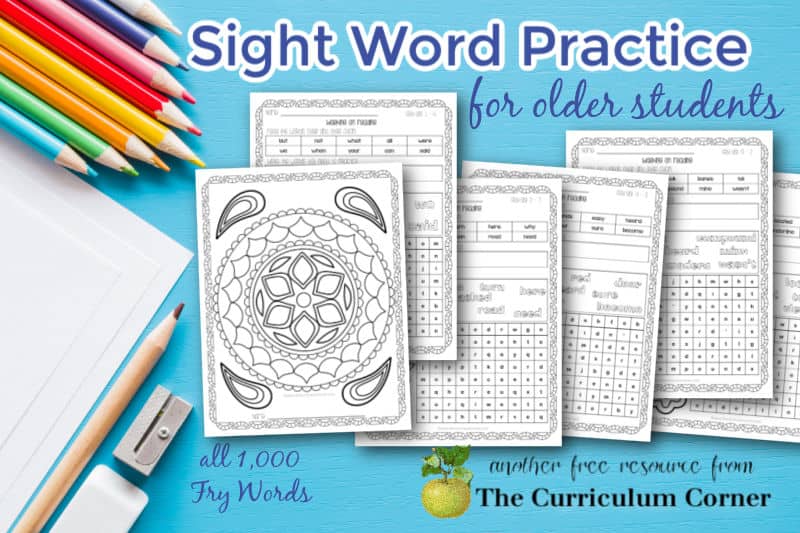 This is another free resource for teachers and families from The Curriculum Corner.
This sight word practice for older students is designed to help older children work on sight words.
Often times readers not considered on grade level are lacking a complete sight word base.
Maybe they were not ready to master sight words when their teachers introduced them or they just needed a little more time.
The problem with this is that as students get older, they tend to feel that work involving sight words looks "babyish" or like something younger students would work on.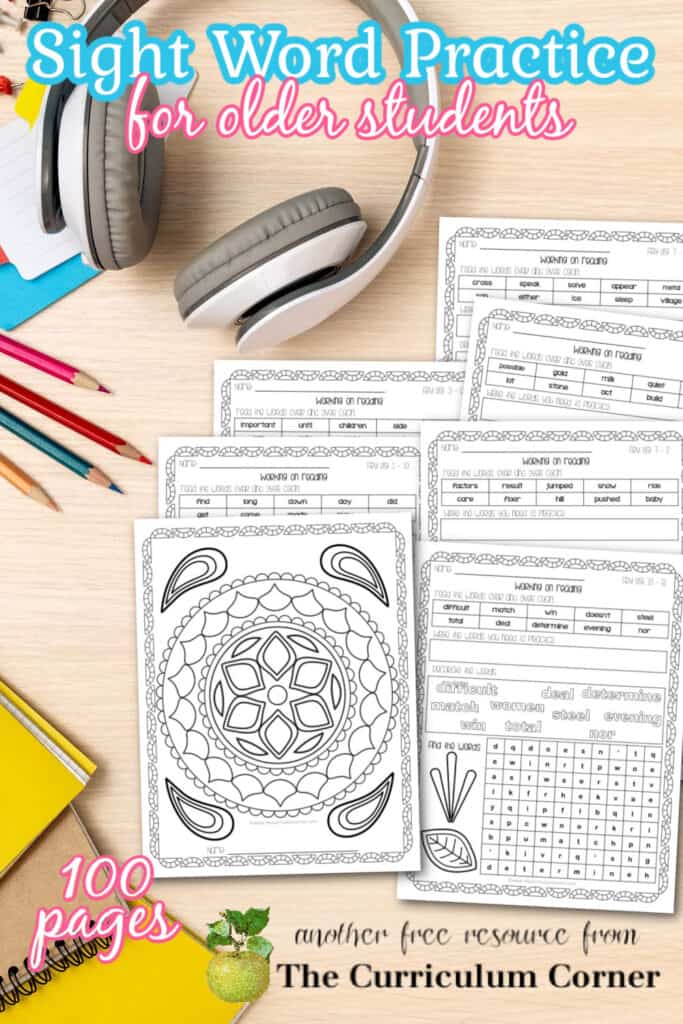 Why we created this set
This new set was created in the hopes of providing a format that might not look so young.
In case you want to create a booklet, the cover we are providing has a trendy mandala design with no words labeling the work as sight words.
Inside, the pages are designed to not look too young.
Students can practice reading the sight words at the top. Below, there is a spot for children to record the words they need to practice.
The bubble letter words can be used for children to decorate using colored pencils or gel pens.
Finally, there is a word search.
About this sight word practice for older students booklet
We hope this helps those students who need the practice.
This booklet is designed to contain all 1,000 Fry sight words. If you are not familiar with this group of sight words, you can learn about them here: All About Fry Words.
The Fry words are divided into ten lists. The beginning of the list contains the most basic and most common words in the English language.
As the lists continue, the words become less common.
It is likely that you will have students who have the first few hundred words mastered but would benefit from lists 4 and above.
Be sure to provide your students with the just-right lists. You don't want this to become busy work where they are practicing words they already know.
The lists are labeled at the top right. The first number will tell you which list. The second number after the dash will tell you which set of words. List 5-3 will focus on the fifth hundred word list. It will start with word 21 and continue to word 30.
You can download this Fry word collection here:
---
Looking for other sight word resources? You might be interested in these:
As with all of our resources, The Curriculum Corner creates these for free classroom use. Our products may not be sold. You may print and copy for your personal classroom use. These are also great for home school families!
You may not modify and resell in any form. Please let us know if you have any questions.