Add this free collection of goal setting worksheets for students to your classroom management resources.
These free goal setting worksheets for students will help you work on creating and reaching goals in the classroom.
As you start the year, or when you need to get your students motivated to keep learning and growing, pull out these pages.
This is another free resources for teachers and homeschool families from The Curriculum Corner.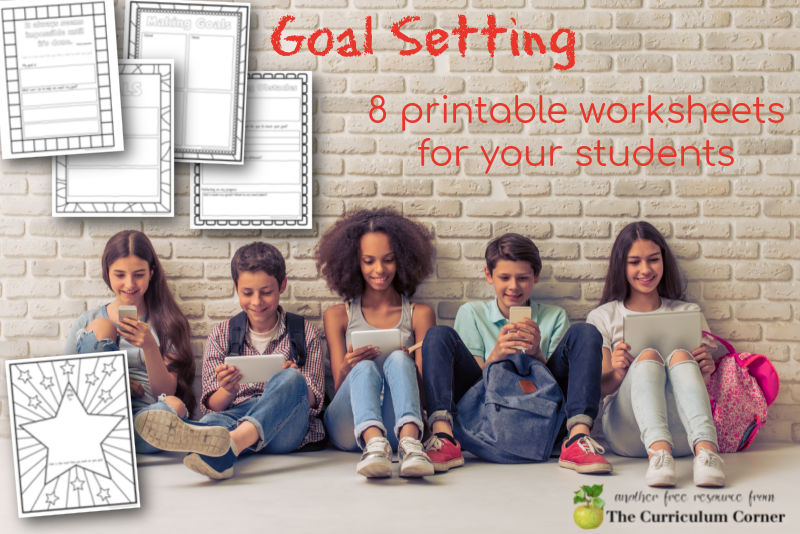 How can I help students set and meet goals?
Just like when teachers are setting goals during a PLC, helping students learn a few guidelines will help them be more successful.
First of all, help students learn that they must write a clear goal that they are able to measure.
Also important is that it is a goal they can meet. If your student sets a goal that is too hard to reach, this will set them up for failure. We want our kids to experience the feeling of setting and meeting a goal. Sometimes you might have to help guide students with this.
For example, if a student sets a goal of being a teacher, help them narrow this down. If they are in fifth grade, this goal is far away. Maybe they could instead tutor classmates or find a buddy in a younger grade to help them learn to read. Their future goal might still be to become a teacher. However, you are helping them set a goal you can help them track and follow while in your classroom.
When students meet one goal, you can have them set a new one and continue to grow.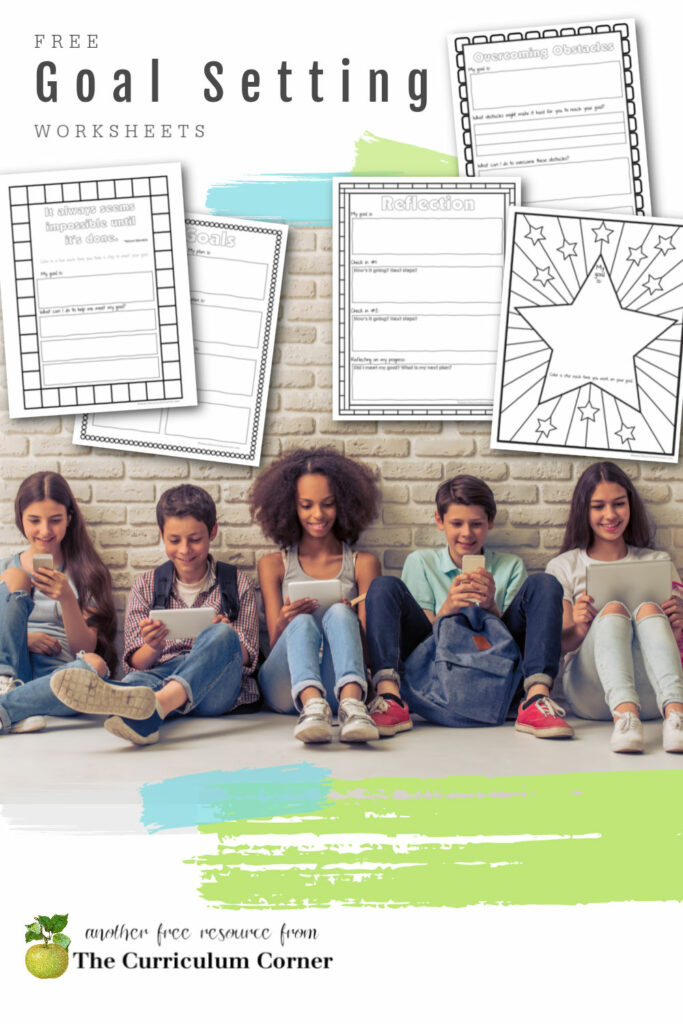 These goal setting worksheets for students
This download contain 8 different graphic organizers.
I have included a variety so you can provide your children with options that will meet their needs.
Different pages provide students with the opportunity to set one goal, three goals or more.
Some pages give students the opportunity to plan out the steps they will take. Others encourage students to think about the obstacles they might face.
These pages can be shared with classmates if students feel comfortable sharing. Some students might not be ready for this so make sure you check with students first!
One option if for students to add these to a binder or folder so that they can check in with their goal whenever they are in need of a reminder.
You can download this free pages here:
As with all of our resources, The Curriculum Corner creates these for free classroom use. Our products may not be sold. You may print and copy for your personal classroom use. These are also great for home school families!
You may not modify and resell in any form. Please let us know if you have any questions.
You may not modify and resell in any form. Please let us know if you have any questions.