Download this free writing intervention journal to help your reluctant writings develop writing confidence and begin to love writing.
This writing intervention journal was developed to help your writers advance their writing skill.s
As students grow older, it can be harder to find engaging activities to get them to engage in writing. The goal of this journal is to encourage these students to write in new ways.
This is another free resource for teachers and homeschool families from The Curriculum Corner.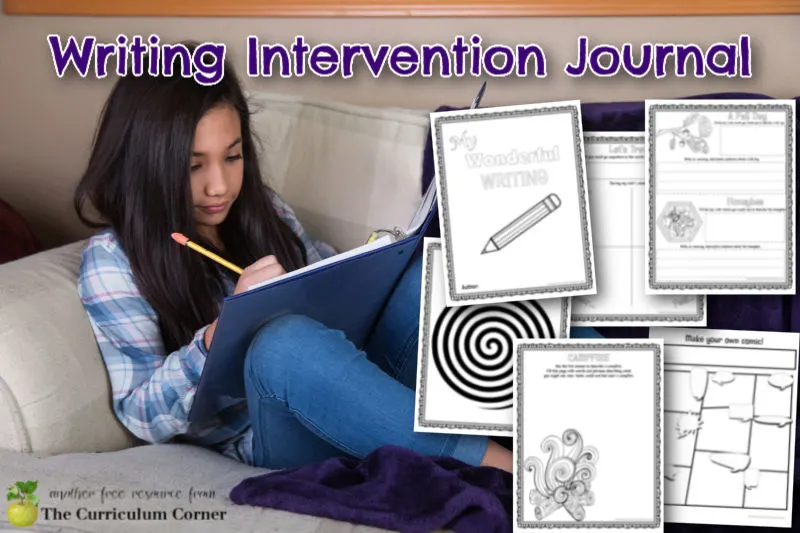 Developing a love of writing
The first step in helping your reluctant writers is to help them begin to love writing.
By the time many children enter fourth or fifth grade, they view writing as something they have to do instead of something they want to do.
As teachers, our goal needs to be to help them see they can be real authors.
We want them to learn that writing can be fun.
In order to help you find new ways to get to this point, I have created this writing journal.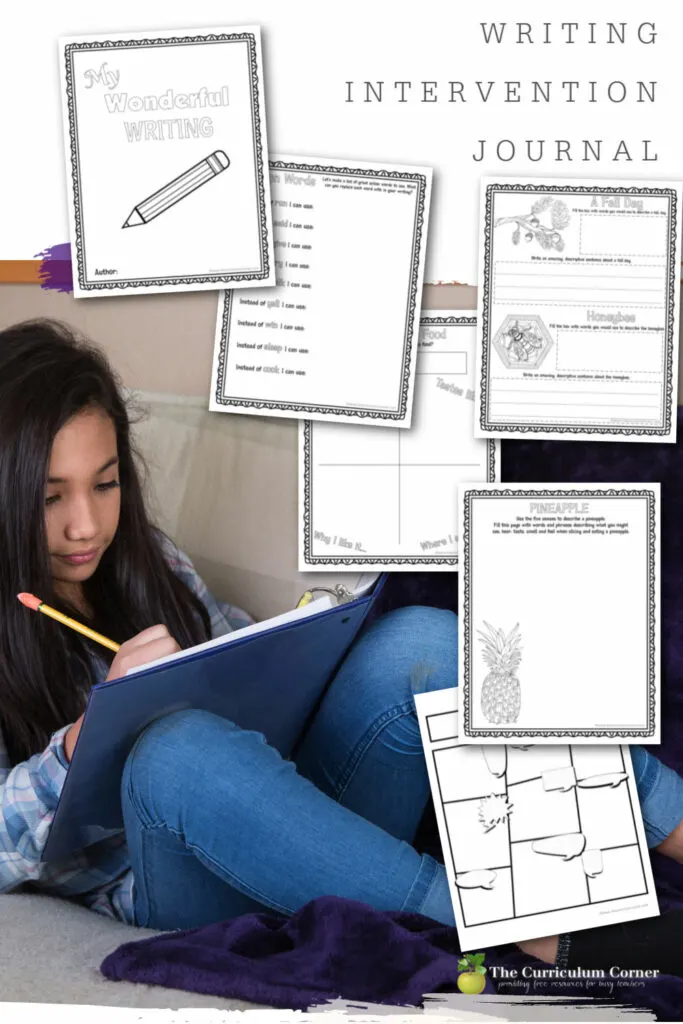 This writing intervention journal
You will find a total of 28 pages in this journal. You can print the pages front to back or single sided. One of the benefits of printing single sided is that students will be able to easier move between the planning and writing pages.
These pages contain brainstorming pages to get students thinking about word choice. These can be completed with partners or small groups to get students thinking about new words.
Later, these pages my become a resource for helping students in their writing.
Children will work through writing descriptive sentences. Have them begin by brainstorming words they might use.
Beyond the writing aspect, these pages contain doodle borders for decorating along with unique clip art for children to color. These might make the pages more engaging for some writers.
My hope is that this journal will provide a new writing opportunity for your students. It might not be a perfect fit for all but it would be great if it became a hook for a few of your reluctant writers.
You can download this free journal here:
As with all of our resources, The Curriculum Corner creates these for free classroom use. Our products may not be sold. You may print and copy for your personal classroom use. These are also great for home school families!
You may not modify and resell in any form. Please let us know if you have any questions.
You may not modify and resell in any form. Please let us know if you have any questions.