Use this I am from poetry activity to get to know your students in the new school year.
This I am from poetry activity is one of my favorite back to school activities.
This activity can be used for a range of grade levels.
This is another free activity from The Curriculum Corner.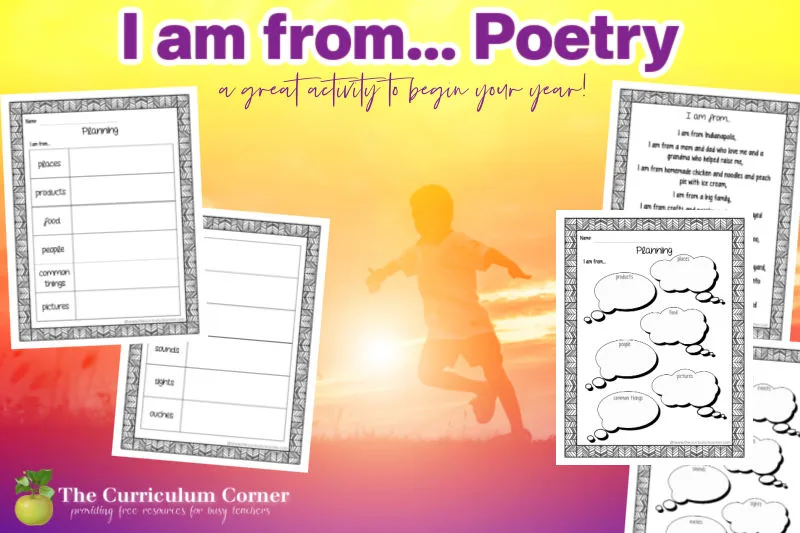 About this activity
This post has been updated in June of 2022. The original content was shared in 2014 but the resources needed a refresh and I've expanded what is being shared.
Years ago, the teachers in my former school district went through trainings that included time for each of us to write an "I am from…" poem.
These poems were written during meetings and shared with our coworkers.
At the time I was teaching fifth grade and this became an activity I used to start each school year.
These poems are easy to write and teach you so much about each child.
I have reworked the materials I used to teach these in my classroom so that you can do the same. You will be amazed at the poems that evolve in your classroom!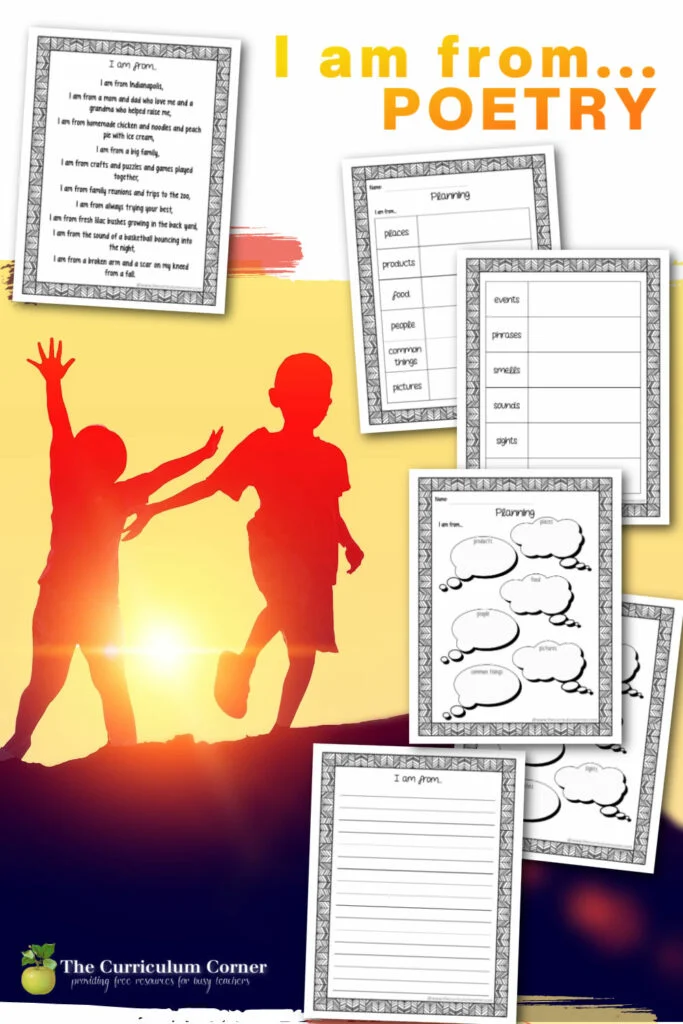 I am from poetry
Here is a sample poem I am sharing from one of my former students:
I Am From
Written by: a 5th grade student, 2008
I am from Indianapolis
I am from a mom and dad who love me and a grandma who helped raise me
I am from homemade chicken and noodles and peach pie with ice cream
I am from a big family
I am from crafts and puzzles and games played together
I am from family reunions and trips to the zoo
I am from always try your best
I am from fresh lilac bushes growing in the back yard
I am from the sound of a basketball bouncing into the night
I am from a broken arm and a scar on my knee from a fall
I am from lots of love and memories.
Pages included
I am sharing the resources to help you get started as a PDF.
You will find two different options for planning pages. When I did these with my students, I would encourage them to write any ideas that came to mind. Sometimes they would have spots that were blank and other spots with many ideas.
You will also find the example poem – one in color and another in black and white.
You might share on your SmartBoard or print off a copy to share in class. Most likely you will not need to print enough copies for your whole class.
There are also lined pages of paper in case you want a spot for your children to write out their poems. You will find choices with different numbers of lines.
Introducing the task
To begin this project, I would always share my own I am from poem.
It was a way for students to learn about me and to see an example of what was expected. It's also a great opportunity for your students to learn a little more about you.
I then had my students brainstorm on this planning page. I told them to write all of their thoughts around the page.
Once they have completed the planning, they are ready to write.
I encouraged them to pick out the ideas they thought were most important in their lives. I often had my students type their poems after writing their rough drafts.
Just add a picture in the corner of each poem and you can create a quick, meaningful display for your open house.
Or, put the poems together in a book to create a class poetry book.
You can download the resources to go with this activity by clicking on the green apples:

As with all of our resources, The Curriculum Corner creates these for free classroom use. Our products may not be sold. You may print and copy for your personal classroom use. These are also great for home school families!
You may not modify and resell in any form. Please let us know if you have any questions.
You may not modify and resell in any form. Please let us know if you have any questions.