Try these poem of the week graphic organizers to help you implement something new in your classroom.
These poem of the week graphic organizers have been created to help you implement a poem of the week into your classroom.
The pages being shared will help your students work on comprehension, sharing reactions and fluency.
This is another free resource for teachers and homeschool families from The Curriculum Corner.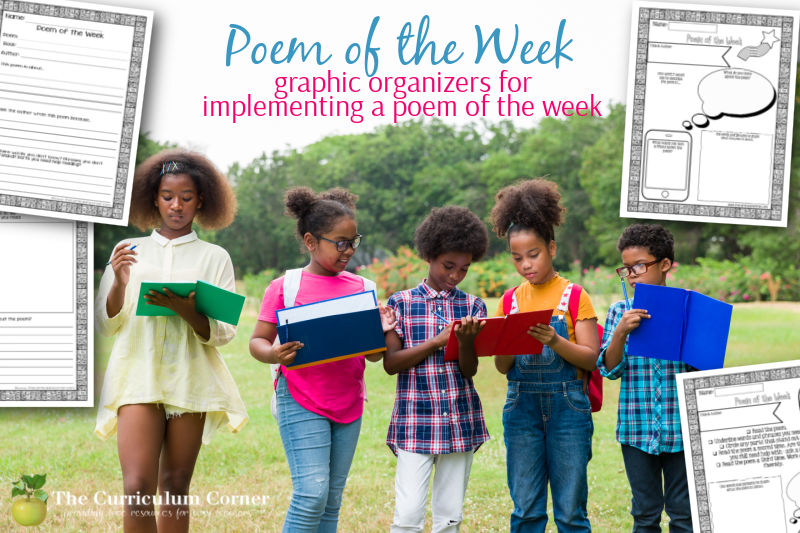 Weaving poetry into the classroom
Growing up, writing and reading poetry were not tasks I enjoyed. I did go through the phase where I loved Where the Sidewalk Ends and would read the book over and over. Beyond that, not many poetry encounters stick out from my childhood.
In the classroom, I've done some poetry activities that I was happy with afterwards, specifically the I Am From poems my students wrote. Again, poetry has still not been my favorite topic.
Over the last couple of years I 've read more ideas about incorporating poetry into the classroom and the benefits.
As I head back into the classroom, one of the ideas I am considering is creating a poem of the week activity.
This could be a way for students (and me) to explore new poems and to work on fluency.
I feel like I am still working out the details on what I want this to look like. I've started by creating a variety of graphic organizers. I am still playing with these and after using them, I will be sure to share any updates I make.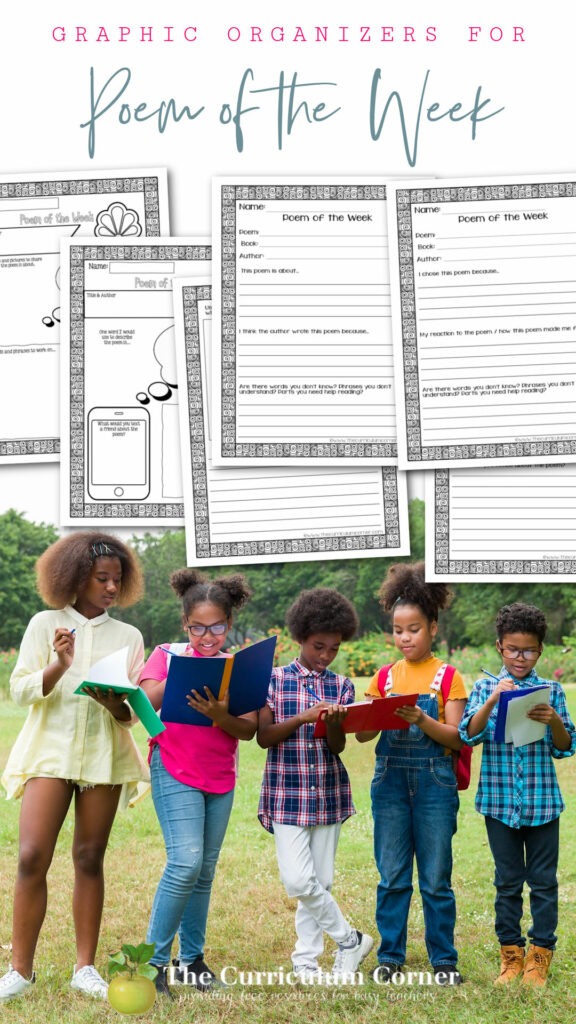 Poetry books to start with
I have started collecting some poetry books for this activity. My goal is to allow students to choose their own poems.
I am sharing some of the Amazon links below – these are affiliate links and The Curriculum Corner earns a small commission when you purchase through the links.
Here are the books I have so far:
I've also found that poems where children can read together can be high interest. There are a few books set up for this. However, once students are familiar with the format, they could work to turn any poem into one they could read together.
Poem of the week
How you begin each week is up to you.
You might choose a topic each week – maybe animals or even a feature of poetry like rhyming words. Other weeks you could provide poems that contain similes or metaphors.
Once the topic is identified, you can provide poems to fit the topic or have students find their own.
One possibility is to begin the year with everyone having the same poem. This would help you make sure that students have an understanding of expectations through whole group discussions.
Once students understand the task, you can begin differentiating by providing or allowing students to choose different poems.
Because things almost always work different from what we plan, I have made a variety of organizers with different prompts.
I realize that as these are used, some changes might need to be made.
There are some options you will print front to back and others that are single sided. There is also one option that will print front to back and then be cut in half.
Beyond exploring features of poetry, I am also looking for this activity to help develop vocabulary and fluency.
Students will work on the same poem throughout the work. On Fridays they will have the opportunity to share with a classmate or in small groups.
I'll be sure to share any updates I make as I implement this idea.
You can download this free collection by clicking on the apples below:

As with all of our resources, The Curriculum Corner creates these for free classroom use. Our products may not be sold. You may print and copy for your personal classroom use. These are also great for home school families!
You may not modify and resell in any form. Please let us know if you have any questions.
You may not modify and resell in any form. Please let us know if you have any questions.