These free literacy centers are designed to help your students read and write about endangered animals around the world.
Learning about endangered animals will be engaging for your students with the help of these resources.
I designed these to help students develop vocabulary, research and writing skills.
This is another free resource for teachers and homeschool families from The Curriculum Corner.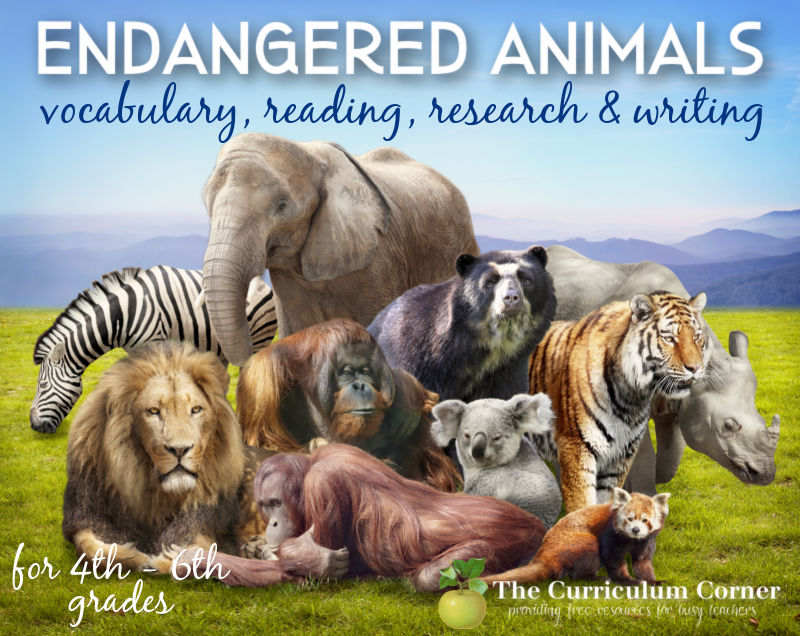 Saving Animals from Extinction
Are your students interested in learning more about animals – and specifically endangered animals?
This collection is perfect for those who have students who are wanting to use their voices as they work on saving animals from extinction.
Before students can make a difference, they need to understand many of the concepts they will learn about during the reading and other activities shared in this collection.
Students will work on developing vocabulary related to endangered species. They will also learn how endangered species are categorized.
Along with working on vocabulary, students can learn in other ways such as by reading and writing.
As your class completes the work, challenge them to come up with an action plan sharing how they can help save animals from extinction.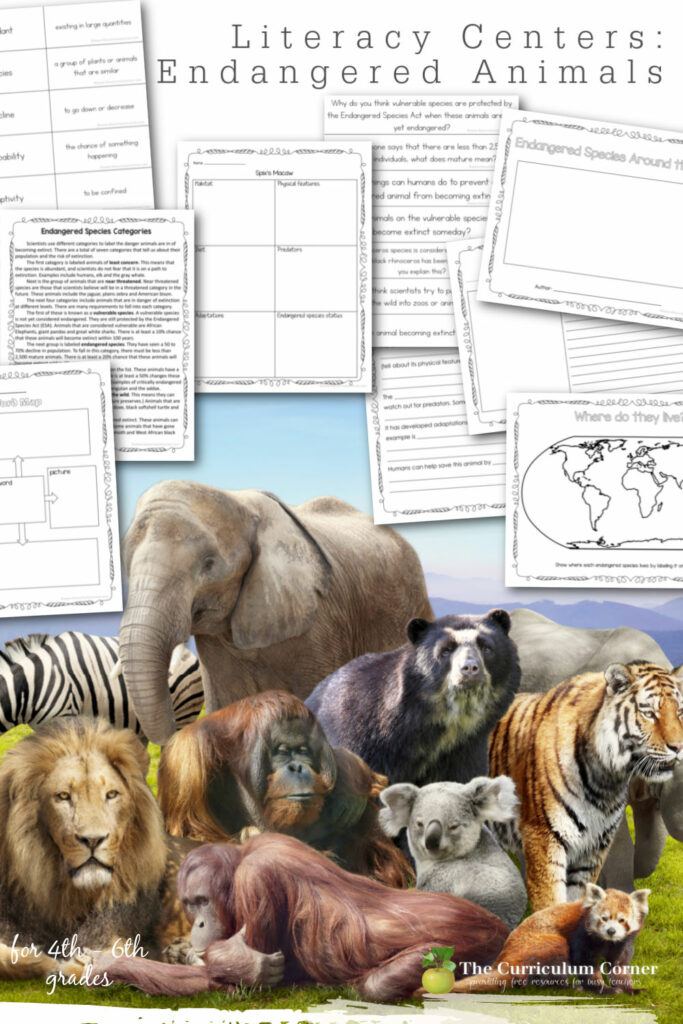 How can you help students learn about endangered animals?
I have created a range of materials to help you engage your students in learning about endangered animals.
You will find the following in this download:
Word Map – You can use this with the vocabulary cards or choose your own words. The word map is designed to help students dive into a specific word. One extension of this is to have students create an action to help them remember the meaning. I would often work through a word map with my students – the talking helped them build understanding.
Vocabulary Cards – There are 12 words along with definitions. These words are: extinction, habitat, endangered, conservation, population, adaptation, abundant, species, decline, probability, captivity and criteria. When working with the student I tutor, I first spent time to develop her vocabulary. She practiced pronouncing the new words and we talked about the meaning.
Categories of Endangered Species Strips – These strips can be cut apart or left together. This is an open-ended resource. You might have students order the categories from most populous animals to least. Or, you could give groups a strip and have them research facts to share about the category. You might find other ideas of your own as well!
Sketch Notes – This page can be used for students to share what they are learning about each category. I envision them using short phrases and pictures to match their thinking.
Endangered Species Passage – This is written to help students learn about each of the categories. Many vocabulary words are included along with descriptions of each category.
Questions – These strips have questions you might contemplate as a class or in small groups.
Research Pages – Students research a range of endangered animals. There is a blank page in case you would like students to choose their own.
Writing Project – After researching animals, children will write a children's book about what they have learned. There are two rough draft options. One page is more guided while the other is simply lined paper. After writing rough drafts, students can use their writing to create books.
Saving Animals from Extinction – This activity might simply be a class discussion or a small group activity. I have provided a graphic organizer for students to record their thoughts. However, many classes might choose to simply host a discussion without requiring students to write.
You can download this set here:
As with all of our resources, The Curriculum Corner creates these for free classroom use. Our products may not be sold. You may print and copy for your personal classroom use. These are also great for home school families!
You may not modify and resell in any form. Please let us know if you have any questions.
You may not modify and resell in any form. Please let us know if you have any questions.