These winter dab a dot math printables will help students practice Roman Numerals, rounding decimals and order of operations.
Take a look at these winter dab a dot math printables for fourth and fifth grade students.
These pages offer a fun way for children to practice math skills.
This is another free resource for teachers and homeschool families from The Curriculum Corner.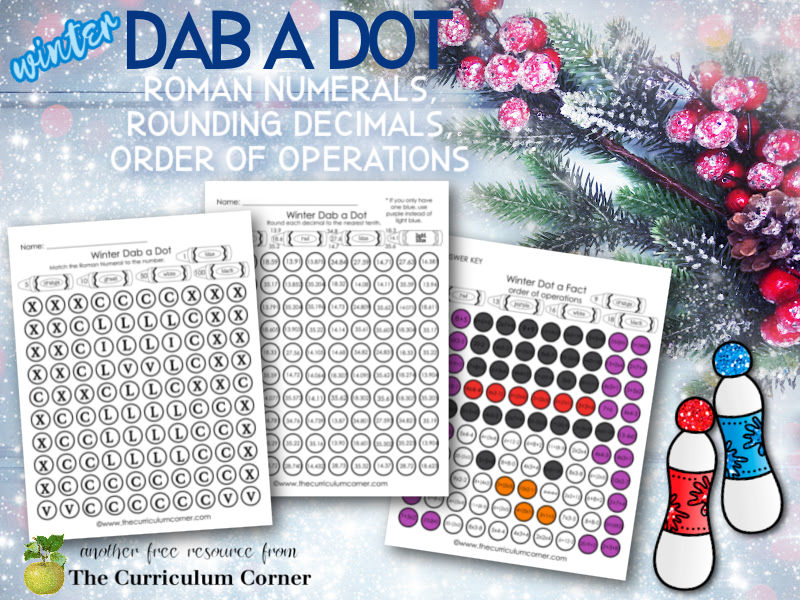 Do a Dot Printables
Do a dot printables are popular with younger children. They love using dot markers and teachers often find different versions to use in the classroom.
I've received a few requests for teachers of older children who have discovered the fun of dot markers.
Their children think the pages are fun but the skills on them don't provide academic practice.
I've tried to think of a few ways these pages can be used in upper grades.
It's not been easy so if you have suggestions, please let me know!
(Contains Amazon affiliate link.)
For students to complete the pages I am sharing, you will need to purchase a set of dot markers.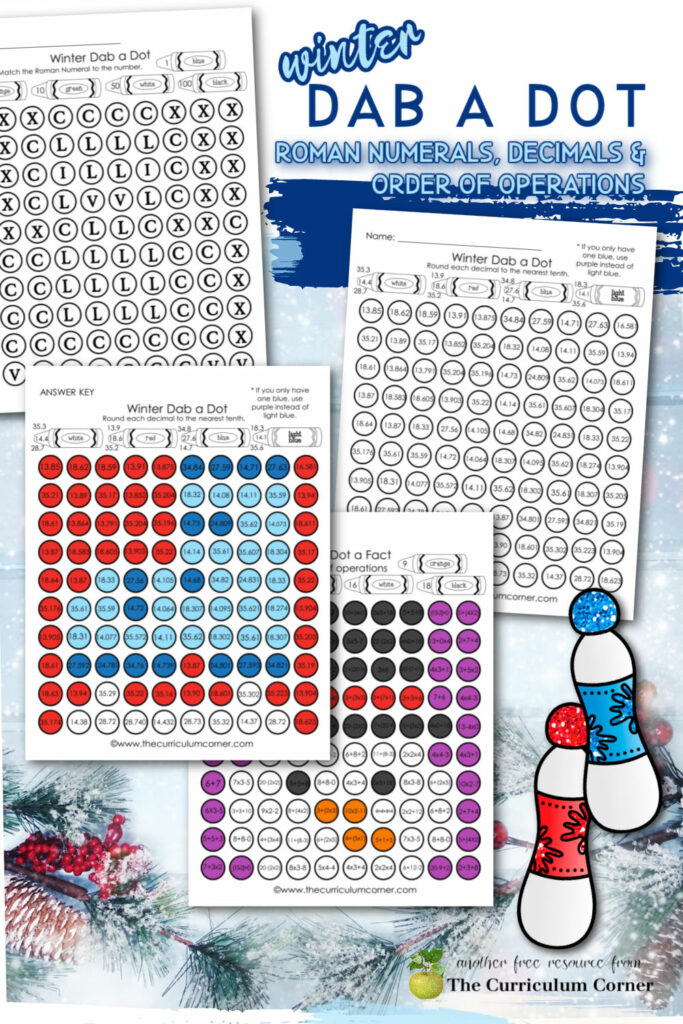 These Dab A Dot Math Printables
This download will give you three new math pages for a little wintery fun and math practice.
The first page will have students identify Roman Numerals. You can give students help by using these Roman Numeral charts and worksheets.
The next page will allow students to practice rounding numbers with decimals.
The final page gives students practice with the order of operations.
Because of the wintery theme, these pages contain white spots. White dot markers are hard to find! If you aren't successful on your switch, have students use a light blue, gold or silver instead. Or, encourage them to be creative and choose their own color!
You can download these free math pages here:
As with all of our resources, The Curriculum Corner creates these for free classroom use. Our products may not be sold. You may print and copy for your personal classroom use. These are also great for home school families!
You may not modify and resell in any form. Please let us know if you have any questions.