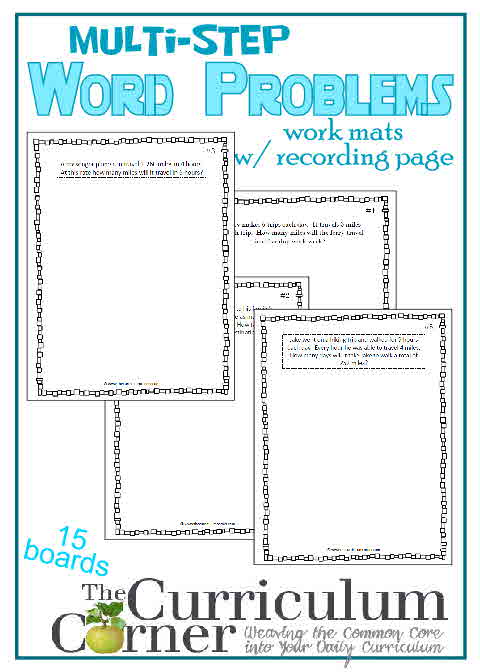 These 15 word problem work mats can be used in many different ways.  Each page has the word problem at the top with space to work at the bottom. Laminate and have students use Vis-a-Vis or dry erase markers to show all the parts that are needed to solve these multi-step math problems.   At the end of the fifteen problems we have also provided a recording sheet for students to write just their answers.  Here are a few ideas on how you might use them:
Have partners work together to talk through and solve the problems.  The teacher can circulate as students work, listen in on their thought processes and check for accuracy.  As partners finish and are checked, they can wipe their work mats clean, return them to a designated area and pick up a new work mat. (This might be something that you might even leave for a substitute teacher.  Cooperative and a bit more engaging than worksheets.)
Do a short version of SCOOT, but only have students "scoot" to five problems since they are longer and will take a bit more time.  As students sit down to do a problem, they record the number of the problem and their solutions on their own papers.
Use these as Exit tickets to see if your students understand how to process through multi-step problems.
Multi-StepWord Problem Work Mats           Answer Key
How would you use these work mats in your classroom?  Share your ideas with everyone below in the comments.